What exactly is Mercury Retrograde?
Though this is the one we hear about most: there are retrograde cycles for each of the planets. These occur at different times and have different lengths and impact, depending on the planet. When a planet stations retrograde, it isn't really moving backwards. It only appears to be, from our position here on Earth.
What does it mean?

Mercury retrogrades happen typically 3-4 times a year. Prior to the retrograde station of the planet, you may experience issues- during what's known as the shadow phase. After, you may, as well. These shadow phases are usually around a week or a week and a half in length. During these cycles, it's really best not to make any major decisions, purchases, or otherwise finalize or start things.


How can you use Mercury Retrograde?
Of course, by now, we have all seen those oh-so-scary warnings. Mercury retrograde's going to mess up your communication, technology, and travel plans- oh, no! For this round, Mercury has been stationing retrograde in Virgo since August 12th. It will station direct on September 5th, in Leo.
While yes, some things do go awry during Mercury's retrograde station, as I mentioned, there's much, much more to it than that. You can also use this time to better learn the areas you need to improve- and put quite a lot right. How this or any other planetary retrograde impacts you is going to differ from other people. This is because in addition to everything else going on in a general sense- your own natal chart comes into play, here, as well.


Let's look at this Mercury retrograde in particular: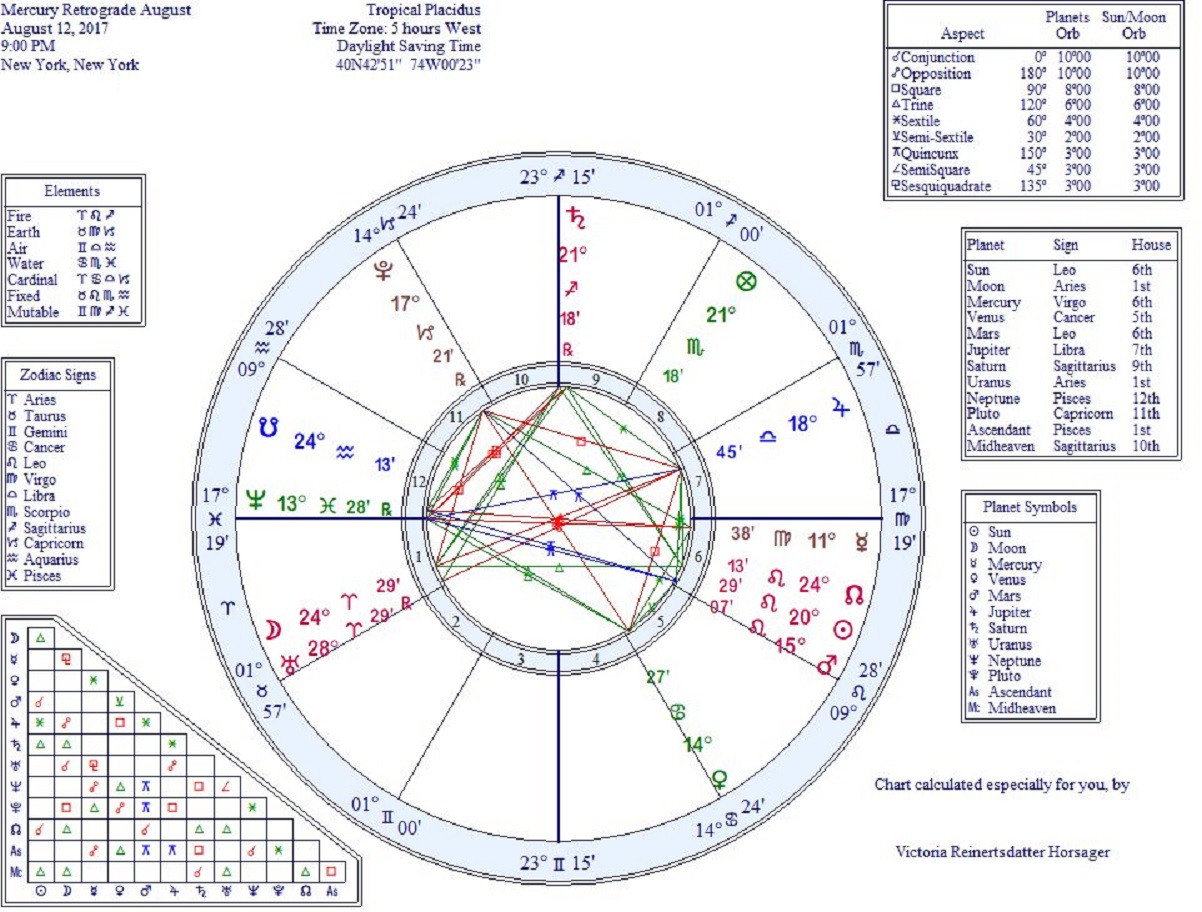 This is a very weird retrograde cycle. There are a couple of things shown here that almost seem to conflict with one another, mostly involving Venus, Mercury, Neptune and Saturn in the mix.

Though it begins in Virgo- it rather quickly gets a dramatic Leo boost, which will actually be an activating factor in the solar eclipse on the 21st. This gives everything a very Leo flair- which, given the other planets at play can be an intense roller coaster of emotion.


This, sort of working with that Grand Fire Trine is going to hit you right in the heart in a dreamy, passionate way. While ordinarily, I warn people about romance during ol' Mercury retrograde, this one it will be particularly hard to resist. Not everything will be as it seems, however- and enjoying a passionate fling is one thing. Whatever the case, though passion will be at a high point- keep your expectations out of this for now. That isn't to say passions that ignite under such influences can't lead to long term. However, with things being heated up and dreamy: you've got to be very careful.


Mercury and Virgo

Now, Mercury rules Virgo and when you get into this, that means the influence is going to be quite strong. If you're finding yourself at the lonelier end of the spectrum with passion- that is, you're not having the best luck in love, you may find yourself better able to take a look at things through a more rational lens.
Again, though, be careful as the tendency towards taking things at face value when they may not be- can lead to misunderstandings. In more practical terms, these collected influences can certainly help you to better organize opportunity- or to see them, even, to move forward in your career.

Longstanding problems can certainly benefit from this- you'll find it may be a bit easier to see things you missed before. Just be sure if this is the approach you take, you balance that with self care so you don't burn out.


Why so Sirius?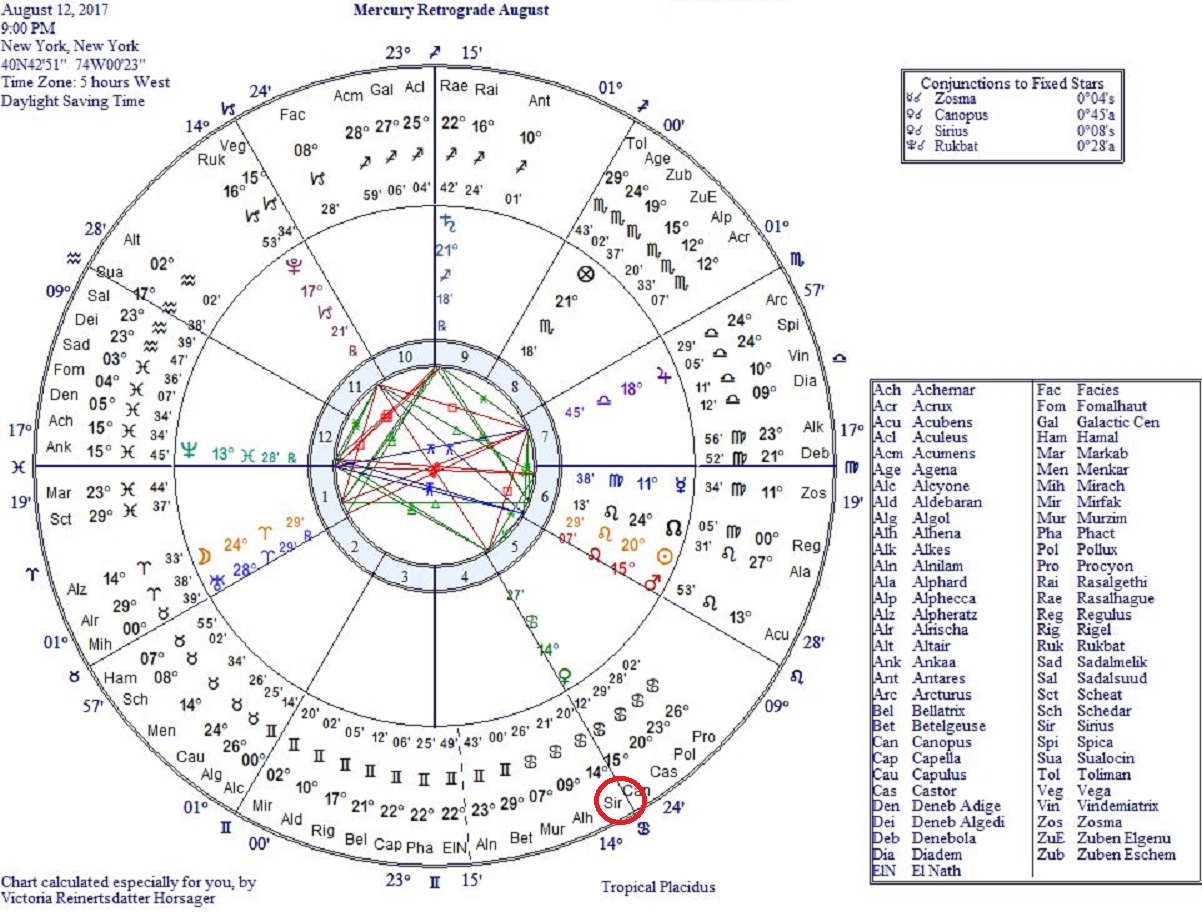 This is a Fixed Stars Chart Wheel- and I include it so that you can see that in addition to all the planets at play which you see in the Mercury retrograde chart: we have other influences as well. Quite a few! However, I've highlighted the one I want to draw your attention to most: Sirius.
Sirius is a tremendously powerful and positive influence for the most part. However, in addition to a warm, comforting sort of influence, further solidified by devotion: Sirius can shine a light on resentments. When it's conjunct Venus in this way- you get a unique opportunity to change those things. Looking further out from Venus, we also see a sextile to Mercury.
The Mercury Influence
The Mercury influence above and honesty wins the day with communication bringing insight. We can have a much more solid understanding of what love truly is for us, and our partners- but also, what it is not. Insight comes with being open, honest, and conveying our truths- no matter how frightened we may be to do so.


Again, though- I stress that if the love at the heart of the situation is true, and goes both ways: we find resentment and lack of trust give way to honesty and devotion. However, for some, the truths revealed may mean an end to a one sided relationship. Allow yourself the time and patience with yourself to get that going- and those painful truths can be the best gift you'll ever give yourself.


Choose the truth and choose love- even if the choice means acknowledging a truth you don't want to. At the very core of the love that you deserve will be honesty: and if you've got to let go of a dishonest situation, do so understanding that in time, that true love you deserve will take its place. Beginning that healing process, together, with your partner rather than lashing out in suspicion can create a stronger bond and forge a much more beautiful love out of trust.
What will the mercury retrograde bring for you? Get your answer from Victoria and the SMS text psychic team by texting FULL to 87777.
Max 3 x £1.50 texts per reply. Standard network rates apply to messages sent to 87777. Over 18s only. You must have the bill-payer's permission. You may receive free promotional messages. To opt out text STOP to 87777. Service by Com & Tel. Helpline: 0333 335 0297.