The Super Flower Moon in Scorpio – 7th May 2020
A big welcome the Super Flower Moon in the sign of Scorpio! This is the third super moon of the year and, right now, most welcome! The Super moon energy, combined with the fullness of spring and the flowers in bloom is an uplift of positivity.
This Full Super Moon in May is known as a Flower Moon. It begins on the 7th of May 2020, it's will peak at around 20:44 UK time. There are countless wildflowers which bloom in May. The traditional Full Moon names originated from the northern hemisphere. For example, many types of anemone, indigo, bluebells, wild garlic, lupine and violets, to name just a few. It is no wonder that the colourful displays these flowers create in nature have inspired people to name this time after them.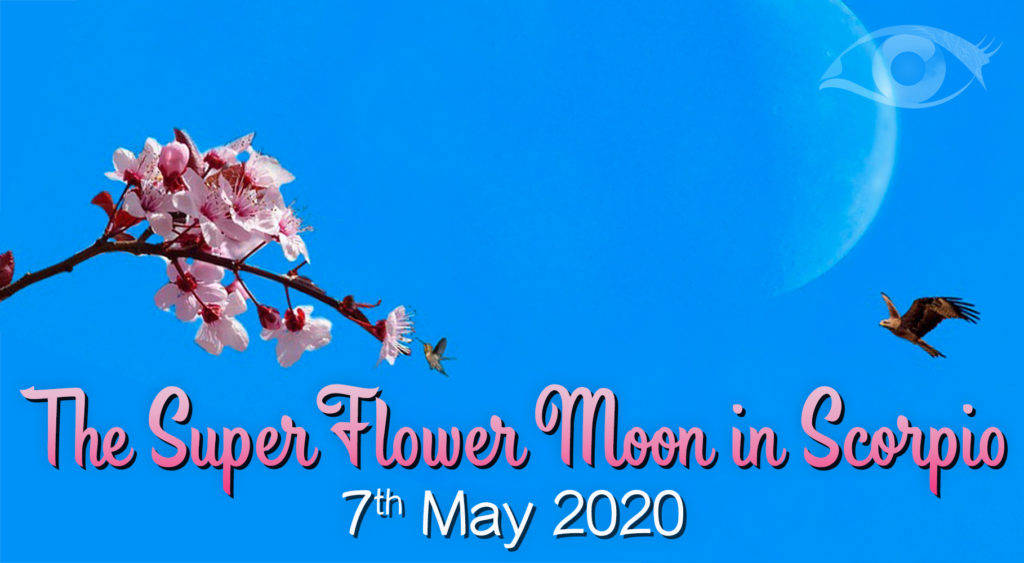 Also Known As
Other names for this brightest Moon are Corn Planting Moon, and Milk Moon (from the Old English Rimilcemona which means Month of Three Milkings, when cows were milked three times a day). Some sources refer to it as Hare Moon, but this name is more common with the Full Moon in March.
Astrological Influences
This full moon appears in the sign of Scorpio. This is a sign that is full of intense energy and its appearance during the Taurus season can liven things up! Particularly with Mercury and Venus in Taurus, expect a lot of good vibrations from this cosmic ordering and maybe a few sparks flying!
Other astrological signs are somewhat scattered under this moon. Some people are in no mood to behave themselves, especially those who hate to be tied down. Prepare to roll with the punches and not try to make definite decisions. This especially applies if you are a Pisces, Gemini, Virgo or even a Sagittarius!
Take this Flower Moon as symbolism to reflect us. Like a flower in bloom, we can blossom from the sunshine, from the spring energy day by day, growing with a purpose for what we want ahead. Make the best from what you absorb and spread the love!
Elements for your Flower Moon
The Colours: Red, Orange and Yellow.
The Stones: Ruby, Amber and Garnet.
The Herbs: Cinnamon and Mint.
The Elements: Fire.
The Power Animal: The Horse.
The taste of Summer is on its way with the Strawberry Moon in June. In time for the Summer Solstice!
Until then,
Love and Light X
The Psychic Today Companion App, for your psychic needs!
To top up your credit or if you have any questions or queries, our friendly reception staff are available 8:00 am to 2:00 am GMT on 0333 335 0297. You must be over 18 years old to use this service, which is for entertainment purposes only. You must be the bill payer or have the bill payer's permission. We may send free promotional messages. 
Facebook
Text FACEBOOK and your question to 65511 for your free reading! (Usually £1 per message, max 3 messages per reply. One per person. CS: call 0333 335 0297. UK Only)