The Full Moon in Aries – 1st October 2020
A Full Moon in Aries will be lighting up the night sky on Thursday 1st October at around 10:05 pm in the UK. This is the fullest moon that appears this side of the recent Autumn Equinox. A time when the sun will shine almost directly over the equator, resulting in (hopefully!) a bright orange colour shortly after sunset.
The Moon in this month's lunation is all about strength, ego, and moving forward, emotionally. However, a huge factor in all of this is adjusting the way we do things so that we are better able to communicate with others – and connect.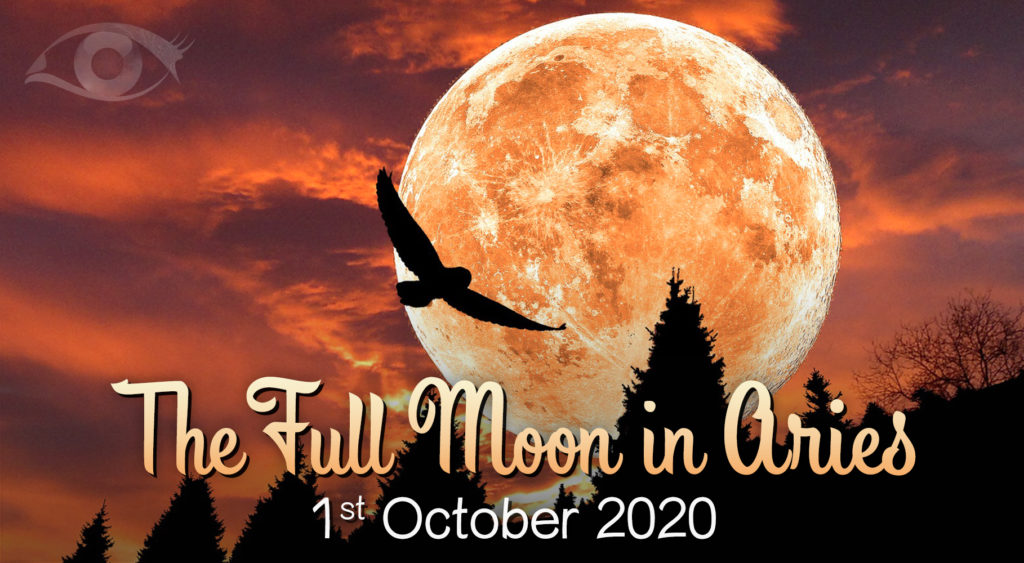 The Harvest Moon or Hunter's Moon?
Usually, the fullest moon this side of the Equinox determines the type of Full Moon we have. As we have had a Harvest/Corn Moon back at the begging of September, this Full Moon for the start of October would be in line with a Hunter's Moon. BUT we have a surprise of TWO full moons this month! So this current moon can be referred to as another Harvest Moon!
But what is a Full Hunter's Moon? In days gone by, it's the month when the game is fattened, and it is time to start preparing for the coming winter. Traditionally, this included hunting, slaughtering and preserving meats for use in the coming winter months. It is a moon also known as the Travel Moon, the Dying Grass Moon and the Sanguine Moon.
Don't' forget with winter coming, we will also have Daylight Saving Hours, where we will be losing an hour! Don't forget to change your clocks and alarms in the early hours of Sunday 25th October.
Astrological Influences
The Full Moon is in Aries and is still influenced by the recent Mars Retrograde. This is matched up against a square Saturn should make it big time for emotions and revelations. This emotional energy is all about the earthy & practical signs such as Capricorn, Taurus & Virgo and the secretive & emotional water signs Pisces, Cancer & Scorpio.
If you have been holding back from revealing your feelings to that special someone, use the energy of the full moon for that extra push!  This Full Moon in Aries might be making us all feel a little bit feisty, so if you feel that you can't avoid having a conflict of words, then so be it! Just don't be too hasty in saying just how you feel! The moon in Aries is also a time for self-care and for being bold by asserting yourself in your relationships. But however it touches your life, the energy will have softened off over the rest of the month.
Elements for your Aries Moon
The Colour: Blue Turquoise
The Stone: Opal
 The Flowers: Marigold
The Element: Earth
The Power Animals: Stag, Jackal & Scorpion 
Another Full Moon for October?
A Full Blue Moon in the sign of Taurus will be heading this way on Halloween! Two full moons in a month? Sounds a bit spooky! What is that all about? Join us next month to find out!
Until then,
Love and Light X
Download our Psychic Today Companion App now!
The Psychic Today Companion App, for all your psychic needs! If you haven't yet added it to your mobile phone, you can do so by following our links here: 
To download from the App Store click here
Or to download from Google Play click here 
To top up your credit or if you have any questions or queries, our friendly reception staff are available 8:00 am to 2:00 am GMT on 0333 335 0297. You must be over 18 years old to use this service, which is for entertainment purposes only. You must be the bill payer or have the bill payer's permission. We may send free promotional messages. 
Facebook
Text FACEBOOK and your question to 65511 for your free reading! (Usually £1 per message, max 3 messages per reply. One per person. CS: call 0333 335 0297. UK Only)