The New Moon in Libra – 16th October 2020
While the darker evenings descending upon us might mean more night time, a bright note comes in the form of the New Moon in Libra! This brings with it a welcome dose of love, peacefulness and with a sprinkling of harmony to boot! Ah yes, now THIS is the time to absorb this moon energy! This New Moon is also a Supermoon, meaning it is slightly closer than a normal moon, which can make it influences towards us all the stronger!
So this super New Moon in Libra will light up the night sky from 7:30 pm in the UK, weather permitting for a good clear view of course! The feeling of balance will also feel stronger, so along with the other positive feels the moon is bringing, don't be afraid to express your feelings or to say what you want to say, not just what is expected of you. It might be your time to shine alongside the moon!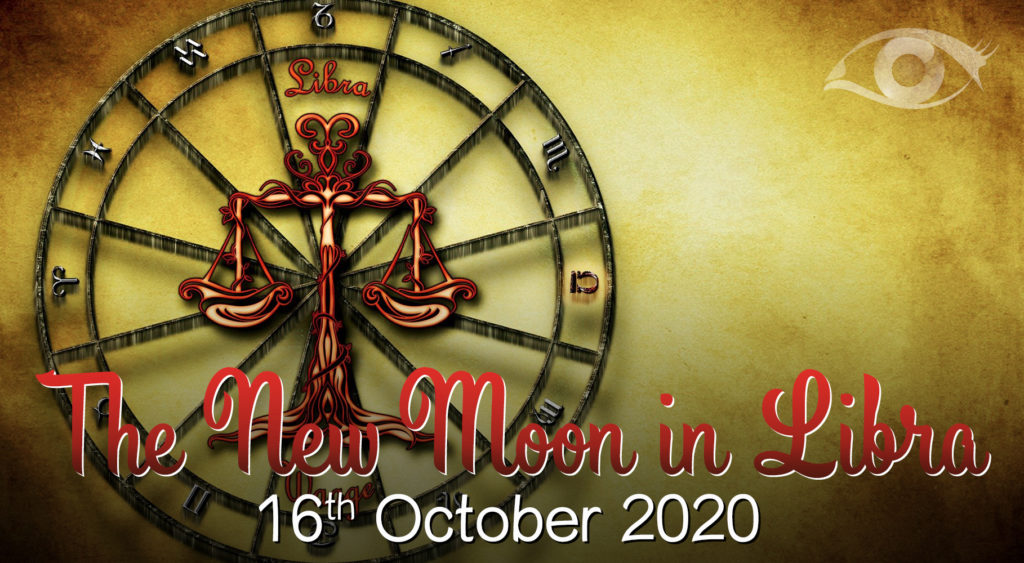 The Moon in Astrology
The welcome sign of Libra for this New Moon is immediately drawn into opposition from three opposing planets! The challenges appear in the form of Mars, Saturn and Pluto. Now each of these on their own can influence minor disruptions such as being more irritable, more impulsive and even some sexual tension. PLUS it is also quite naturally thrown into the mix of the Mercury Retrograde, just for extra finger-pointing for blame! Luckily the trio of planets will not be around for long to cause disruption, as positive energy from the stars aligning bring the positive aspects of the New Moon to the centre.
A New Moon moving into the same constellation as The Sun also means a new Lunar Cycle. Bringing with it a chance of fresh perspectives, new beginnings and a recharged sense of self-worth. Star signs which would certainly benefit include Libra! This is your moon after all! The Sun and the Moon create an amazing boost of positivity, also of benefit for fellow air signs Gemini and Aquarius! For those earth signs of Taurus, Virgo and Capricorn, your direct nature can yield direct results as your practicality is without measure. PLUS Venus herself will make sure you are not short of amorous attention around this time!
You fire signs are a hot-headed bunch, but also passionate and very high on energy. So, Leo, Sagittarius and Aries, don't waste the New Moon's spark of fresh starts! The water signs of Pisces, Cancer and (soon to be your time to shine) Scorpio, find that your sensitivity and ambitions are looked on most favourably for this New Moon. A refreshing time to spread love and kindness to those who need it most. A big virtual hug to you all that need one from us too!
The New Moon in Libra Effect
The Libra energy of the New Moon is a comforting one when all of us are in need of a bit reassurance. Under any other year, this wouldn't seem that relevant but this time we all find ourselves open for some fresh energy! Libra is, after all, a practical sign that is strong and one for taking action. So combined with this harmonious (and Super!) New Moon why not share that good cheer and love. All you need is love, a great man once wrote and its sure is still true. If we can't physically embrace one and another, we can still show it in
One of the images associated with Libra's star sign is the balancing scales and that just sums it up for us at this exact time. Finding that balance of love and abundance towards others and practical action of moving forwards, surely but carefully is one of importance right now! With the rest of the month building up to a second Full Moon (this time in the take-charge sign of Taurus) in time for Halloween, the energy will change yet again! So let's absorb this New Moon energy while it's here!
When is the Next New Moon?
The next New Moon will appear on the 15th of November 2020 in the early hours and will be in the sign of Scorpio. What will this moon mean for us? Find out next month!
Until then lots of love and light from us all! Xx
Download our Psychic Today Companion App now!
The Psychic Today Companion App, for all your psychic needs! If you haven't yet added it to your mobile phone, you can do so by following our links here: 
To download from the App Store click here
Or to download from Google Play click here 
To top up your credit or if you have any questions or queries, our friendly reception staff are available 8:00 am to 2:00 am GMT on 0333 335 0297. You must be over 18 years old to use this service, which is for entertainment purposes only. You must be the bill payer or have the bill payer's permission. We may send free promotional messages. 
Facebook
Text FACEBOOK and your question to 65511 for your free reading! (Usually £1 per message, max 3 messages per reply. One per person. CS: call 0333 335 0297. UK Only)