The Full Frost Moon in Gemini – 30th November 2020
A Full Frost Moon will be lighting up the sky on Monday 30th November, first appearing early at 09:29 GMT. The Full moon falls under is in the sign of Gemini, bringing with it good energy for being creative and to explore new ideas! It also brings along a Lunar Eclipse, which can amplify the energy of the moon!
The twin energy of Gemini brings doubly powerful rays of strength and encouragement; a feeling of harmony can radiate outwards from it. You might have a better ability to keep a cool head, but beware, cold heart can discourage others. The airy sign of Gemini is there to guide you, to lean on towards the right balance.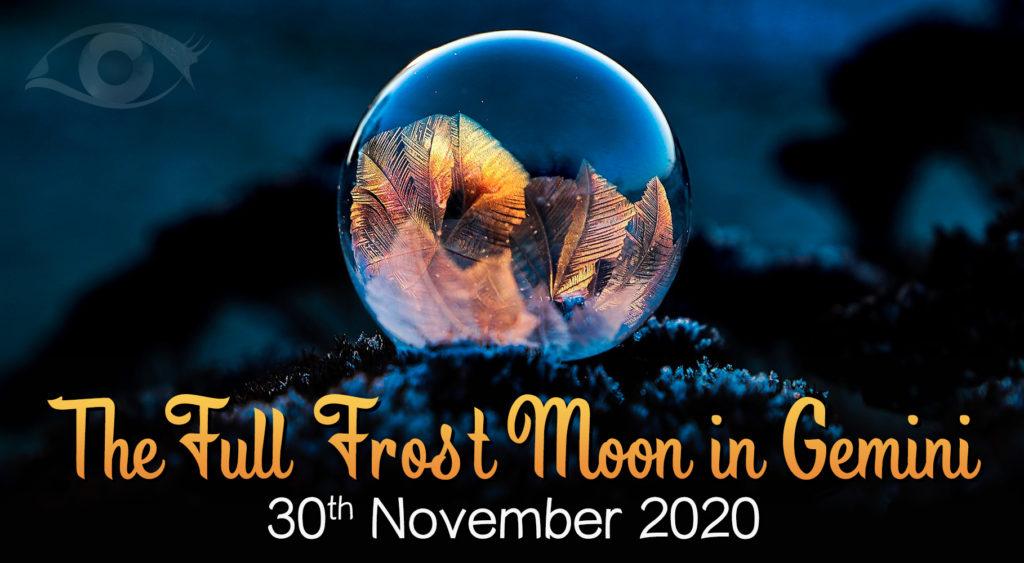 The Frost Moon
This November Full Moon is a Frost Moon but also known as the Beaver Moon by the Algonquin tribes and also by colonial Americans. The Native Americans used the monthly Moons, plus nature's signs as a kind of calendar to track the seasons.
So why this name? Well back then, this was the month to set beaver traps before the swamps froze. This was to ensure a supply of warm winter furs.
The November full moon is also referred to as a Mourning Moon as it the penultimate full moon before the Winter's Solstice.
Astrological Influences
The Full Frost Moon is in the twin energy sign of Gemini. The moon reveals the need for changes and for being spontaneous, which encourages us not to take the easy route in sharing your thoughts and feelings with those you care about. The twin energy brings doubly powerful rays of strength and encouragement; a feeling of harmony can radiate outwards from it.
Opposite this Full Moon in Gemini is the Sun in the sign of Sagittarius, another strong sign with firm beliefs in clear communication. Sagittarius also sets an example of being a firm sign in commitment,  of making a plan and then sticking to it until it is done! Venus is also in the mix with Uranus, leading to a lighter atmosphere and a feeling that there could be better things to come!
The Lunar Eclipse
This Lunar Eclipse has the planets of Venus and Uranus in opposition. It is a highly charged time for giving yourself the best chance to take advantage of opportunities that come your way! It also signals two fixed stars in the form of Aldebaran (The Eye of the Bull) and Antares (The Heart of the Scorpion), both providing extra energy, should you need to draw upon it!
The Lunar Eclipse brings in its qualities of instincts and emotions, and they will reach their highest point from the start. Think of it in a way as a resetting your emotions, any pent up emotional baggage can be taken care of now. You have the opportunity now to find a harmony you may have looking for, so brace yourself for some interesting revelations!
Elements for your Frost Moon
The Colour: Black
The Mineral: Obsidian 
 The Plant: Black Spruce
The Element: Fire
The Power Animal: Elk   
When is the Next New Moon?
The Full Cold Moon will be heading this way on 30th December to round up the year – Just what we need – Colder! But what will it actually mean? Join us next month to find out!
Until then, lots of love and light from us all! Xx
Speak to one of our Psychic Astrologers!
We have a very experienced and friendly team of psychic astrologers with us here at Psychic Today! Click on our link and select the psychic of your choice for an exclusive one-to-one reading! https://psychictoday.com/skill/astrology
Download our Psychic Today Companion App now!
The Psychic Today Companion App, for all your psychic needs! If you haven't yet added it to your mobile phone, you can do so by following our links here: 
To download from the App Store, click here.
Or to download from Google Play click here. 
To top up your credit or if you have any questions or queries, our friendly reception staff are available 8:00 am to 2:00 am GMT on 0333 335 0297. You must be over 18 years old to use this service, which is for entertainment purposes only. You must be the bill payer or have the bill payer's permission. We may send free promotional messages. 
Facebook
Text FACEBOOK and your question to 65511 for your free reading! (Usually £1 per message, max 3 messages per reply. One per person. CS: call 0333 335 0297. UK Only) Click on the link to our page and see our Facebook Live sessions! – https://www.facebook.com/psychictoday