The New Moon in Capricorn – 13th January 2021
A New Moon for a New Year! Appearing in the sign of Capricorn, one of the four Cardinal Signs of the Zodiac, which is a reassuring sign of sensibility and practicality! A good time to make those plans for the year ahead, positively and confidently. The New Moon will appear in the early frosty hours at 05:00 am UK time, to shine upon us and light up our pathway for this new year!
Use this Earthly Capricorn energy as a way of clearing out the negatives from the last year and to also trust your inner values. A new year with another lockdown isn't the most inspiring way to start again. But it is a good way to really hone in on your inner self and your own thoughts and feelings. Opportunities for development under this lunation are certainly present, and a good way to strengthen those bonds with those you love and stay positive together, even if we're apart!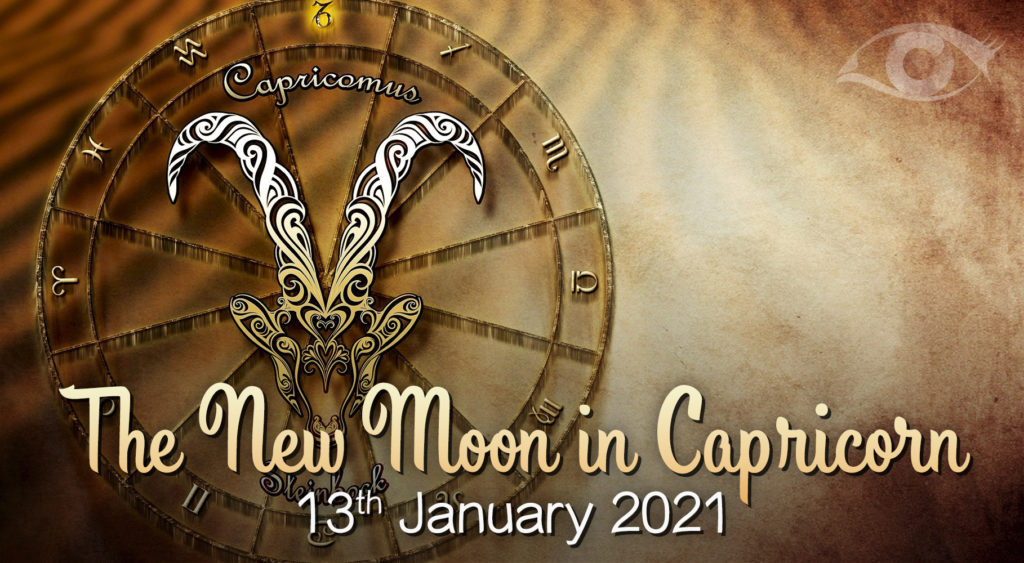 How Does the Moon Work?
Did you know the Moon always shows us the same face? There is no one single dark side of the moon. It is a celestial sphere that takes 27 days to rotate on its own axis and rotates around our planet once every 27.3 days.
What we see when we look at the moon is reflected sunlight. On average, the moon will rise about 50 minutes later each day, which means it sometimes rises during the day and others during night time hours.
When we experience a New Moon, the satellite is between Earth and the Sun. The part of the moon facing towards us on the ground receives no direct sunlight. The only light source is the dim sunlight reflected from Earth.
The Moon in Astrology
For this New Moon, there is powerful conjunction the planet of Pluto, which is great for that extra drive needed to push ourselves forwards in what we want! There are also planetary aspects with Mars square Saturn, which can lead to blocks and obstructions in plans, but treat it as a challenge!
Also, Jupiter square Uranus is another bump in the road with feelings of tension and sudden changes. Being aware of this and staying flexible is a good way to avoid any potential hiccups to your New Year start!
The New Moon stars are few and far between, but there in the sign of Capricorn is the constellation of Sagittarius the Archer. Firing an arrow of welcome positivity, bringing along a feeling of energy and action! Something to channel into our lives when we need it!
Combining the negative square aspects, combined with the uplifting Venus and Sagittarius the Archer energy will make for a topsy turvy month ahead. Taking the rough with the smooth is always how we should deal with life, as a rule, but individual determination always wins through in the end! You will find that you will feel more determined and able to move forwards over the next few days, possibly for the first time this year, with greater drive, determination, and success.

 When is the Next New Moon?
The next New Moon will appear on the 11th of February 2021 in the early hours and will be in the sign of Aquarius. How will this shape our lives ahead? Find out next month!
Until then, lots of love and light from us all! Xx
Speak to one of our Psychic Astrologers!
We have a very experienced and friendly team of psychic astrologers with us here at Psychic Today! Click on our link and select the psychic of your choice for an exclusive one-to-one reading right here!
Download our Psychic Today Companion App now!
The Psychic Today Companion App, for all your psychic needs! If you haven't yet added it to your mobile phone, you can do so by following our links here:
To download from the App Store – click here
Or download it from Google Play – click here
To top up your credit or if you have any questions or queries, our friendly reception staff are available 8:00 am to 2:00 am GMT on 0333 335 0297. You must be over 18 years old to use this service, which is for entertainment purposes only. You must be the bill payer or have the bill payer's permission. We may send free promotional messages. 
Facebook
Text FACEBOOK and your question to 65511 for your free reading! (Usually £1 per message, max 3 messages per reply. One per person. CS: call 0333 335 0297. UK Only) Click on the link to our page and see our Facebook Live sessions right here!