The New Moon in Pisces – 13th March 2021
There is a New Moon in the Water Sign of Pisces in the bright morning hours on Saturday 13th March at 10:21 am UK time to give us waves of love in abundance! Along with the essence of early springtime, the energy is feeling charged and will be boosted even more by the upcoming Spring Equinox and the new astrological year! But that is for another blog to come! 
Now, this New Moon isn't visible in the sky, but you could most certainly feel the energies this Moon wants you to embrace. This Pisces moon is most beneficial to all of those looking for love! Or if you are with someone, then a feeling or renewed sense of romance can be refreshed!
Every ending brings a new beginning. The New Moon in Pisces is the last lunation from the winter season, so in a sense, this is an ending that we're happy to see! New beginnings also bring fresh starts and positive potentials, and you will benefit from the great imagination of Pisces. By the time spring has sprung, we could all be a bit better off than we were!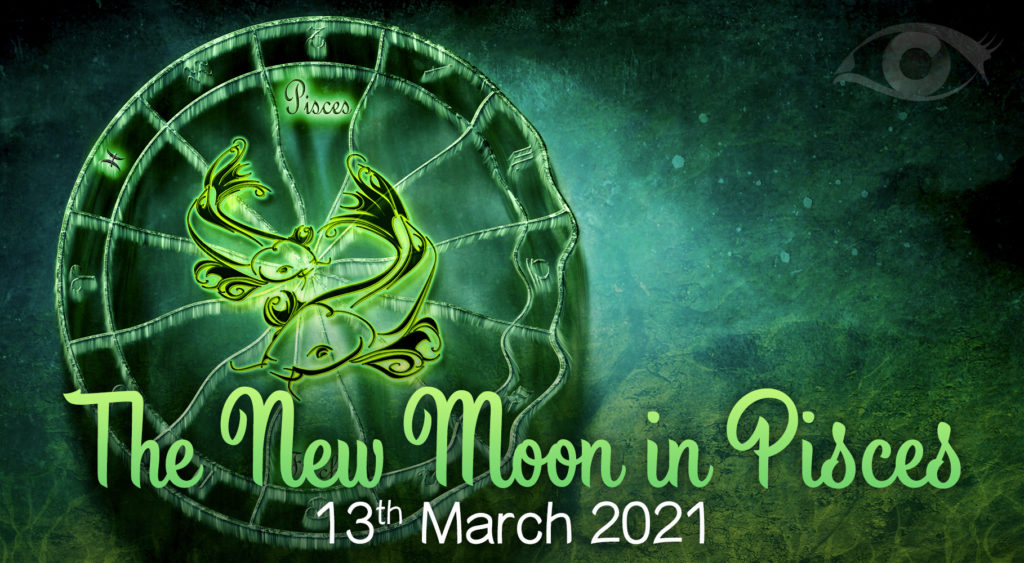 How Does the Moon Work?
Did you know the Moon always shows us the same face? There is no one single dark side of the moon. It is a celestial sphere that takes 27 days to rotate on its own axis and revolves around our planet once every 27.3 days.
What we see when we look at the moon is reflected sunlight. On average, the moon will rise about 50 minutes later each day, which means it sometimes rises during the day and others during night time hours.
When we experience a New Moon, the satellite is between Earth and the Sun. The part of the moon facing towards us on the ground receives no direct sunlight. The only light source is the dim sunlight reflected from Earth.
The Moon in Astrology
What a bit of luck! The ambience this New Moon creates is one of idealistic love and compassion! Something we could all do with right now! This lovely New Moon is also in alignment with Venus, the Goddess of Love, who is snuggling up with Neptune for your best chance to let that special person know how you feel.
However, a fixed star named Markab will be challenging the conjunction of the Planets, so watch out for a few possible hiccups with communication. Don't forget that each New Moon's effects last a whole month till the next one, so be sure to be very clear with what you are asking for!
Pisces is also known by it's Zodiac Symbol of the fish. Always moving forwards and not looking back. In classical interpretations, the symbol of the fish is derived from the Ichthyocentaurs, who aided Aphrodite, the Greek Goddess of Love, when she was born from the sea. This is love which we can absorb under the New Moon.
Think of the water realm of this sign gliding upstream, no hurries or rush, letting nature take her course! Whatever you are manifesting or aiming for, the combination of The Sun, The Moon, Venus and Neptune will be amplifying the Piscean energy for us all!
When is the Next New Moon?
The next New Moon will appear on the 12th of April 2021 in the morning hours and be in the sign of Aries. What does the warmer month have in store for us? Find out next month!
Until then, lots of love and light from us all! Xx
Speak to one of our Psychics!
We have a very experienced and friendly team of psychics with us here at Psychic Today! Click on our link here and select the psychic of your choice for an exclusive one-to-one reading!
You can watch Psychic Today Live!
You can watch the show LIVE between 8 am and 10 pm on Sky Channel 680 or via our website and on our YouTube page!
Download our Psychic Today Companion App now!
The Psychic Today Companion App for all your psychic needs! If you haven't yet added it to your mobile phone, you can do so by following our links here:
To download from the App Store – click here.
Or download it from Google Play – click here.
To top up your credit or if you have any questions or queries, our friendly reception staff are available 8:00 am to 2:00 am GMT on 0333 335 0297. You must be over 18 years old to use this service, which is for entertainment purposes only. You must be the bill payer or have the bill payer's permission. We may send free promotional messages. 
Facebook
Text FACEBOOK and your question to 65511 for your free reading! (Usually £1 per message, max 3 messages per reply. One per person. CS: call 0333 335 0297. UK Only) Click on the link to our page and see our Facebook Live sessions right here!