A Full Worm Moon in Libra – 28th March 2021
This Full Moon is also known as a Worm Moon! It will wiggle its way over the evening sky to a full super brightness on Sunday 28th March at 19:48 UK time and will be lighting up night skies. The Sun is currently in the fiery sign of Aries, being so full of the adventures of Spring that it's not stopping to look back!
It is very fortunate then that this Full Moon is also in the air sign of Libra, with the balancing sign of the scales to keep things on an even level. This cool and thinking air sign likes to weigh everything up carefully. Shall I or shan't I? Will I or won't I? And more importantly, will they or won't they?!
Balance and harmony are things we would always welcome and with this Full Moon in Libra we can at least absorb some of that energy. Do not be afraid to be who you really are, despite what is expected of you. Use that firery Aries energy to push forwards!
Don't forget you can watch us LIVE on television on Sky Channel 680, or via our website, PLUS our Facebook page for special Live sessions to interact with your questions for FREE with our psychics!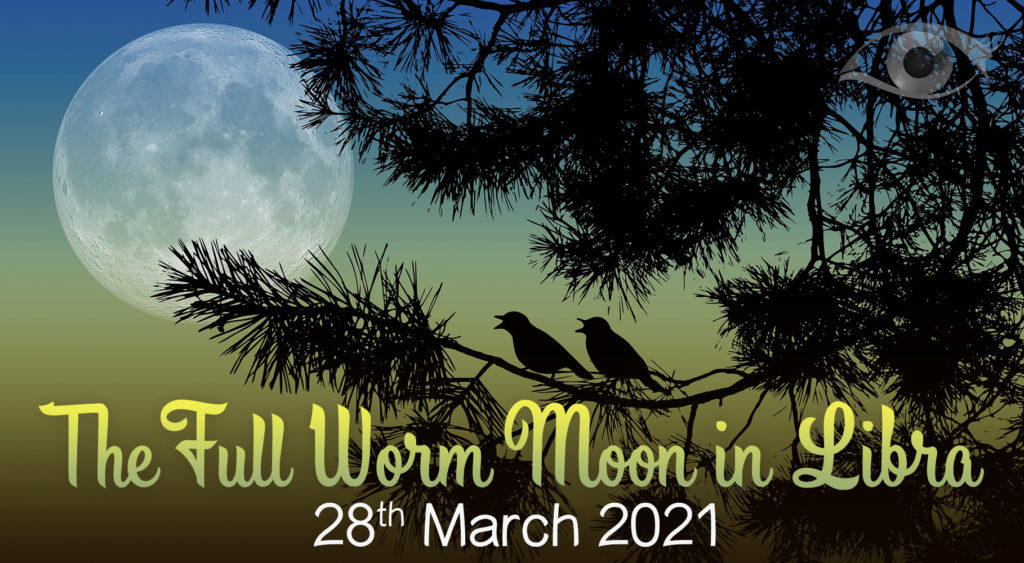 Why is it called a Worm Moon?
The traditional Native American names for the full moons have become more common in today's terms. January's Wolf Moon was so-called because that month's full moon coincided with the howling of wolves on the plains of the USA, while the February Snow Moon is named after the snow often found on the ground during the month.
The March full moon is known as the Worm Moon because March is the month in which the ground would usually thaw and earthworms would reappear along with the return of robins. It has a number of other nicknames from other cultures, like the Crow Moon – because of the cawing of crows that signal the end of winter.
Other Names asscocitaded with this Full Moon include Sugar Moon and the Lenten Moon. The word 'Lenten' is derived from the German language and translates literally as 'Spring'. It is also the given name to the period in the Christian faith known as Lent, which is just before the arrival of Easter. 

The Full Moon in Libra
Since March 21st, Venus, the Planet of Love and Creativity, has moved into hot and fiery Aries too. This means it's time to get a bit Spring-fresh! Passions, sexiness and general go-getting out there in the love and creativity departments are on the cards! BUT there is a BUT! 
Venus gives us a peaceful vibration and happy influences in love and friendships, as well as progress in the creativity department. After all, being the Planet of Love and Creativity, one needs time and patience for love and creativity to bloom, blossom and grow! Yet, during her journey through fiery Aries, which lasts until April 14th, Venus feels rather pushed to the limits! Like all Planets, Venus is happier in some signs than in others.
The two signs of Aries and Libra are very different. And this is because Aries is the opposite sign in the Zodiac to airy Libra. So, we have the Sun in Aries, bringing on the heat of the Spring, the desire for action, getting out there and making progress.  This is partially why now so many of us have itchy feet to get moving again! Aries is not a sign that likes to be restricted. Venus is also in Aries. And both of these sit opposite the Full Moon in Libra.

Thank You for Reading
An exciting Full Pink Super Moon will be heading this way in April! For now, though, have a lovely rest of the month!
Until then,
Love and Light X
Speak to one of our Psychics!
We have a very experienced and friendly team of psychics with us here at Psychic Today! Click on our link here and select the psychic of your choice for an exclusive one-to-one reading!
Download our Psychic Today Companion App now!
The Psychic Today Companion App for all your psychic needs! If you haven't yet added it to your mobile phone, you can do so by following our links here:
To download from the App Store – click here.
Or download it from Google Play – click here.
To top up your credit or if you have any questions or queries, our friendly reception staff are available 8:00 am to 2:00 am GMT on 0333 335 0297. You must be over 18 years old to use this service, which is for entertainment purposes only. You must be the bill payer or have the bill payer's permission. We may send free promotional messages. 
Facebook
Text FACEBOOK and your question to 65511 for your free reading! (Usually £1 per message, max 3 messages per reply. One per person. CS: call 0333 335 0297. UK Only) Click on the link to our page and see our Facebook Live sessions right here!