The Pink Full Moon in Scorpio – 27th April 2021
This amazing Full Moon is also known as a Super Pink Moon! It will head over the early hour's sky to maximum full super brightness on Tuesday 27th April at 04:31 UK time. As this Full Moon is 357,404 km from Earth, the specific distance makes it a Super Moon. So it may appear larger and brighter than normal for a least 3 days in a row!
This will be the first of 2 Super Moons in a row in 2021! Despite its given title, the moon will not be turning pink! That originates from being named after pink wildflowers, which appear in the United States and Canada in early springtime. Also, it is called an Egg Moon, following the springtime egg-laying season. In some coastal tribes, they refer to it as a Fish Moon.
Don't forget you can watch us LIVE on television on Sky Channel 680, or via our website, PLUS our Facebook page for special Live sessions to interact with your questions for FREE with our psychics!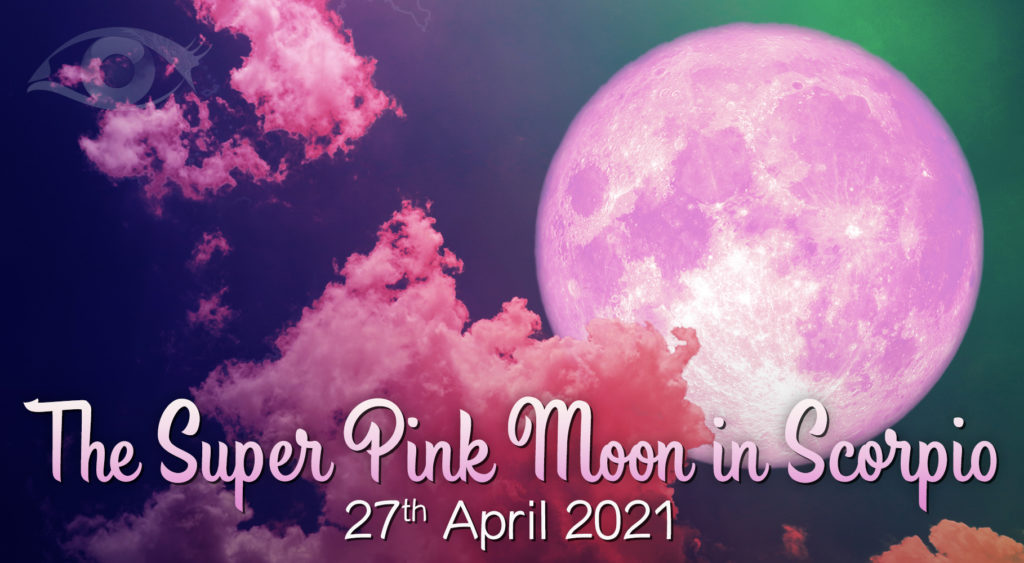 What is a Super Moon?
The moon follows an orbit around the Earth. This means that it can be further away at certain points on its path or closer to us – with a differential of about 30,000 miles. The closest point is called the perigee, and the furthest is the apogee also know as Apsis. When a full moon falls on the perigee, it appears far bigger and brighter in the sky and becomes known as a Super Moon.
Astrological Influences
With a Full Moon, the astrology sign is in the sign opposite to what it is now. So for this Taurus period that we are in, the Full Moon appears in the sign of Scorpio! This mysterious and deep sign has more than a sting in its tail, with an ability to delve deeper into our own feelings more than normal. The Super Moon aspect amplifies this, making it all the easier for us to change up a gear!
The planetary aspect of this Full Moon finds itself opposite Uranus, which encourages impulsive reactions and sudden changes! Your increased emotional strength can guide you in any relationship issues that need addressing. However, Saturn is rearing its unwanted head to throw a planetary spanner in the works to any plans you might have, so the best time to act is when the Super Moon is at its fullest! The Full Moon trine Mars is also on hand to offer support, so today is your day to start afresh!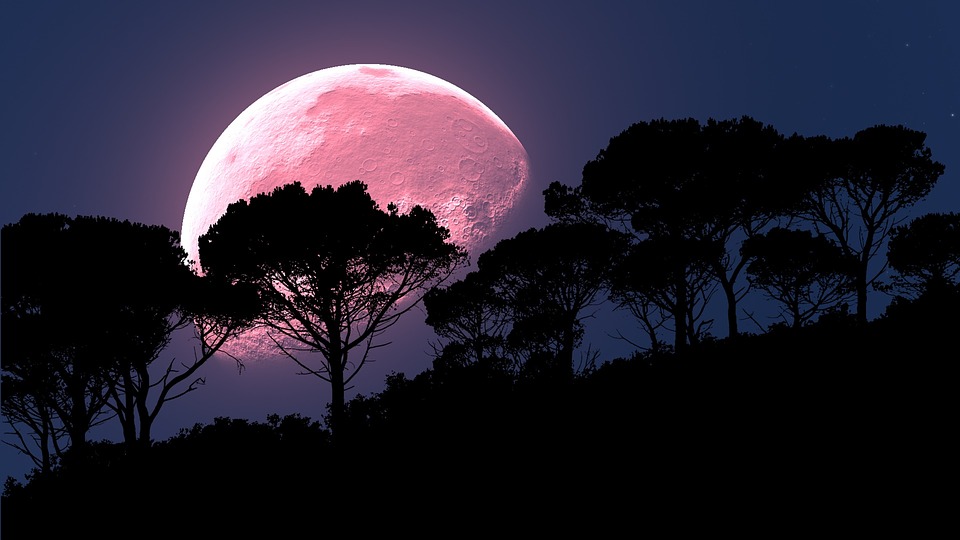 The Pink Moon for Romance
Pink is associated with romance and, for those in situations where there is hope but going through a rough patch, this Pink Moon can bring you a chance to resolve matters. Decide if you want to do the deeper digging, which Scorpio enables – and then blend it with the practical problem solver that is Taurus. You may find what seems a hopeless situation is anything but!
Elements for your Pink Moon
The Colour: Pink 
The Crystals: Merlinite, Rhodochrosite & Selenite 
The Flowers: Cherry Blossoms & Bluebell
The Element: Earth, Air, Water & Fire
The Power Animal: Buffalo 
Thank You for Reading
Another exciting Full Moon will be heading this way in May, which is also a Super Moon! For now, though, have a lovely rest of the month!
Until then,
Love and Light X
Speak to one of our Psychics!
We have a very experienced and friendly team of psychics with us here at Psychic Today! Click on our link here and select the psychic of your choice for an exclusive one-to-one reading!
Download our Psychic Today Companion App now!
The Psychic Today Companion App for all your psychic needs! If you haven't yet added it to your mobile phone, you can do so by following our links here:
To download from the App Store – click here.
Or download it from Google Play – click here.
To top up your credit or if you have any questions or queries, our friendly reception staff are available 8:00 am to 2:00 am GMT on 0333 335 0297. You must be over 18 years old to use this service, which is for entertainment purposes only. You must be the bill payer or have the bill payer's permission. We may send free promotional messages. 
Facebook
Text FACEBOOK and your question to 65511 for your free reading! (Usually £1 per message, max 3 messages per reply. One per person. CS: call 0333 335 0297. UK Only) Click on the link to our page and see our Facebook Live sessions right here!