The New Moon in Cancer – 10th July 2021
New energy comes with this powerful New Moon in the sign of Cancer. This new energy comes at the right time with all the changes set to happen for us for Freedom Day. A fresh outlook with a much-deserved step in the right direction! This particular New Moon appears in the early hours of Saturday, the 10th of July at 02:16 a.m UK time.
Cancer's compassionate water sign is the perfect way to absorb this new energy from this moon. Caring and nurturing towards each other is a common and, especially for right now, most welcome trait from this star sign we all can benefit from. With all this rich energy on offer from the planets and stars, we all can create a real sense of belonging in the world.
Don't forget you can watch us LIVE on our website, PLUS our Facebook page for special LIVE sessions to interact with your questions for FREE with our psychics!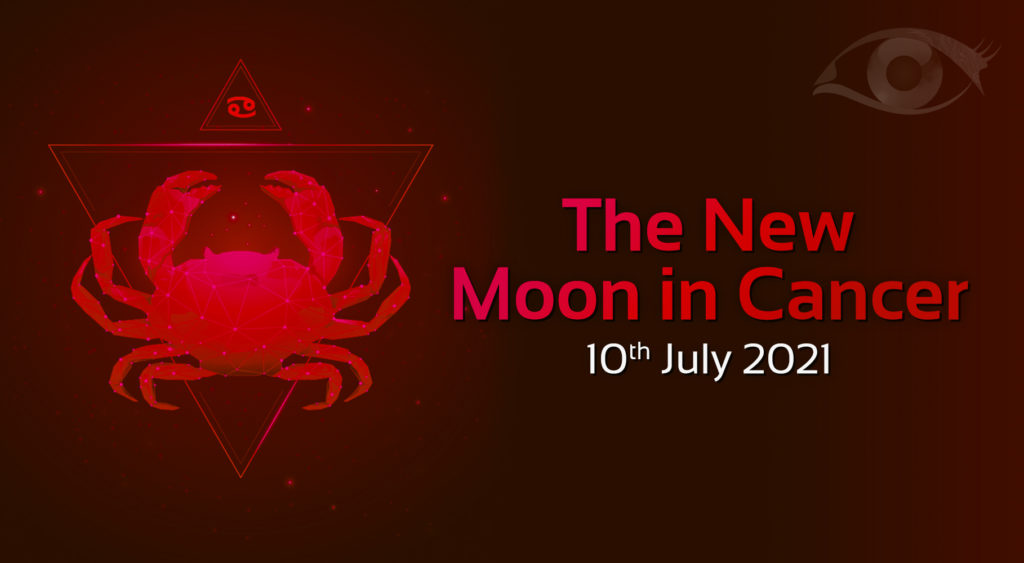 How Does the Moon Work?
Did you know the Moon always shows us the same face? There is no single dark side of the moon. It is a celestial sphere that takes 27 days to rotate on its axis and revolves around our planet once every 27.3 days.
What we see when we look at the moon is reflected sunlight. On average, the moon will rise about 50 minutes later each day, which sometimes rises during the day and others during night hours.
When we experience a New Moon, the satellite is between Earth and the Sun. The part of the moon facing towards us on the ground receives no direct sunlight. The only light source is the dim sunlight reflected from Earth.
The Moon in Astrology
This New Moon has a slight conflict with Venus, the Goddess of Love, in terms of making decisions but will be backed up with strong positive support from Uranus. The reason for the conflict with Venus stems from being conjunct with Mars, so you can also expect heightened intimacy and plenty of sexual tension! Venus also happens to be opposite Saturn now, which can benefit you if you are looking to make plans and set deadlines!
As this New Moon falls under the current Sun Sign of Cancer, it is actually more in line with the constellation of Gemini. Amongst this is a fabulous fixed star named Wasat, now more commonly known as Delta Geminorum, which happens to fall between the twin sign of Gemini. This star allows for clear communication or straight talk, which is very handy when there is too much waffling! So get straight to the point of what you want under this New Moon. You deserve it!
When is the Next New Moon?
The next New Moon will appear on the 8th of August 2021 in the sign of Leo. What will this moon mean for all of us? Be sure to find out in the next New Moon Blog!
Until then,
Love and Light X
Speak to one of our Psychics!
We have a very experienced and friendly team of psychics with us here at Psychic Today! So click on our link here and select the psychic of your choice for an exclusive one-to-one reading!
Download our Psychic Today Companion App now!
The Psychic Today Companion App for all your psychic needs! If you haven't yet added it to your mobile phone, you can do so by following our links here:
To download from the App Store – click here.
Or download it from Google Play – click here.
To top up your credit or if you have any questions or queries, our friendly reception staff are available 8:00 am to 2:00 am GMT on 0333 335 0297. You must be over 18 years old to use this service, which is for entertainment purposes only. You must be the bill payer or have the bill payer's permission. We may send free promotional messages. 
Facebook
Text FACEBOOK and your question to 65511 for your free reading! (Usually £1 per message, max 3 messages per reply. One per person. CS: call 0333 335 0297. UK Only) Click on the link to our page and see our Facebook Live sessions right here!