The Full Moon in Aquarius – 24th July 2021
Freedom and fun for all this Full Moon! It appears under the sign of rebellious Aquarius so be sure a fair bit of mischief and spontaneous happenings over the next couple of weeks!
This Full Moon, also known as a Buck Moon, will be shining ever so brightly in the early hours of Saturday 24th July in the UK, the Full Moon will peak in its brightness around 03:36 am.
What is in store for your astrology this lunation? How does the current sun sign of roaring Leo mix with this free-willed Aquarius moon? Read on below!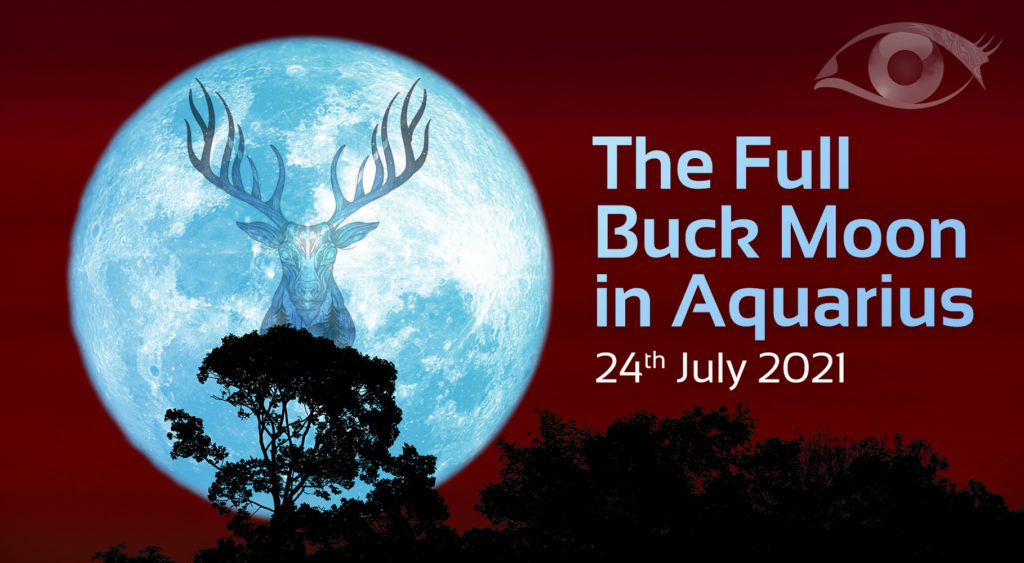 A 
Buck

 

Moon

 – New Antlers

The Full Moon to see out July and into a new month is called Buck Moon, as the new antlers emerge from buck deer's foreheads that are usually around this time of the year.

Male deer, or bucks, shed their antlers and grow new ones every year. Deer belong to the Cervidae family, also alongside moose, elk, reindeer, and other species. You will find several different species of deer in the United States and Europe, where this traditional July Full Moon name originated from.

This moon is also known as a Thunder Moon (which may be appropriate for this weekend in the UK!), a Hay Moon and, due to the sometimes colour, a Rose Moon.
Astrological Influences
A Full Moon always feels like a culmination of events! It's safe to say we've had our fair share of those this month already! This Aquarius moon brings a five-point geometric pattern, known as a quincunx into Venus, the Planet of Love. On the back of this, an abundance of passion should radiate amongst us towards all those we love and care for. This lunation begins the day after Leo begins, so use that confidence that the lion brings!
Venus is also opposite Jupiter, the Planet of Good Fortune and Expansion. Combined with the Aquarian free-thinking and self-styled swagger, you can afford to march to the beat of your own drum! Why not try new ideas and make those plans that you have been hesitant to make up till now. You won't know until you try! Soak up the Leo lion influence and let those around you know that there is a jungle cat lurking within us all and it's just roaring to show off!
Elements for your Buck Moon
The Colours: Blue, Gray and Silver.
The Stones: Moonstone, White Agate and Pearl.
The Herbs: Lemon Balm and Honeysuckle.
The Flowers: Jasmine and Water Lily.
The Elements: Earth.
The Power Animals: Whale, Dolphin, Turtle and Crab.
Thank You for Reading
What can the 
Sturgeon Moon
influence our mood for 
August?
Join us next month to find out! Don't forget you can watch us
LIVE
 on our 
website
, 
PLUS
 our 
Facebook
 page for special 
LIVE
 sessions to interact with your questions for 
FREE
 with our psychics!
Until then,
Love and Light X
Speak to one of our Psychics!
We have a very experienced and friendly team of psychics with us here at Psychic Today! Click on our link here and select the psychic of your choice for an exclusive one-to-one reading!
Download our Psychic Today Companion App now!
The Psychic Today Companion App, for all your psychic needs! If you haven't yet added it to your mobile phone, you can do so by following our links here:
To download from the App Store – click here.
Or download it from Google Play – click here.
To top up your credit or if you have any questions or queries, our friendly reception staff are available 8:00 am to 2:00 am GMT on 0333 335 0297. You must be over 18 years old to use this service, which is for entertainment purposes only. You must be the bill payer or have the bill payer's permission. We may send free promotional messages. 
Facebook
Text FACEBOOK and your question to 65511 for your free reading! (Usually £1 per message, max 3 messages per reply. One per person. CS: call 0333 335 0297. UK Only) Click on the link to our page and see our Facebook Live sessions right here!