The New Moon in Leo – 8th August 2021
Powerful Leo New Moon – Time To Shine!
At the moment, the Sun is high in the sky in Fiery Leo. Ruled by the Sun itself, the sign of Leo also enters a New Moon cycle on 8th August in the UK afternoon hours at 14:49. Astrology wise, this is big cat time for us all!
This next phase is all about gaining a sense of recognition and starting a new cycle based on both your emotional ego (influenced by the hot Leo Moon energy). Plus your protective ego, using the powerful Leo Sun energy!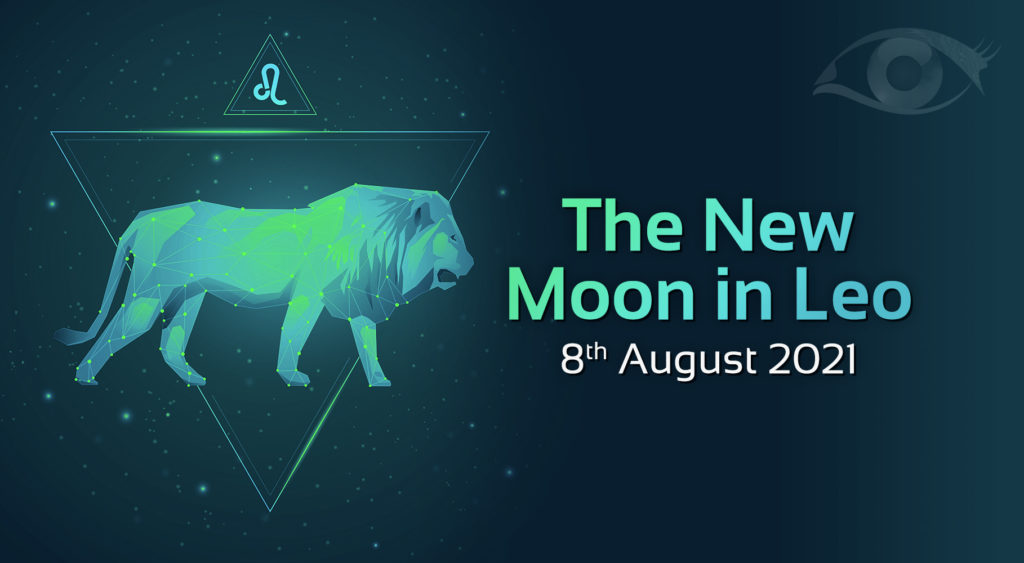 Powerful Energy
When the Sun and Moon join together, they are combining and fixing their energy together, to prepare for the start of a fresh new chapter. In this case, the Sun and Moon are really honing in on fixing their energy together.
Because of the fixed nature of Leo, it is a sign that likes to stand still and stay put, with the essence of strong pride.  But, what does this all mean? And what can happen to you? Find out here!
Out On The Edge Of Tomorrow
Things may feel slightly edgy for anyone resonating strongly with the signs of Leo or with Taurus, around this New Moon. This is because Uranus, Planet of Unpredictability and Sudden Occurrences, currently transiting Taurus, forecasts unwanted or unexpected changes that will mostly push us to think outside of our usual comfort zones.
So, if you are considering any changes and new beginnings around this New Moon cycle, you are likely to be thinking about a different sort of change, something perhaps which you wouldn't normally consider, and this will be due to the excitement caused by the planet Uranus.
This could be anything! From something shocking to something inviting, or just so different and revolutionary, it could have you in a role of wanting to be a bit more "Out there". Perhaps it's time to do exactly as your heart desires!
If you are a lover of the arts and performances, then this can work magnificently for you! It may also be time for you to rethink the way you present yourself, the way you express yourself, or the way you may be acting in certain situations. Changes can bring results!
Getting The Most Out Of The Moon
With such strong fixity, this cycle may be asking us to consider a tricky change we may not really want, but at the same time need! Leo is ruled by the Sun and you can't get any brighter than the Sun! The Sun rules everything, so we need to bear this in mind.
Perhaps it is time to think about our own leadership qualities and how we can burn as brightly as we can. Are we constructing things the right way? Are we being kind to the needs of others? And are we also being dutiful to our own needs?
It is time to think about taking a true stand for wherever you need, to gain recognition and praise. Praise may come in very unusual ways, and we are not always open to the type of praise we expect.
But this is a time where you can start to formulate new goals, new standards alongside inventing new ways of standing out! This could be something as simple as working on a business media page or making new changes in a one to one relationship for great fulfilment.
Important Things
How do we get more attention? Plus, how do we get others to turn their heads towards us? And how do we stand out to others and gain the appreciation or following that we need? You will find these considerations at your core over this next period and can take important steps to succeed.
Keywords that are central to this New Moon might be:
Pride
Warmth 
Power
Glory
Status
Passion
Creativity.
Leo and the 5th house also rules children, romance, hobbies and pastimes, passions as well as entertainment and public houses, gigs and all kinds of pleasurable energetic events. So, this is also a great time to fix your ideas on a new hobby or invite more playtime into your life! Try and book that gig, get to that place you love, take that performance! And accept the praise that you deserve too!
Firey and Sexy Leo!
Because Leo is the hot sign of a marvellous mane in all its glory, strong Leonine energy can cause holdbacks with self-expression, giving a belief that it is down to others to appease matters or shower us with love/compliments.
But, deep down, sexy Leo has such a passionate and loving heart, that it will give very easily and reliably once it has that trust in place. Being open like a Leo, trusting and learning new ways are also possible now.
So, this can be an excellent time to go forward with those goals we have been setting ourselves and if it is time to truly express how you feel towards someone, then this rather naughty and quirky New Moon in Leo could be just that firey ticket to do it!
Worthy To Be Worshipped!
We all have lessons to learn about pride but we must also consider that once we have let go of pride and resilience, we can feel the kind of wonderful confidence within the soul and psyche that gives Leo so much grace and the ability for approval.
It is rare to worship something or someone that hasn't earned the status. Now is your time to be worthy to receive as well as to give. People have always worshipped the Sun, because of its power and promise to provide growth and light to the earth.
Under the warm light of the Leo New Moon, this is your chance to shine brightly, hold your head up high, shake your magnificent mane and be the real you, to stand proud, tall and in your full magnificence!
Need a helping hand to get you where you need to be, a genuine spiritual message to help you on your way or some healing to remove that final blockage? Then we have the Psychic for your needs this New Moon in Leo!
When is the Next New Moon?
The next New Moon will appear on the 7th of September 2021 in the early hours and will be in the sign of Virgo. What will this moon mean for us? Find out next month!
Speak to Lucy!
This New Moon article was written by Lucy! Go to her profile to get an exclusive one-to-one reading!
Download our Psychic Today Companion App now!
The Psychic Today Companion App for all your psychic needs! If you haven't yet added it to your mobile phone, you can do so by following our links here:
To download from the App Store – click here.
Or download it from Google Play – click here.
To top up your credit or if you have any questions or queries, our friendly reception staff are available 8:00 am to 2:00 am GMT on 0333 335 0297. You must be over 18 years old to use this service, which is for entertainment purposes only. You must be the bill payer or have the bill payer's permission. We may send free promotional messages. 
Facebook
Text FACEBOOK and your question to 65511 for your free reading! (Usually £1 per message, max 3 messages per reply. One per person. CS: call 0333 335 0297. UK Only) Click on the link to our page and see our Facebook Live sessions right here!