10 Ways to Stay Positive – with Sky Silverstone
We're all faced with a global situation serving us extra helpings of uncertainty and life challenges, all coated with the physical separation from others.
You, like many others in this current time, will probably be facing extended periods of aloneness which can be a breeding ground for negativity within our thoughts, mind and words.
Here's the problem, negativity eats away at our wellbeing, happiness and overall life success and so exacerbates problems, which is why we've created 10 Ways to Stay Positive.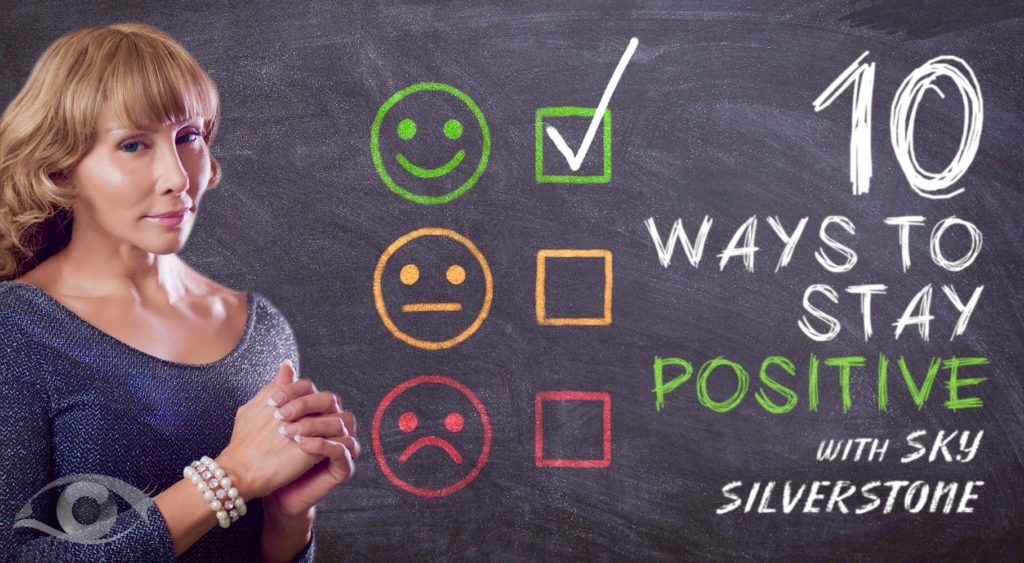 But staying positive ultimately nourishes and feeds our body, mind, and wellbeing. Importantly, don't you just feel awesome when you're consciously positive?
Yeh, I do! So in these difficult times, I must share my checklist with you. It works for me and many wonderful customers who have called me. How many can you check off?
1) Make a conscious choice to be positive and stay positive.
It's so important to make an all-important decision, a choice, that's made verbally or write it down and pin it to a wall that you look at every day. The words will start to imprint on your conscious and unconscious mind. A successful technique I often use is the 'Mirror Technique.'
An example of this is; look into a mirror, make sure you look straight into your own eyes and tell yourself, "I am a positive person, I reject everything negative." You may feel silly at first, but that passes the more you practice it, and the more you practice it, the more it manifests.
2) Start each day uplifted and express gratitude for everything
From the moment you wake, express your personal gratitude for whatever's ahead of you. I often say, "It's gonna be a great day, let's make it exceptional." Even when I'm facing difficulty, challenges or problems, I still say thank you. Why? Because anyone who goes through a challenge, inevitably learns something, even if it's that – 'I won't do that again!' Or 'that was horrible but I know better now.'
3) Create a daily routine and stick to it.
If you haven't done so already, create a daily 'to-do list' or weekly routine or regime and make sure you write it the day before. I want to emphasise this point because recently many of you will have been flung into having time on your hands if your day is largely unchecked and unplanned, it becomes a void of wasted time.
For example, the first thing I do for my month ahead is to schedule everything into my diary.  I then check everything the day before. Now, it's your choice, you may want to do this day by day or week by week, but do it, because a feeling of victory ensues every time you cross off a task done.
4) Exercise, eat positive foods that feed your body, mind and spirit. Sleep and wake at fairly similar times.
When you're tired, or haven't eaten, or not slept enough, don't you become short-tempered, irritable or lack focus? Of course, we all will, and we all respond differently but ultimately we're not anywhere near our best. Never has been a better time to make sure you get daily exercise, even just for a walk, connect with nature, plan your meals, make sure you're sticking to a regular sleep and wake time as these all prevent mood swings, anxiety and stress from creeping in.
5) Daily short techniques to calm the mind, meditation or quiet reflection
Taking time to practice meditate or calm the mind have all scientifically been shown to allow you to ease stress, increase mental focus, creativity and reduce anxiety. I meditate in short periods throughout each day, it charges me up to be focused assertive and remains untouchable by negativity.
6) Cut & clear people who are persistently negative, moaners, positivity-vampires and gossips.
The above are all lower energy practices. Being positive, uplifting and grateful are all higher energy practices. Do the maths as it's clear which do you want? So be smart and aim higher. When you're around positive, uplifted and optimistic people, it's a great feeling as you're taking that with you. These kinds of people attract more of the same, so the positivity keeps multiplying. It's a great plus, as being positive is like a spray-repellent against positivity-vampires!
7) Create a Negativity Blasting Affirmation
No one's perfect! We wouldn't be human if we were all bouncing off the walls with happiness every hour of the day. So when you're feeling like you're 'falling off the wagon' blast that negativity with a few positive words like – "I'm staying on a road of positive vibration, nothing's going to distract me." You choose what works for you and keep saying it.
8) Support, listen, help, guide others
When I support, listen –I mean really listen, to people who are truly going through tough times, well, my issues and problems become microscopic. This is a natural human response to take the focus off our own issues. Anyhow, are your issues truly bigger than someone else's? If not are you being selfish? Well then, why not drop someone else a call to truly ask how they are?
9) Accept what you can not change and surrender it
On numerous occasions, I've said possibly to one of you reading this, "There's no way you can change that at the moment, so why all that wasted energy of worrying about it? Surrender it!" As these words often come from another's advice to you, it's also important to chat to someone positive. And the response I get from you is a variant of, "You're right, why am I doing all this worrying." So be smart, surrender what you can't change.
10) Schedule a regular 'Mood Boosting Night.'
Now of course in the current global situation, I understand many of you are on your own or there are very few people around you, nonetheless it's important to take care of yourself. Do something special that's only for you. For me, one of many things is comedy and some great food. Or a long soak and meditation in the bath with some scented candles. Go on pamper yourself and feel positive!
Conclusion
It's simple – living, speaking, thinking positively and spreading positivity, equals a happy, balanced and peaceful life. Your choice
Who is Sky Silverstone?
Sky Silverstone is an astrologer, crystal healer, numerologist, colour analyst, and life coach. She has a very open, caring and friendly nature. She makes regular appearances on Psychic Today. Sky would love to give you an astrological reading too! 
Speak to one of our Psychics!
We have a very experienced and friendly team of psychics with us here at Psychic Today! So click on our link here and select the psychic of your choice for an exclusive one-to-one reading!
Download our Psychic Today Companion App now!
The Psychic Today Companion App for all your psychic needs! If you haven't yet added it to your mobile phone, you can do so by following our links here:
To download from the App Store – click here.
Or download it from Google Play – click here.
To top up your credit or if you have any questions or queries, our friendly reception staff are available 8:00 am to 2:00 am GMT on 0333 335 0297. You must be over 18 years old to use this service, which is for entertainment purposes only. You must be the bill payer or have the bill payer's permission. We may send free promotional messages. 
Facebook
Text FACEBOOK and your question to 65511 for your free reading! (Usually £1 per message, max 3 messages per reply. One per person. CS: call 0333 335 0297. UK Only) Click on the link to our page and see our Facebook Live sessions right here!