The New Moon in Virgo – by Chloe
This New Moon will be in the sign of Virgo and will occur at 2:29 BMT. Interestingly, Virgo's ruling planet is Mercury and this gives the Mercury retrograde a shift forwards, again. Uranus is also in tight alignment with this New Moon in Virgo, exalting freedom and awakenings to us mere mortals on our planet, Earth. This will help make it more possible than usual to get things moving onwards and upwards.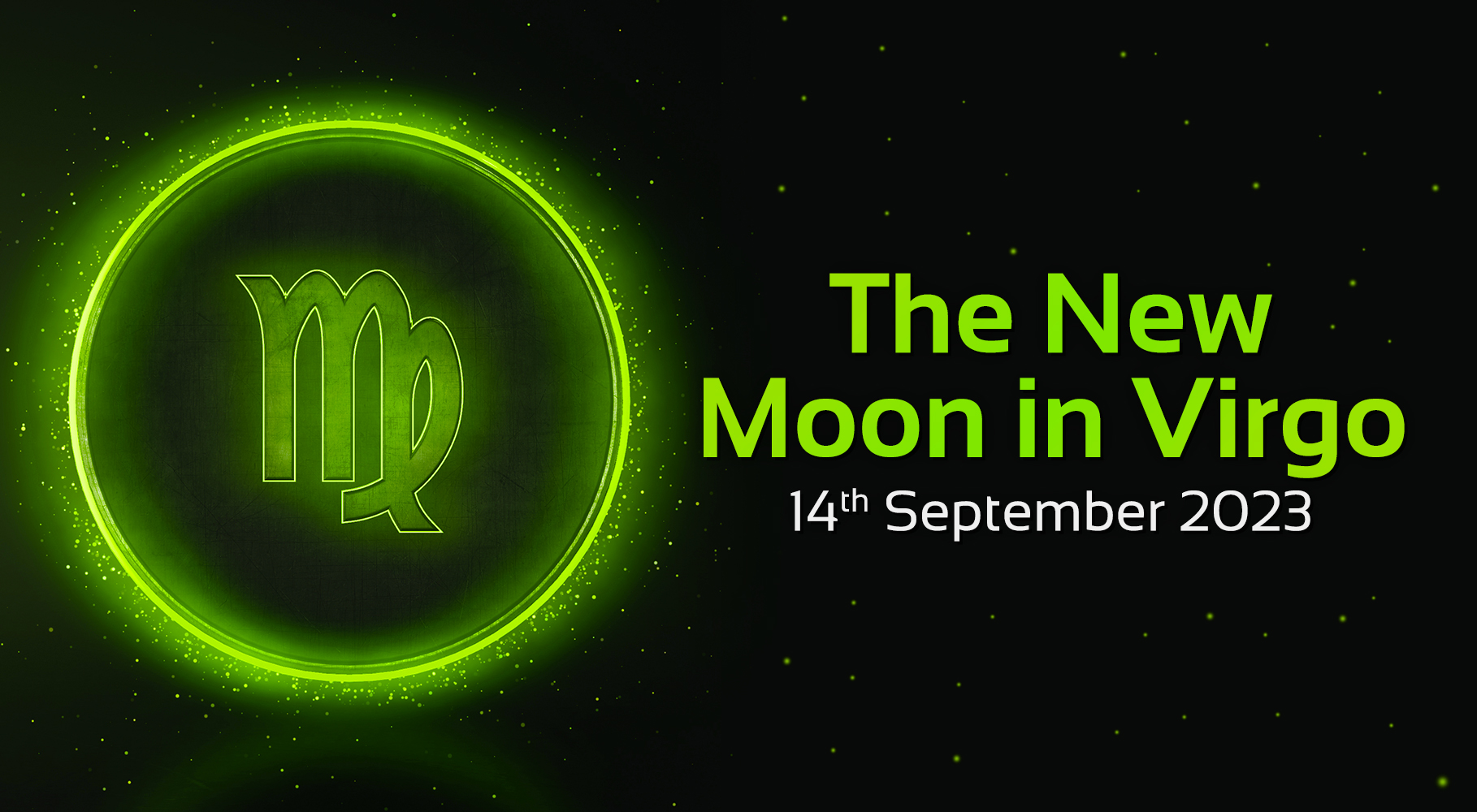 This is the perfect time to look at areas that need a positive push. Virgo is notoriously organised, methodical and exacting. If there was any time of the year to do a deep clean and tidy up, then this is when to do it! This can also be applied to relationships, work or other areas in our lives that could do with re-organising.
Upskilling or studying to further one's career will work wonders at this time. Virgo is an earth sign, so dedicating time to something practical, especially in finances, hands on work or creative pursuits is going to flourish at this time. If you have been feeling disorganised or overwhelmed with responsibilities, be discriminating in areas  where you can solve this.
Relationships can easily get stuck in ruts. As Virgo deals with routines, look for more lively and inspiring pursuits that could fit in around the mundane tasks of everyday life. This will bring more passion to stale partnerships. If you are single and looking for love, then question how realistic you are being about the possibilities of finding someone special. Are you being too picky or critical? Or maybe you are overlooking your attributes and being overly judgemental on yourself. Virgo's are real perfectionists and so under this Virgo New Moon, take a step back and assess whether you are being fair to yourself.
Aries in 6th House
This is a super charged Virgo energy for Aries. You will be spurred on to get organised, paying attention to detail and feel a sense of achievement under this New Moon. Any practical matters will be well managed, effortless in undertaking and new routines successful.
Taurus in 5th House
This is a great time for creative pursuits, social activity and feeling a sense of pride in what Taureans hope to achieve under the Virgo New Moon. Expressing love to others in a more extroverted manner will feel easy to Taurus at this time. Make quality time for fun pursuits or take up exciting hobbies.
Gemini in 4th House
Gemini could do well to gain reassurance under this New Moon, for it is in the house of Cancer, the sign of security. Attention to family and those we are closest to, would gretly accept any attention you pay to them. Finding out about one's own heritage or family history could also play a big part at this time, too.
Cancer in 3rd House
Speaking to those we need to influence will work well under this Virgo New Moon. Communication is key to gaining support, expressing your skills as well as motivating others. Use this energy to begin journaling, reaching out to new people or to learn somelearningat one connects to, intellectually.
Leo in 2nd House
This New Moon gives Leo the opportunity to review finances, assets and home life. If stability is lacking, investigating new ways of improving this will reward you in the long run. Do not expect any quick fixes. Slow, steady and practical acumen is important to eventual success.
Virgo in 1st House
How do you want others to perceive you, Virgo? Or do you even care? We can all do with a bit of a shake up, so in the house of Aries gives you licence to experithe ment, take risks and be more expressive. Some rules are good to be broken, especially if it limits one's positive growth.
Libra in 12th House
Time to review one's spiritual growth, Libra, and this New Moon encourages fresh perspectives. Taking up meditation or learning about spiritual practices will enable Libra to gain a sense of calm and purpose. Exploring the deeper meanings of life, ones dreams and subconscious could be a draw for Libra at this time.
Scorpio in 11th House
If you have been experiencing any kind of FOMO or fear of missing out, then now is the time to change that, Scorpio. Making new efforts with friends and social activities will be helpful for Scorpios under this New Moon. You may also feel more socially aware and becoming involved with new groups will be positive for Scorpio's now.
Sagittarius in 10th House
Feeling a strong sense of duty under this New Moon will enable Sagittarius to do well in work and other areas of responsibility. Making important decisions and taking action where needed, will show Sagittarius as a good influence. If you want more authority in work or home, starting to act upon this now is likely to see good progress.
Capricorn in 9th House
This is the perfect time to start any new learning, be it in work, homelife or socially. Any dreams that Capricorn has been unable to achieve, would do well to be addressed under this New Moon influence. Finding ways to steer oneself to the path of self discovery will open up new opportunities, which could quite possibly take Capricorn further than they had anticipated.
Aquarius in 8th House
Change is the catalyst for Aquaruis under the New Moon in Virgo. Taking time to think about what no longer serves you, will enable new growth and new beginnings. Investigating what one's desires are can lead to surprising outcomes and give Aquarius a new lease of life.
Pisces in 7th House
If cooperation has been lacking with others, this New Moon will see clearer lines of communication, especially with those we are in relationships with. This can be romantic as well as professional partnerships and making positive adjustments now, will lead to harmonious exchanges. Be flexible to making changes with others for this will bring long term gain to future cooperation.
Speak with Chloe
Our very own shining star, Chloe, has an abundance of psychic knowledge and wisdom to she would love to share with you! Especially about the New Moon!
And if you want a psychic reading? There is no better time than right now! Psychic visions, under this Moon, will enhance these like no other!
Speak to one of our Psychics!
We have a very experienced and friendly team of psychics with us here at Psychic Today! See who is available for YOU right now!
Select the psychic of your choice for an exclusive one-to-one reading! Speak to one of our  Trusted Psychics. Plus, you can watch us live right here!
Download our Psychic Today App now!
The Psychic Today App is for all your psychic needs! If you haven't yet added it to your mobile phone, you can do so by following our links here:
To download from the App Store – click here.
Or download it from Google Play – click here.
Psychic Today is Here For You!
Psychic Today is on a mission to continue providing the very best psychic advice. Now we have more ways to reach our trusted psychics, and we have dedicated ourselves to answering your questions.
You can ring them via our EasyCall feature, found on your chosen Psychics profile. Text our psychics through our Text Reading page. You can also send IMs directly to the live stream via our App. We have made it easier for you to get in contact with our psychics, and they will not disappoint!