So, this is your second Chakra. It vibrates to the colour orange. It is positioned around the pelvis area. I always say it's usually three inches just below the stomach button. It is associated with creativity. Also sensuality, the expression of sexuality and pleasure. It is connected with the emotional body. Energetically speaking, it is the link between you and the outer world. It is therefore an important Chakra to keep in balance. Energetically speaking, it is also thought to be centred on the reproductive glands of both men and women. The gonads in men and the womb in women.
The Carnelian and the Sacral Chakra
The crystal I find most positive and useful for this Chakra is the Carnelian stone.  I find this to be an incredible mineral. I have used it for twenty years to stimulate this Chakra and any creative processes attached to this area. In other words, all creative projects a human can have.
Carnelian stone is an orange coloured variety of Chalcedony. This is a mineral in the quartz family. It has a hardness of 7. It is a powerful ally for those who wish to build confidence, courage and passion within themselves. Carrying or wearing Carnelian can encourage the awakening of the vital energies of the three lower Chakras. The aim here is to increase the zest for living. To stimulate courage and the willingness to take risks.
One's sexual energy can often also get a boost from Carnelian. Also useful can be Orange Calcite. Crystal Healers find them to be the most powerful minerals. They are used for enhancing the lusty desires of the body. Additionally, they can be used to promote a playful creative consciousness.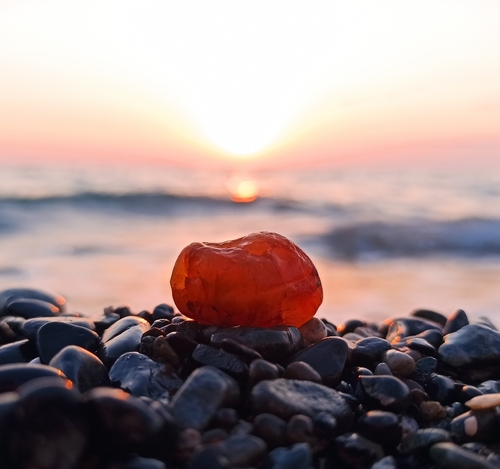 The Sacral Chakra Energy
Having said this, the Sacral Chakra is also the area with energies that pursue pleasure, as its other primary drive. Sexual and sensual activities become a primary concern here. To feel attractive. To be able to draw the things towards you that you desire. These are other needs of the Sacral Chakra. Along with this, is also the desire to lose yourself in the world of sensations.
This Chakra drives you to live life fully. It awakens the emotional life. So, you can understand its power in comparison to the first Chakra, which is satisfied totally by just surviving.
When the Sacral Chakra is out of balance, the individual can feel down. It is even possible to become obsessed with pleasure of all kinds. At extreme levels, this could be when alcoholism, drug addiction, nymphomania and overt materialism could come into play.
Another aspect of the Carnelian stone, is its ability to strengthen and fortify the "physical" body. When you feel your Sacral Chakra is out of balance, this is therefore a stone to consider.  Its vibration is said to balance the flow of life force energy. The stimulation of the Ki as in Reiki also known as the Chi.
When we ignore our physical bodies, we are neglecting the temple of our soul. This is thought to be where our spirit/vital energy resides. Carnelian can stimulate the Ki. It can therefore remind us of the value of physical strength and health.
Sacral Chakra Balance Exercise
Lie down in a peaceful quiet space. Lay a Carnelian stone on the Sacral Chakra. It's important you release all thoughts at this point. Just letting them disappear into the ethers in your space. In your mind, make the intention that you are now releasing all negative energies. The energies that you have gathered into this Chakra, through the very act of being alive as a human being.
Breath deeply. Lie in silence after making your intention. Do this for at least 10 minutes. You should slowly perceive a sense of lightness to your body. This occurs as you clear away all toxic energies and bring balance to your second Chakra.
Some people need to be lead by an experienced psychic or spiritual healer at this point. But  you can learn more about the Chakras and such simple clearing techniques. Practising yourself, you too will be able to sense the subtle energies of your Chakra system.
Speak to one of our Psychics!
We have a very experienced and friendly team of psychics with us here at Psychic Today! See who is available for YOU right now!
Select the psychic of your choice for an exclusive one-to-one reading! Speak to one of our  Trusted Psychics. Plus, you can watch us live right here!
Download our Psychic Today App now!
The Psychic Today App is for all your psychic needs! If you haven't yet added it to your mobile phone, you can do so by following our links here:
To download from the App Store – click here.
Or download it from Google Play – click here.
Psychic Today is Here For You!
Psychic Today is on a mission to continue providing the very best psychic advice. Now we have more ways to reach our trusted psychics, and we have dedicated ourselves to answering your questions.
You can ring them via our EasyCall feature, found on your chosen Psychics profile. Text our psychics through our Text Reading page. You can also send IMs directly to the live stream via our App. We have made it easier for you to get in contact with our psychics, and they will not disappoint!