St Patrick's Day – Celtic Cross – By Victoria Armstrong
To celebrate St Patrick's Day on 17th March, we're looking at Celtic Cross Readings.
The Pictorial Key to the Tarot
The first record of this type of reading dates back to 1910 in Arthur Edward Waite's book 'The Pictorial Key to the Tarot'.  Arthur referred to it as an 'Ancient Celtic Method of Divination'. His belief was that it originated in Europe was a modification to earlier spreads that were laid out in the form of a cross.

St Patrick was renowned for his 'mission' in Ireland that was inspired by, as some would say, his 'life purpose'. So to pay tribute to St Patrick, we're going to take a look at how the Celtic Tarot spread works.  In this example we are looking at a question about a male individual's life purpose.

The Celtic Cross Spread 
Many readers say they don't use this spread because they can't remember what each card position means. 

Here's the template of how the spread is laid out: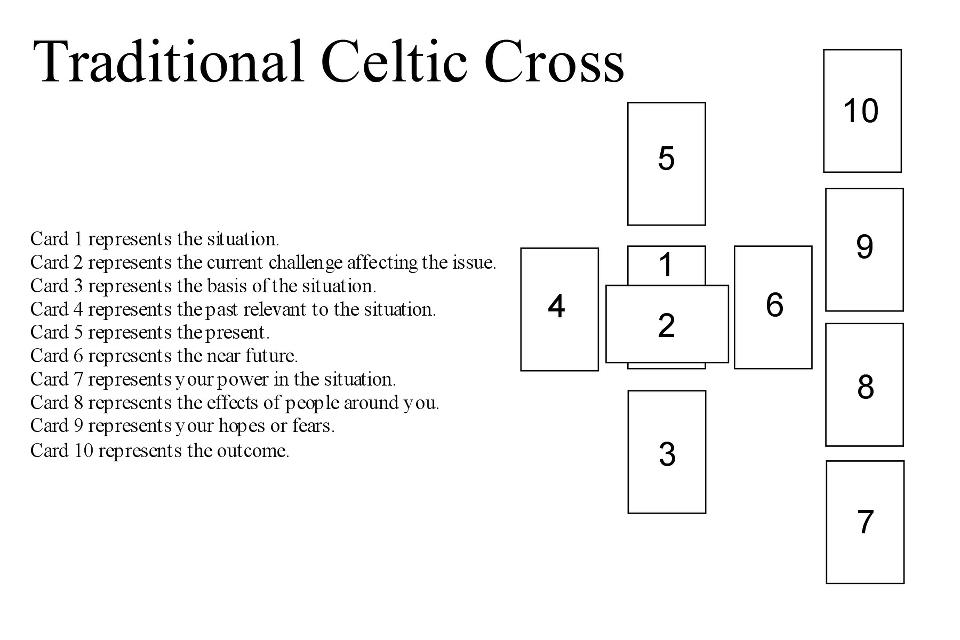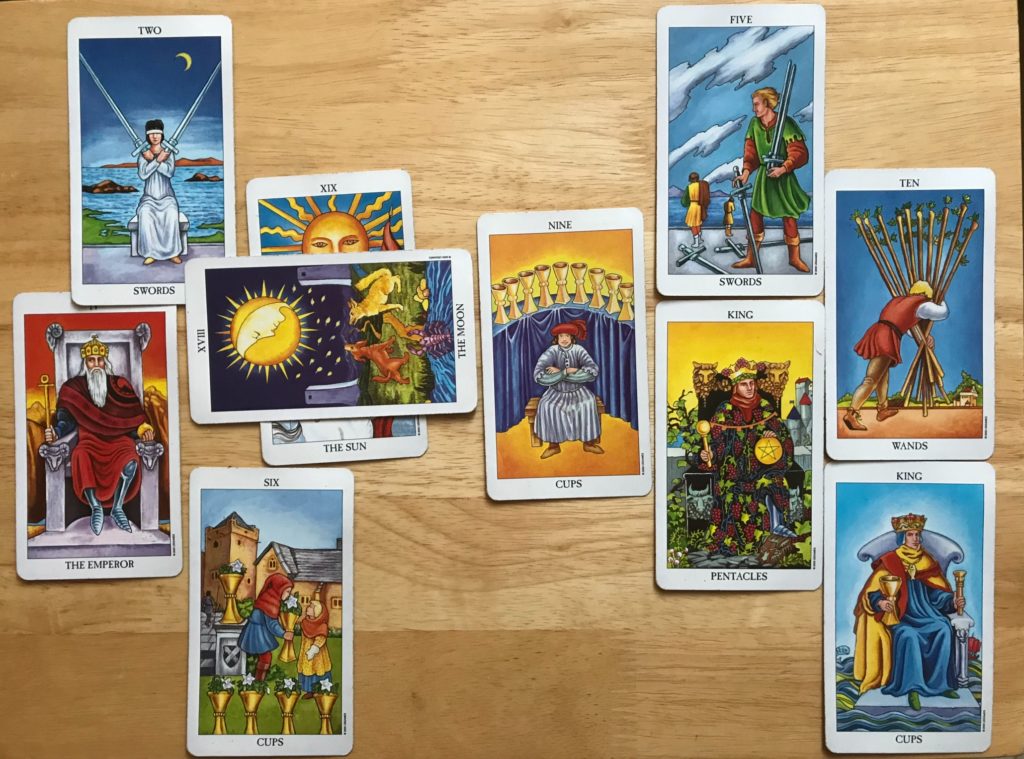 The overall meanings of the cards in this layout
The Sun card shows that this person is content with their current career path.  They are moving forward, they're not making any great leaps and bounds but it's more about being happy for them.  They've worked hard and have had some major achievements along the way.
The Moon
The moon shows an emotional block in this person's path. It is made up of 2 sides, depicted by the 2 dogs, of their psyche conflicting with each other.  They get satisfaction from the creative side of their work. The lobster emerging from the water is significant as it shows periodically something niggles them about this conflict but they aren't fully aware of what the nudge is about. 
Cups and Emperor

With the 6 cups, the basis of the situation is that this person has achieved status, made his mark in some way and now they're looking for a break or a turn around in some way to take things to the next level.

The emperor relates to the past and his career path has gone a totally different direction from what he ever expected. He had thought he'd go into a more traditional career but as things progressed, he practically stumbled onto this path but have really made it their own.

The Swords 
Card 5, the 2 of swords relates back to the conflict mentioned earlier with the moon card . There could be something unseen that still needs to be addressed between the creative and logical aspects of his career path.
The 9 of cups tells us that recognition and achievement is coming his way, but only when the issue mentioned with the 2 of swords is addressed first.

King of Cups

King of Cups is what this issue is about.  This person has built a great base to launch themselves from. The cup shows that it is ready to receive and the crown and staff show this person has a substantial amount of knowledge to share. So they could look at a new path in teaching, training, mentoring or even coaching.  
The King of Pentacles shows that there has been great support around him.  They've helped him set a standard by expecting a lot from him so that has helped him keep on top of his game.
The Wands 

The ten of Wands illustrates that he is moving forward. The fact the man's head is down shows that this man hasn't a full, clear vision of what he wants. Perhaps he may just be cruising until he feels he is being pushed to take things to the next level.

Lastly, the 5 of swords shows the outcome here is victory over the issues highlighted by the moon card and the 2 of swords. It looks as if the emotional issue has been addressed and he is moving on from it. So there appears to be a positive outcome overall, for his career path in moving forward.

Thank you  for reading!
Tune in on St Patrick's Day from noon to 2pm. I'll be giving mini Celtic Cross Readings if you ask via text on the show!
Victoria Armstrong x

The wonderful and caring Victoria Armstrong offers sound and uplifting guidance in a reading with you. She has many years' experience giving intuitive insight on all kinds of love readings. Speak with her directly for your positive guidance here; https://psychictoday.uk/reader/6637/victoria-armstrong