A Guide to Meditation – with Sammie Aurora
There has never been a better time to learn meditation. We are all feeling that little bit tenser. So why not try and alleviate some of that feeling? 
Meditation is great for relaxation and developing the openness of the mind. I thought I would share my thoughts on the different kinds of meditation I have tried over the years.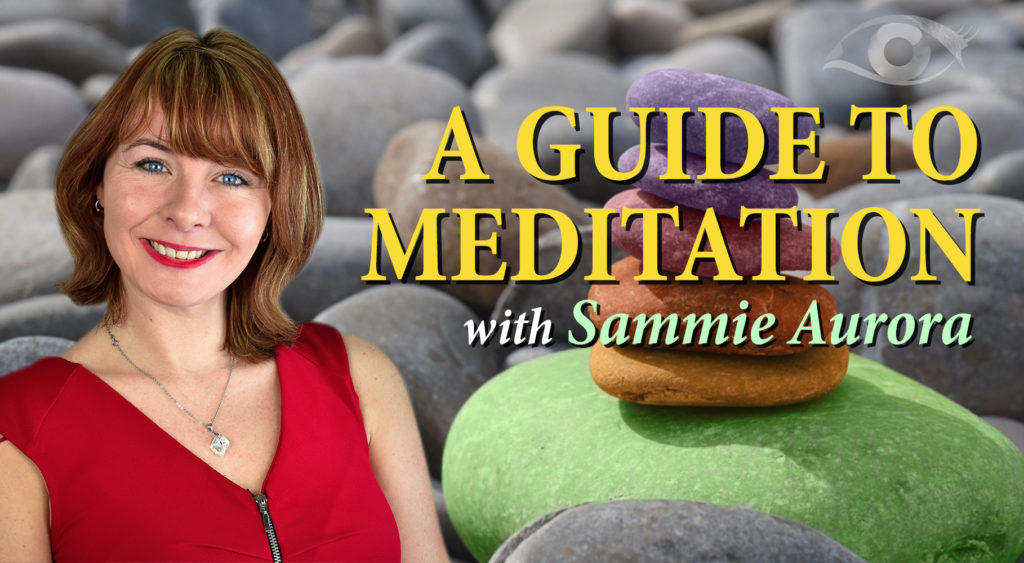 Sammie's Meditation Guide
Sammie Aurora telling us all about how she meditates and how to get started. Watch to the end for a guided mediation!
Guided Meditation
Maybe the best place to start, you don't have to do anything. Just sit or lie down and listen to a relaxing track as someone whispers words of positivity and calm into your ears. My favourite guided mediation is from Abraham-Hicks. It's a series called 'Getting Into The Vortex'. They are just 15 minutes long, and you can listen to the meditations morning or evening.
Mantra Meditation
You may have heard of the Transcendental Meditation movement. The Maharishi Mahesh Yogi founded the organisation. He taught The Beatles how to meditate. They have a school worldwide; you can pay a tier-based fee to be taught meditation by a practitioner and join the community.
If you want to try mantra meditation on your own, try closing your eyes, take a few deep breaths then start repeating the word 'Satnam' in your mind. It means 'truth is my name.' Just try to relax as you repeat the mantra in your mind.
Any thoughts popping up, notice them and come back to the mantra. It should be effortless. You can do it for 10 minutes or 20 minutes, whatever you have time for. I find this mediation like defragmentation for the mind.

Mindfulness
Mindfulness is effortless. It's just about being present in the moment. You can practice mindfulness whilst doing the washing up. Pay attention to the sounds, sensations, colours.
Being present with what you are doing get you grounded at the moment. Mindfulness can be practised in any situation, while you have a walk or eating a chocolate bar. Let's all do that. Mindfully eating chocolate!
Morning Pages
This, for me, is like an active meditation. I adopted the exercise from a book called The Artist's Way. The first thing I do in the morning (after I get my coffee!) is pen to page. I write three pages of whatever pops into my mind. I don't stop.
If I can't think of anything, I write, "Oh, I can't think of anything", then my thoughts will start flowing again. It's like a morning brain drain. I have been writing these pages now for a couple of years. It sets me up nicely for the day. I really recommend the book The Artist's Way by Julia Cameron. 

Thank You For Reading!
So there, you have four different kinds of meditation. Plus my video! I hope you found my blog interesting. If you'd like to add anything, please do post it in the comments. I love to hear your thoughts!
Have a Psychic Reading with Sammie Aurora
Sammie Aurora is a compassionate natural psychic who concentrates on giving enlightening and inspirational readings. The areas of her readings are centred around emotional insight and empathy as well as removing emotional blockages. You can contact Sammie for a personal and private psychic reading right here 
Speak to one of our Psychics!
We have a very experienced and friendly team of psychics with us here at Psychic Today! So click on our link here and select the psychic of your choice for an exclusive one-to-one reading!
Download our Psychic Today Companion App now!
The Psychic Today Companion App for all your psychic needs! If you haven't yet added it to your mobile phone, you can do so by following our links here:
To download from the App Store – click here.
Or download it from Google Play – click here.
To top up your credit or if you have any questions or queries, our friendly reception staff are available 8:00 am to 2:00 am GMT on 0333 335 0297. You must be over 18 years old to use this service, which is for entertainment purposes only. You must be the bill payer or have the bill payer's permission. We may send free promotional messages. 
Facebook
Text FACEBOOK and your question to 65511 for your free reading! (Usually £1 per message, max 3 messages per reply. One per person. CS: call 0333 335 0297. UK Only) Click on the link to our page and see our Facebook Live sessions right here!