Knitting Together Numerology
The journey to becoming a Numerology reader started in 2005 because I wanted to know what was wrong with me. Why wasn't life turning out how it was supposed to? I learned the basics of Pythagorean Numerology from a book that was gifted to me (Numerology: Key To Your Inner Self. A Complete Guide To Understanding and Using Your Numbers Of Destiny by Hans Decoz). I quickly came to realise that who I was and am, is exactly who I am meant to be. That was something I needed to accept. Acceptance is a lifelong journey.
As I progressed and started reading for others it became a staple part of my identity whether it was interspersed with astrology, tarot, yoga or everyday life. The numbers were still there. Why? Because numbers are an integral part of life. So that's where I'm at right now. Let's crack on and go through the numbers. One by one!
After that, we can look at specific numerology numbers and how to calculate them.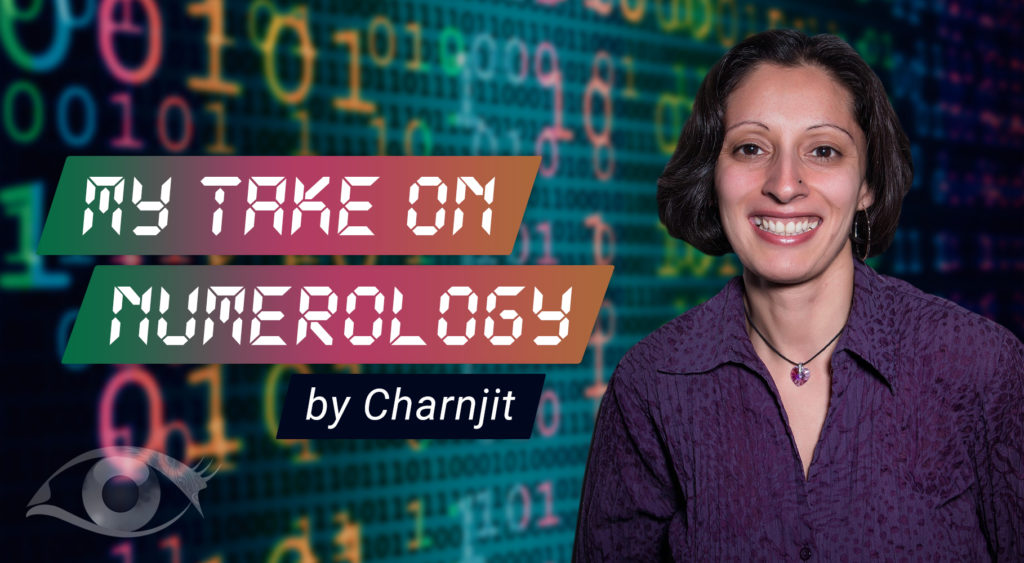 Challenge Numbers
Challenge numbers are the challenges we will face during this lifetime. I believe that on a soul level, we choose our lessons and challenges before we come to the earth plane; once we arrive (are born) we forget them, so we can re-discover and work through them. There is one main challenge number that runs throughout the course of our current lives. We also have three other challenge numbers, which span through our early years, our middle years and our final years, respectively. As we come to recognise these challenges, we can perceive them in a positive light and use them to develop and evolve at a soul level.
0 (zero) – Where to begin? Where to end?
In Pythagorean numerology, zero occurs as a challenge number. The beauty of giving so many readings is meeting people and getting to know them. It's an honour and privilege to be given that window into someone's soul. One that must be revered and respected. Those with a zero-challenge number tend to be highly evolved and are usually gifted in some area. The zero-challenge number can be read as either everything is a challenge ("Why do I bother?  This is too much effort!") or nothing is a challenge ("Well I know that already!") which in itself is a challenge because it can lead to thoughts of "What's the point? Why am I here? Is this it? Surely there's more to life than this?"  Because zero challenge number people know a lot, there can be frustration towards others who are not at their level.
They are a wonderful source of knowledge and can really help others by imparting their wisdom. Others, in turn, can help them by sharing their experiences because that is something that is subjective. We can have all the knowledge in the world, but a story of a person's first-hand experience, well that's unique. So that's my take on zero challenge number people – highly evolved, both intellectually and spiritually; can feel like they are on the outside looking in; need experiences for grounding and integrate and be part of the whole instead of falling down the rabbit hole.
CELEBRITY – Eminem and Estas Tonne both have zero as their main challenge number. Both gifted in their own unique, irreplaceable way.
Zero in Astrology
In western astrology, the zero can be viewed as the whole chart. Astrology as I see it, is lives within a lifetime, cycles within cycles.
PLANET – URANUS.
SIGN – AQUARIUS.
AFFIRMATION – I understand the cycles of life. I still have much to learn. I start my new journey with faith and optimism.
KEYWORDS – wholeness, completion and beginning, wheel of life, cycles and patterns.
CHAKRA – EARTH STAR – existence.
COLOUR – BLACK.
Zero in Tarot
Zero in the tarot deck is the first of the major arcana. Sink or swim, fall or fly – the truth is that all is an illusion and even that is an illusion. Because what is the truth? We can go round and round in circles 0 (zero) and we do. Zero is about coming full circle. 
A new cycle – is it going to be a repetition and we repeat the same patterns, same behaviour, same actions to get the same results or do we step off the wheel (another zero), step off the proverbial mountain as depicted on so many a fool tarot card and take that leap of faith knowing that all is one and whole (zero) and the hole in the zero is part of the whole.
The void, the nothingness, is what we came from and what we'll return to. In western astrology, the zero can be viewed as the whole chart. Astrology as I see it, is lives within a lifetime, cycles within cycles.
CRYSTALS – OBSIDIAN, BLACK TOURMALINE
YOGA – Sun Salutation sequence / Pranayama (breathwork, inhale, exhale cycle)
Everyday Life Zeros
Sun, moon, planets (go through cycles)

Circle (no beginning, no end)

Wedding ring (show of commitment, spending and eternity/lifetime together)

Doorknobs

Buttons

Jar lids

Hole punch

Clock

Bracelet

Earrings

Footballs, basketballs, ping pong balls, tennis balls

Cross-section of fruit – oranges, lemons, limes
And so much more! When you start to open your awareness, you'll start to see just how much circles (zero) feature in everyday objects.
FOODS – Root vegetables, anything that can be picked from the ground to help ground.
Using the Zeros
When you start to open your awareness, you'll start to see just how much circles (zero) feature in everyday objects.
Drawing the flower of life.
Draw a circle with a pair of compasses.
Pick a starting point on the circumference of this circle and draw a second circle passing through the centre of the first.
Keep repeating the process.
Potentially you can go on indefinitely!   
Next Blog will look at Number 1 (one) – The leader of the pack!
Thank You 
If you enjoyed this blog, see how things would work out for you personally by having a reading with Charnjit herself. Using your date of birth, she can tell you what to expect and what may develop for you. She can also use cards, her natural psychic senses and much more. 
Download our Psychic Today App now!
The Psychic Today App, for all your psychic needs! If you haven't yet added it to your mobile phone yet, you can do so by following our links here: 
To download from the App Store click here
Or to download from Google Play click here 
To top up your credit or if you have any questions or queries, our friendly reception staff are available 8:00 am to 2:00 am GMT on 0333 335 0297. You must be over 18 years old to use this service, which is for entertainment purposes only. You must be the bill payer or have the bill payer's permission. We may send free promotional messages. 
Facebook
Text FACEBOOK and your question to 65511 for your free reading! (Usually £1 per message, max 3 messages per reply. One per person. CS: call 0333 335 0297. UK Only)