I Ching: One of the world's oldest divinations
Imagine your future being decided by a flip of a coin, heads or tails, numbers, drawn lines, binary system, mathematics, and a 3000-year-old book full of ancient wisdom. As a result, it sounds like a Dan Brown novel, full of mystery, forgotten mysticism, and the key to our very existence. However, these are the fascinating tools used in Chinese divination – I Ching.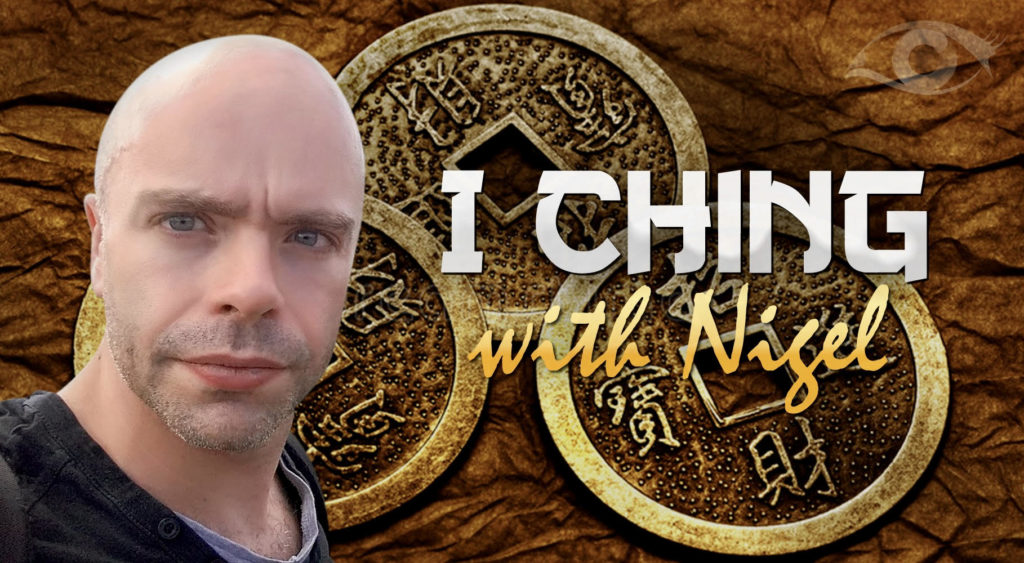 "The path that one person follows is not the correct path for any other person. Each of us must walk his own path to enlightenment – that is the way." I CHING: The Book Of Changes 
What is I Ching? 
We've all heard of tarot cards, oracle cards, pendulums, etc… They're all tools used for divination, a psychics tool kit to say. I Ching also is a tool for divination, fortune-telling, and enlightenment. However, it's more theoretical, metaphysics, to understand your current problem via phrases and proverbs.
The I Ching is a book of wisdom called The Book Of Changes (some translations give it another name). The book is set into different chapters, passages. The I Ching is believed to originate from ancient China during the Taoist period, the true date is unknown, and some believe it could be over 5000-year-old.
How Does it Work?
The I Ching is divided into sections. Specifically, the first is the coin toss. The sitter (The person who wants the reading) tosses three coins; you can do this with regular coins and see which side lands face up. Each side of the coin adds up to a number, heads = 3, tails = 2. One toss of 3 coins equals 6, 7, 8, or 9.
Hexagrams
As a result, after six goes at tossing 3 coins and 6 different number combinations, those 6 numbers represent lines and hexagrams.
Each passage in the Book Of Changes has a corresponding group of broken and unbroken lines. These lines are called hexagrams. There is an ancient binary system using the yin and yang of Chinese Taoist philosophy to decide each line's meaning.
As I said, I Ching is a divination tool. These lines are arranged in broken and unbroken lines, all of which correlate to a passage in The Book of Changes. And that passage has your answer.
This is where the truth divination happens. Each chapter has an insight and a philosophical approach to your current situation and musing on the way forward. Read more about it right here.
Confused? Here is an example
In 2016, I moved to Shanghai, China. I spent a few months in the previous year in Guangdong, China, and I really enjoy it. Twelve months later, I returned, and I didn't know why. I didn't know what I wanted to do in China. How could a city of 26 million people living in an alien culture without an end goal work out for me? I was running on pure gut instinct; I loved this city, its people, it's craziness. But I was 37 and not yet settled into my adult life —that was a thought brought on by media that we must be at a certain point at a certain age—believe me, you don't!
Yet, I felt lost.
Rolling the I Ching Coins
A new Chinese friend of mine is a Tibetan singing bowl teacher and philosopher. She introduced me to ancient Chinese philosophy, ideas, and thinkers; thus, the I Ching. I rolled the I Ching coins, and she worked out the numbers and to the hexagrams and then found the right passage and lines.
"When flowing water meets with obstacles on its path, a blockage in its journey, it pauses. It increases in volume and strength, filling up in front of the obstacle and eventually spilling past it…" – The Book Of Changes.
"Okay",, I said, "be like water. That's it?"
I must've spent the next week thinking this over. Yes, water does go around any obstacle and carries on with its journey, not stopping, forever flowing, not thinking about where or how, just flowing, and when blockage arises, it pause for a moment and then carries on. I need to think about my obstacles and pause until the obstacle is no more or go around it. I was on a big discovery journey that had no end, always flowing nor slowing down, go around obstacles. But what was the first obstacle? It was myself.
Focus Your Mind to Unlock the Key
At the time, I was confused and drifting, unsure of the path that I was on, why I was doing it, and what would be the outcome. I knew that this wonderful journey was the most important thing, and the result can't be known. I Ching helped me focus my mind and unlock the key to ALL my problems and life situations.
As a psychic, I'm not here to tell you to want to do, nor is the I Ching; it's your life, you have free will, we are all here to have different experiences. But, this is a big but, if we are unclear in our thoughts, unfocused, and drifting, decisions become harder to make and understand what choices we have.
In Summery
I Ching helped me put my journey into clear thoughts; the whole point of my Chinese voyage was to experience the unexpected. Likewise, the discovers I would make would end up shaping my life and my thoughts.
Ancient Chinese people used the I Ching for clarity. To spend time in thought about the words that come from the Book Of Changes. To understand the change we have to make to move forward.
Speak to Nigel!
Nigel is a friendly and open natural psychic who has is a warm and caring nature. He has lived in China and uses a lot of Chinese philosophy in his guidance. Nigel logs in regularly on Psychic Today, and he would love to give you a psychic reading! Contact him right here!
You can watch Psychic Today Live!
You can watch the show LIVE between 8 am and 10 pm on Sky Channel 680 or via our website and on our YouTube page!
Download our Psychic Today Companion App now!
The Psychic Today Companion App for all your psychic needs! Why not add it to your mobile phone via the following links;
To download from the App Store – click here.
Or download it from Google Play – click here.
To top up your credit or if you have any questions or queries, our friendly reception staff are available 8:00 am to 2:00 am GMT on 0333 335 0297. You must be over 18 years old to use this service, which is for entertainment purposes only. You must be the bill payer or have the bill payer's permission. We may send free promotional messages. 
Facebook
Text FACEBOOK and your question to 65511 for your free reading! (Usually £1 per message, max 3 messages per reply. One per person. CS: call 0333 335 0297. UK Only) Click on the link to our page and see our Facebook Live sessions right here!