Happy Birthday
to

Psychic Today! 🎂 17 Years of Psychic Today!

It's a very Happy Birthday to Psychic Today! An amazing 17 years of love, light and guidance has just flown by! We would not be here if it wasn't for all of you! A big shout out to all those who watch and have interacted with us all these years. To us, you are all part of our extended family and our Birthday is your Birthday too! 😀🔮❤️

We have put together a special Birthday treat for you today! To give you the right mixture of blessings and fun in abundance! Be sure to join the Live show with our party hostess, Ophelia Dennis and our amazing Psychic Star line up! Read on below!

You can watch us on Sky Channel 680 or click here to watch us online! Be sure to join us on our FREE TV show! Don't forget you can watch us via the Psychic Today App!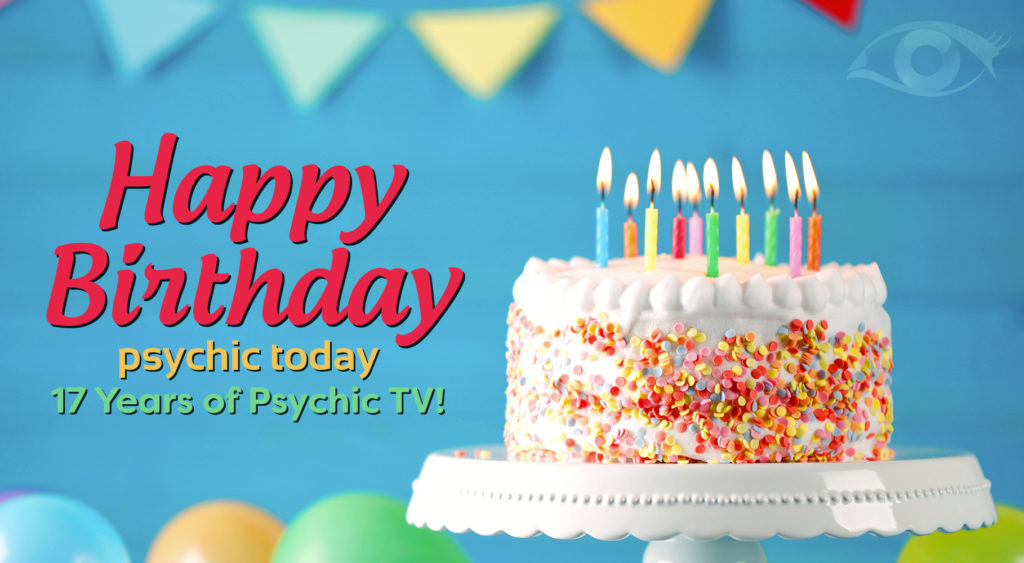 Get Our Exclusive Birthday Offer!
Be sure to check out our exclusive Birthday Offer today for all of our Psychic Today viewers of 17 minutes for just £17. That's a Birthday discount of 33% off our usual prices! 
You can use your purchased minutes with ANY of our Top Psychics.  This offer is available via the Psychic Today App and is available as a one-off purchase (one offer per person) for Sunday until the end of Monday! See the picture below for more details. ✨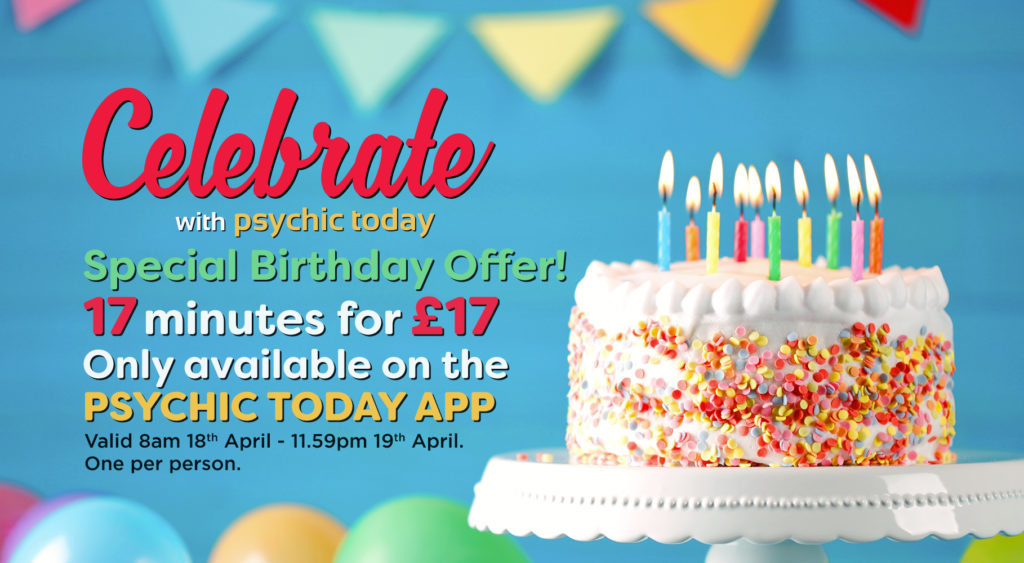 Psychic Today Birthday Memories!
Here's a special treat! A lovely video of Birthday messages from all of our team including our At Home Psychics, Presenters and Studio Psychics! As we still can't all be in the studio right now, you can still interact with us from home! We are always here for you, no matter what. Stay safe! Xx
Our Birth Year of 2004
Ever since its birth in 2004, Psychic Today has never looked back. With its own dedicated TV Channel on Sky Channel 680 and shows also available via The Psychic Today App and on the web and on YouTube, Psychic Today now has a team of over 200 psychics for you! Thousands of people have been given guidance and shared our spiritual adventure for 17 years! Like you, we have grown, developed, been through highs and lows. Now we are more mature, have a better understanding of the world, and of the world of spirituality!
Chinese Astrology 
2004 was the Year of the Wood Monkey in Chinese Astrology and a universal Year 6. In numerology, the universal year tells us the general themes and influences for that year.  A universal year 6 is a focus on harmony and community. It is also a year for putting across and airing personal views, ideas and personal beliefs. How appropriate was it then, that Psychic Today was born that year!
In Good Company!
Interestingly, this was not only a pioneer year for Psychic Today. 2004 was the starting point for other major success stories too! Psychic Today shares its Birthday with Facebook, which also first arrived with us in 2004. Google's Gmail was also born in April 2004. These days, it is hard to imagine the world without them. 2004 was certainly the year for innovative, creative projects that have lasted and blossomed, and we are proud to be among them!
Thank You!
We hope you enjoy our exclusive Birthday Offer and we are looking forward to returning to the studios with your favourite psychic stars in the near future. In the meantime, you can watch us on Sky Channel 680 or click here to watch us online!
Love and Light from us all! Xx
Speak to one of our Psychics!
We have a very experienced and friendly team of psychics with us here at Psychic Today! Click on our link here and select the psychic of your choice for an exclusive one-to-one reading!
You can watch Psychic Today Live!
You can watch the show LIVE between 8 am and 10 pm on Sky Channel 680 or via our website and on our YouTube page!
Download our Psychic Today Companion App now!
The Psychic Today Companion App for all your psychic needs! If you haven't yet added it to your mobile phone, you can do so by following our links here:
To download from the App Store – click here.
Or download it from Google Play – click here.
To top up your credit or if you have any questions or queries, our friendly reception staff are available 8:00 am to 2:00 am GMT on 0333 335 0297. You must be over 18 years old to use this service, which is for entertainment purposes only. You must be the bill payer or have the bill payer's permission. We may send free promotional messages. 
Facebook
Text FACEBOOK and your question to 65511 for your free reading! (Usually £1 per message, max 3 messages per reply. One per person. CS: call 0333 335 0297. UK Only) Click on the link to our page and see our Facebook Live sessions right here!