How to Cleanse Negative Energy – with Heather
Do you sometimes feel bogged down by negative thoughts and emotions? It could be that you need to cleanse some negative energy!
Cleansing your space and yourself can be a fantastic way to lift your mood and make the energy you live in feel lighter. 
Our trusted psychics cleanse their tools frequently, such as tarot cards or pendulums. This is essential to clear any energy from previous clients and ensure the cards are connecting to the Highest Good. 
So, we have called in an expert to teach us how. Watch Heather's video to learn some tips on how to start cleansing! 
Smoke Cleanse
Sage and Frankincense are the classic and great herbs to burn in the home to clear out the space after someone has visited! Always a reliable one!
Crystal Cleanse
Placing crystals around your home also helps maintain clear energy. You can also wear them to ward off bad vibes on the go! Heather recommends smoky quartz, black obsidian and clear quartz. 
Natural Cleansing
You can cleanse your energy by being out in nature! Heather explains that flowing water is the absolute best, so head to the sea or a river if you can. If not, a pond will do the job.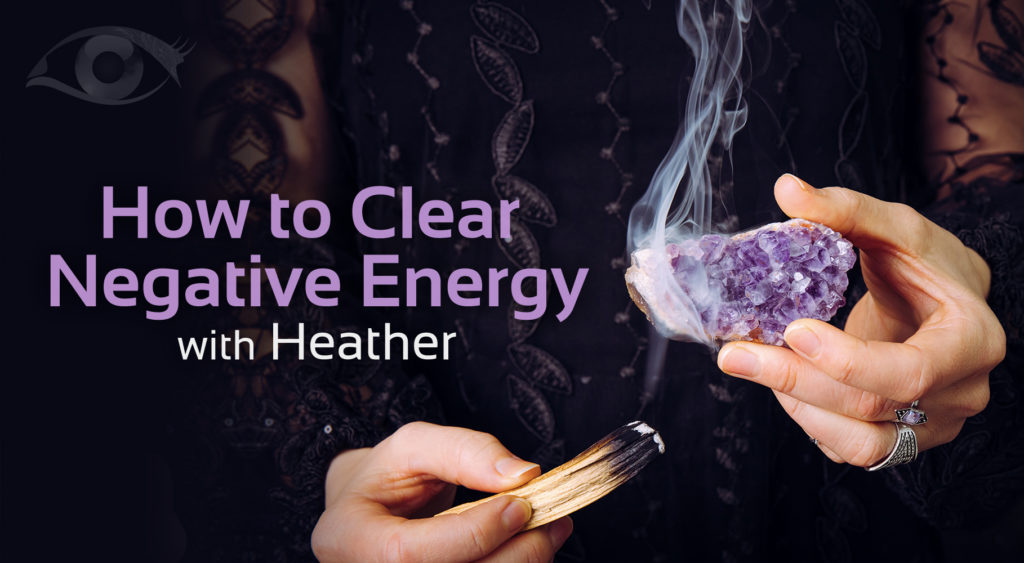 Salt Bath Cleanse
Saltwater is a fantastic cleansing method. Heather recommends adding any type of salt to your bath to give your auric field a good cleanse. 
Positive Visualization 
This is one of the lesser-known methods for clearing out negative energy – but perhaps the easiest! If you need a quick fix, just imagine you are being bathed in the light of a rainbow or silver light. 
Chakra Points
Did you know that you have Chakra points on the palm of your hand? Heather explains that one palm has energy flowing out, and the other, flowing in.
We can sense this by focusing on our palms. We can use the inward point to connect with the earth by placing it on the ground, whilst holding the other palm upwards, allowing the fresh earth energy to flow through us. 
Ask Your Guides!
Connect to your angels or spiritual team and ask them to clear out anything that is not for your greatest good. Be sure to remember to put yourself first, before you can help others!
Connect with Heather!
Heather is a Natural Psychic, who uses her psychic abilities to guide you using her Tarot Cards, Angel Cards, and Crystals. She can provide Relationship Readings, Love Readings, as well as help you with your own Psychic Development!
Speak to one of our Psychics!
Psychic Today has a highly experienced and friendly team of Natural Psychics, all of whom can provide you with unique guidance with any dilemmas you face in life! See who is available for YOU right now!
Select the psychic of your choice for an exclusive one-to-one reading! Speak to one of our  Trusted Psychics. Plus, you can watch us live right here!
Download our Psychic Today App now!
The Psychic Today App for all your psychic needs and get psychic readings on the go! If you haven't yet downloaded it to your mobile phone, you can do so by following our links here:
To download from the App Store – click here.
Or download it from Google Play – click here.
To top up your credit or if you have any questions or queries, our friendly reception staff are available 8:00 am to 2:00 am GMT on 0333 335 0297. You must be over 18 years old to use this service, which is for entertainment purposes only. You must be the bill payer or have the bill payer's permission. We may send free promotional messages. 
Psychic Today is Here For You!
Psychic Today is on a mission to continue providing the very best psychic advice. Now we have more ways to reach our trusted psychics, we have dedicated ourselves to answering your questions.
You can ring them via our EasyCall feature, found on your chosen Psychics profile. Text our psychics through our Text Reading page. You can also send IM's directly to the live stream via our App.
We have made it easier for you to get in contact with our psychics, and they will not disappoint!