Full Moon in Gemini – 8th December 2022
The Gemini Full Moon is on the 8th of December. It is known as "The Cold Moon" due to the change of temperature. In the darkest of Winter nights, "The Cold Moon" rises and casts an eerie glow on the world below.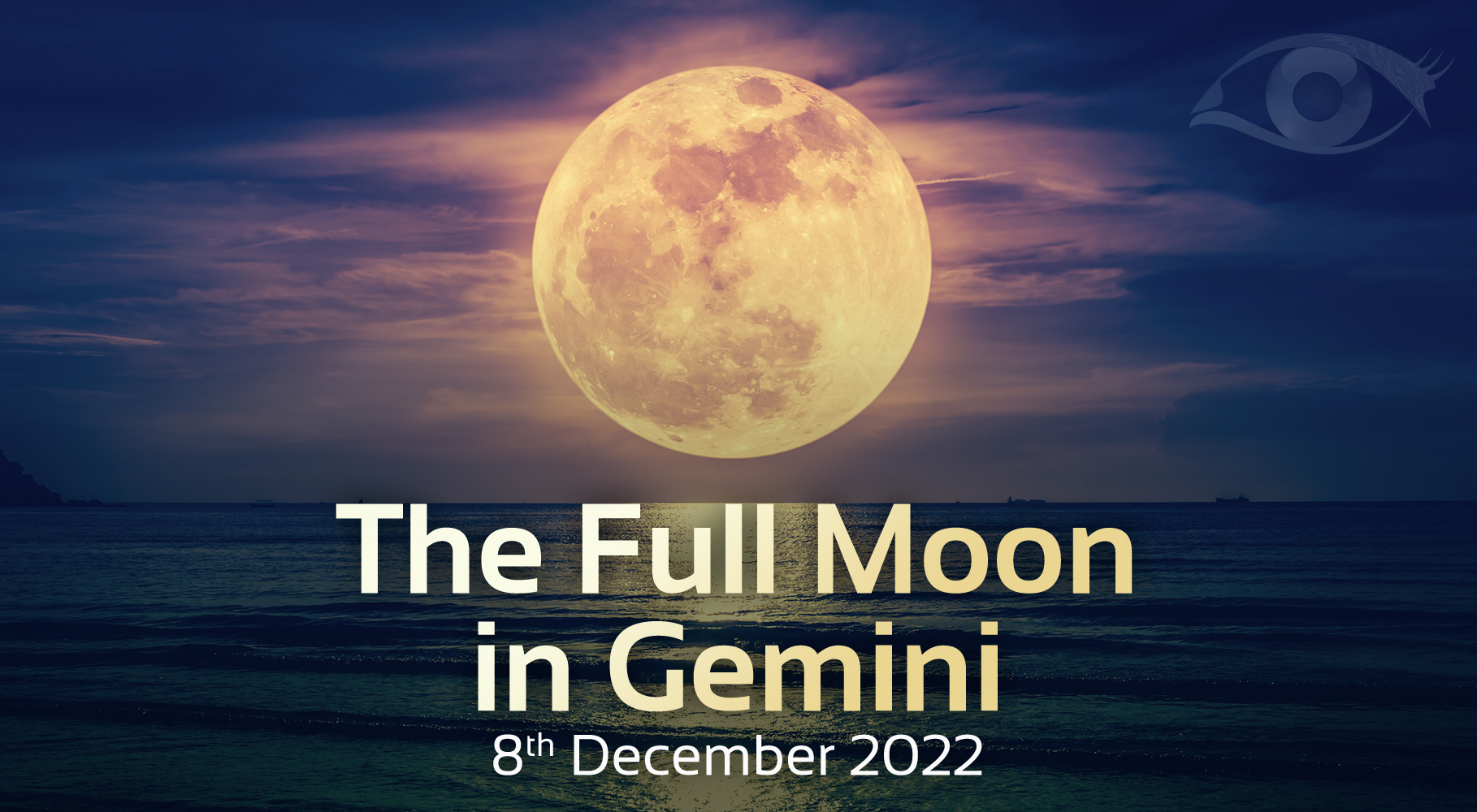 During this time, when the darkness closes in, and the air has a chill, it is a wonderful time for creating your own sacred space and reflecting on your own well-being. Here is a poem, something to consider as some are affected by the darker season:
I am aware, from spirit & study that change is essential to grow.
Even though we have this knowing change can still cause us woe.
The wind outside the wooden & glass window doth blow.
The noise is howling, whirling & swirling the message it lets us know, that the Autumn has gone, and Winter is fast approaching.
For some it is a difficult part of the wheel a tricky time of year, as with the longer darker colder nights sometimes Sad; does appear.
The lack of sunlight, illumination & the ice often reflects our deepest fear.
I find if you look hard enough in the sky the light does become clear.
The grey clouds above hold within them angelic energy containing hope & love.
So, when the day seams sad, grey and you feel pessimistic then look, look way up high for somewhere the light beams through a crack or a nook.
Or, if your inside look for the light laughter & joy within a precious book.
Failing that if food makes you glad find your favourite recipe/spells and cook.
We are all different, but we are brothers & sisters.
Let us help each other through the sad times as well as the glad times.
"The Cold Moon" Full Moon Magic
The Cold Full Moon also brings an energy to prepare for the celebration of the Yuletide. Here is a simple Full Moon Spell for protection during the winter months. You will need the following items:
Some string or cord 30cm or more.
4 pieces of Lavender, Rosemary or if not possible their essential oils (sprayed onto greenery)
Holding the string/thread in your hand tie knot to attach the herb saying: "With this knot, I secure trust."
Tie a second knot, further along, with a piece of the herb a little further up the string/thread: "With this knot I secure stability."
Tie a third knot, with a piece of the herb a little further up: "With this knot, I secure acceptance."
The final knot is the most important: "With this knot, I secure my wish."
Make a wish in your mind or aloud and conclude the spell with your own ending or alternately, "So, Mote It Be."
Hang the created piece in the far-left corner of your living room to enhance the abundance.
Indigos Oracle 
Speak with Indigo's Oracle
Our very own shining star, Indigo's Oracle has an abundance of psychic knowledge and wisdom to she would love to share with you! Especially about the Full Moon!
And if you want a psychic reading? There is no better time than right now! Psychic visions, under this Moon, will enhance these like no other!
Redeem Our Full Moon Offer!
Be sure to check out our exclusive Psychic Today Offer for all Psychic Today members with 10 minutes for just £10!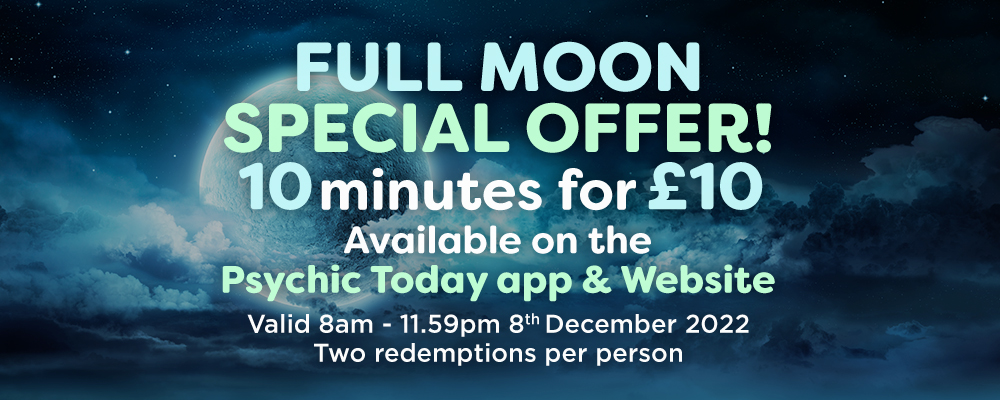 You can use your purchased minutes with ANY of our Top Psychics. This offer is available on the Psychic Today App and Website, is a one-off purchase.
Speak to one of our Psychics!
We have a very experienced and friendly team of psychics with us here at Psychic Today! See who is available for YOU right now!
Select the psychic of your choice for an exclusive one-to-one reading! Speak to one of our  Trusted Psychics. Plus, you can watch us live right here!
Download the Psychic Today App!
The Psychic Today App is designed for all your psychic needs to be at your fingertips whereever you are!
To download from the App Store – click here.
Or download it from Google Play – click here.
Psychic Today is Here For You!
Psychic Today is on a mission to continue providing the very best psychic advice. Now we have more ways to reach our trusted psychics, and we have dedicated ourselves to answering your questions.
You can ring them via our EasyCall feature, found on your chosen Psychics profile. Text our psychics through our Text Reading page. You can also send IMs directly to the live stream via our App.
We have made it easier for you to get in contact with our psychics, and they will not disappoint!