New Moon in Pisces – 20th February 2023
This month, we will be experiencing the gentle and dreamy energies of a Pisces Super New Moon. This will occur on the 20th February at 7:05 in London, 18:05 in Sydney, 23:05 LA and 2:05 New York.
This New Moon is also making an 'out-of-sign conjunction' to Saturn, the planet of discipline, responsibility and organisation. With Pisces being the sign ruled by watery Neptune, the planet of dreams, spiritualism and deep feeling this conjunction is exceptionally strong.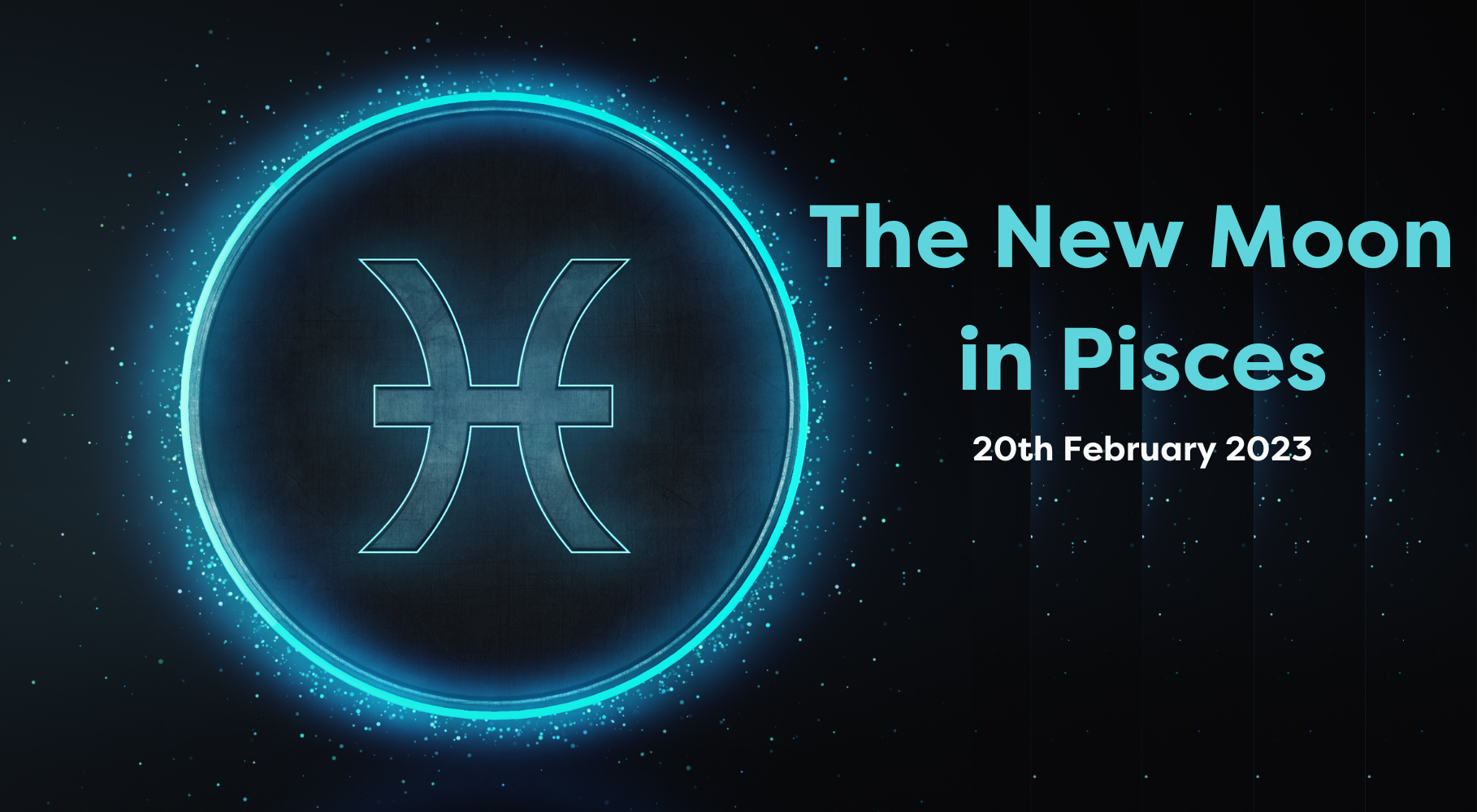 Using this Super New Moon for setting intentions for the months ahead and reflecting on ways in which we feel this could not only help ourselves but for those we love. This will be very powerful at this time. Pisces is the dreamer of the the 12 signs and is very mystical. With Saturns energies coming into the mix, this gives us a chance to formalise our dreams into reality and to feel them to be as real as can be. Where Pisces can drift off into a heavy and sometimes disillusioned fantasy land, Saturn is concerned with the principles of truth and wisdom, therefore grounding to Pisces' whimsical dreamscape.
Meditating at this time will also give you answers to questions you may be thinking of. Now is good to be thinking of what your dreams mean to you and how you can bring them into your reality. For each of the star signs, below will give you an indication of harnessing this energy wisely:
Aries in 12th House
You may be feeling a bit out of sorts and you will be feeling the full effects of this New Moon in Pisces. Take this time to meditate and reflect on where you spiritually want to be. Understanding what your beliefs are and how you may like to regularly practice harnessing this into your daily life would be very beneficial to your spiritual wellbeing.
Taurus in 11th House
Everything that you are wishing for in relation to friends and for your own dreams can be manifested in the months ahead. Using your intentions to bring new people into your life that may either share the same dreams or visions as yourself can create harmonious partnerships.
Gemini in 10th House
This New Moon gives you the opportunity to meditate on what your dream career would or could be. If you are happy where you are, think of ways in which you could improve upon your skills or find inspiring challenges. Dream big here, because the energy of the conjunction of with Saturn in this New Moon will make sure you will get what is truly yours.
Cancer in 9th House
Higher learning and self improvement are a big part of what you need to focus on with this New Moon. If you have been thinking on embarking on a new form of learning or new journey, now you can dream big. If there is a particular place you have always wanted to visit, put out your intentions now through visualisation and writing.
Leo in 8th House
Leo's now have the chance to visualise what kind of support you need from others. This can be financially as well as spiritually. Regeneration is key here, so if you are not happy with certain aspects of your life, meditate on what you want to change. Sex is also reflected here, so finding ways of bringing more passion into intimate relationships will go well at this point.
Virgo in 7th House
Virgo's may find themselves naturally thinking about love and relationships right now. What are your views on partnerships, what are your thoughts on commitments? Now is a prime time to put some loving and compassionate energy into established relationships. For the single Virgo, make sure you have fully moved on from past relationships and start visualising what kind of partner you want.
Libra in 6th House
Sense of duties and responsibilities come into play here for Libra under this New Moon. If you feel your routines have become stagnant then you would do well to wipe the slate clean and start making adjustments. If you feel unorganised or overwhelmed in your daily life, then formulating plans for a well adjusted home life will be successful.
Scorpio in 5th House
Creativity is the key word for Scorpio's under this New Moon as well as is having fun. Use the dreamy and spiritual aspects of this Pisces New Moon to freely express your artistic side. Children feature heavily in this house in your sign so finding new and inventive ways to find enjoyment will open up new ways of enjoying time together.
Sagittarius in 4th House
If you have been feeling that your home is in need for some new life being put into it, or you are thinking of moving, now is perfect to channel this desire. Any family disputes can be effectively sorted out under this New Moon energy and make ways for better relations.
Capricorn in 3rd House
Communicating what you want and what you need is pivotal right now, and you have a good chance of really being heard. Using the law of attraction will serve you well with reading and writing being a good outlet for this.Do not be afraid to ask for what you want from others may get you further than you thought possible.
Aquarius in 2nd House
Resourcefulness is the key work for Aquarians under this energy. When deciding on what abundance means to us, we can then start working on initiating ways in which to bring this closer to ourselves. Do not be afraid of being unrealistic, for Saturn's conjunction will bring you what is deemed fair and reasonable.
Pisces in 1st House
You have a chance to start again, to lead the path of which you choose. Energy to push yourself to the forefront and allow you to express your individuality. Taking charge of what you project or what you want to project into the world brings positive change. Walking away from the shadows into the light will bring relief and healing.
Chloe 
Speak with Chloe
Our very own shining star, Chloe, has an abundance of psychic knowledge and wisdom to she would love to share with you! Especially about the New Moon!
And if you want a psychic reading? There is no better time than right now! Psychic visions, under this Moon, will enhance these like no other!
Redeem Our New Moon Offer!
Be sure to check out our exclusive Psychic Today Offer: 10-minute psychic reading for just £10!
You can use your purchased minutes with ANY of our Top Psychics. This offer is available via the Psychic Today Website or App and is a one-off purchase.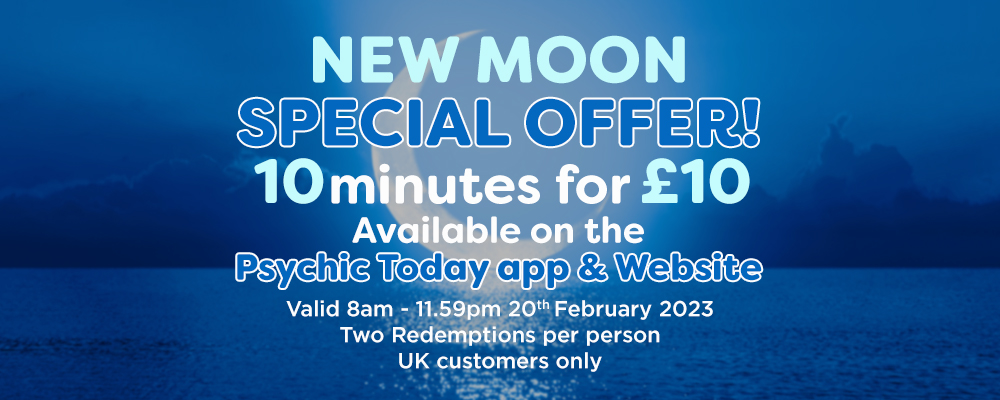 Speak to one of our Psychics!
We have a very experienced and friendly team of psychics with us here at Psychic Today! See who is available for YOU right now!
Select the psychic of your choice for an exclusive one-to-one reading! Speak to one of our  Trusted Psychics. Plus, you can watch us live right here!
Download our Psychic Today App now!
The Psychic Today App is for all your psychic needs! If you haven't yet added it to your mobile phone, you can do so by following our links here:
To download from the App Store – click here.
Or download it from Google Play – click here.
Psychic Today is Here For You!
Psychic Today is on a mission to continue providing the very best psychic advice. Now we have more ways to reach our trusted psychics, and we have dedicated ourselves to answering your questions.
You can ring them via our EasyCall feature, found on your chosen Psychics profile. Text our psychics through our Text Reading page. You can also send IMs directly to the live stream via our App.
We have made it easier for you to get in contact with our psychics, and they will not disappoint!