New Moon in Aries – 21st March 2023
This month's New Moon in Aries will occur on the 21st March at 17.23 and will take place as Pluto moves from Capricorn into Aquarius. This is a major astrological event, because Pluto;  the planet of destruction or reformation, the cycle of death and rebirth is going in with Aquarius, the sign of humanity. The last time this transit occurred was way back in 1778!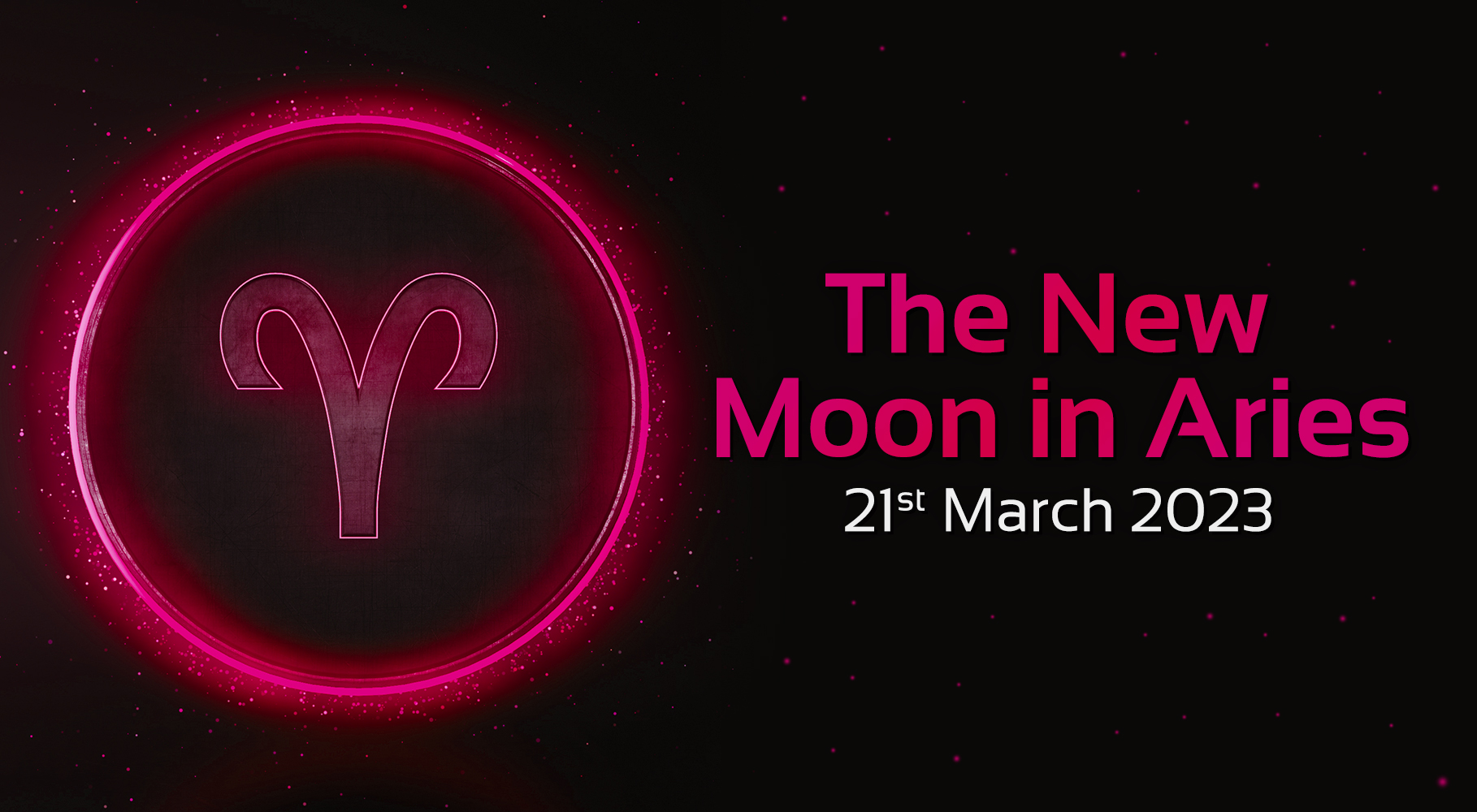 If anything needs reforming now, surely its humanity and finding ways to get rid of our negative and habitual damage and create a healthier way of treating one another? Understanding there are deeper and more meaningful ways in which we can connect to our fellow Earth dwellers can bring much needed change.
Focusing on the energies of the new moon in Aries, the first sign of the zodiac, and putting real purpose on achieving positive new beginnings, would be highly advantageous right now. Aries is a cardinal fire sign, the born leader with a rebellious streak. They are energetic, compulsive, courageous and highly independent.. Ruled by the planet Mars, the god of war, they will exert any amount of energy it takes to get their own way, and can be ruthless in their destruction of opposing forces.
This is a time to think about areas in our lives in which we want to take ownership, be more assertive and ambitious, face challenges head on and unapologetically be more assertive.
Aries in 1st House
Aries has the best opportunity at this time to start again on a massive scale. Any part of your life is fair game and taking this challenge positively will reward you with optimum results. If all is well at this time, consider this a time to recharge and prepare oneself for the months ahead.
Taurus in 2nd House
Use this time to consider what is necessary to bring in more abundance, especially when it relates to work, home and finances. If these are challenging areas, then focusing on this directly will future proof your efforts. Be realistic and practical, but also use the go getter energy of Aries to propel you further.
Gemini in 3rd House
Gemini's are expert communicators, especially when it comes to persuasion. Do not hold back on what it is you want to those that need to hear your vision or to those that are close to you. If you are hoping to bring certain people closer to you, then vocalise your desires and do so with the fiery Aries tenacity.
Cancer in 4th House
Cancer has a strong need to take care of those they love and for this new moon, family, friends and homelife will feature heavily. New living situations or even a change in one's home, be it moving or seriously thinking about this will be good to address right now. New ways or even new strategies to create harmonious living arrangements, relationships and one's personal life will benefit well at this time.
Leo in 5th House
Leo's can be real extroverts when it comes to having fun with those they love, so if it has been lacking recently, then Leo's be prepared to change this. Making plans for adventure, creativity and enjoyment will be greatly appreciated by those involved. Putting new life into romantic relationships will be beneficial at this time,too.
Virgo in 6th House
Even though Virgo's are very adept at organising their time and their routines, being the perfectionists they are, there is always room for improvement. Yet their earthiness can slow them down so using the speed of the Aries' fire can propel Virgos forward, enough to schedule in some downtime in their new routines.
Libra in 7th House
If Libra's are feeling complacent about their romantic relationship or longing for a new one, then now is the perfect time to get assertive into getting a new lease of life in this area. Singleton's need to let go of old flames, dreams and heartache's because clearing this energy will open the door to enabling new love in.
Scorpio in 8th House
Regeneration is key for Scorpio's and anything in relation to sex and money. Use the confidence of Aries to rev things up a little in intimate relationships if things have become mundane. New ways of thinking about finances could also prove to have long term benefits leading to healthier spending and saving habits.
Sagittarius in 9th House
If you could go anywhere in the World, where would it be? Would you love to do more exploring or learning for self improvement? Knowledge is fundamental to Sagittarius people and the processes involved in gaining this is equally important too. Taking action to fulfil these dreams now, is more likely to end in success.
Capricorn in 10th House
For those content in their careers or work situation, now is the time to kick back and reflect on what would make this area even better. If you are a Capricorn frustrated or not convinced you are on the right path, exploring ways to gain more skills or take a different path would be positive and rewarding for longer term fulfilment.
Aquarius in 11th House
Even if you feel good about the circle of friends you have right now, Aquarius, are there any social activities you feel you could benefit from? If you have a strong urge to start up a new social group or activity, the Aries new moon will give you the leadership dynamic to do so, successfully.
Pisces in 12th House
Dreams are close to a Pisces persona, and yet it can be hard to come back to reality and put to work these visions and ideas. Yet this new moon brings new vitality and clearer focus to actively pursue creative ventures and work. New spiritual practices should be embraced now and will lead to a greater understanding and purpose of being.
Chloe 
Speak with Chloe
Our very own shining star, Chloe, has an abundance of psychic knowledge and wisdom to she would love to share with you! Especially about the New Moon!
And if you want a psychic reading? There is no better time than right now! Psychic visions, under this Moon, will enhance these like no other!
Redeem Our New Moon Offer!
Be sure to check out our exclusive Psychic Today Offer: 10-minute psychic reading for just £10!
You can use your purchased minutes with ANY of our Top Psychics. This offer is available via the Psychic Today Website or App and is a one-off purchase.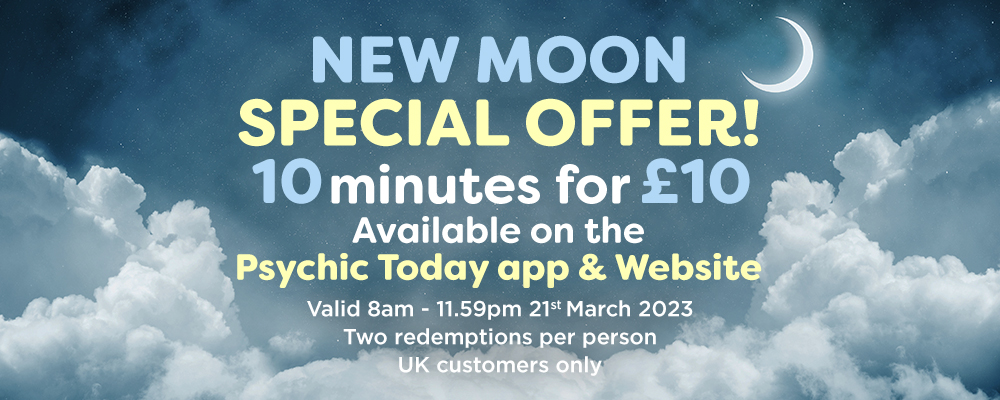 Speak to one of our Psychics!
We have a very experienced and friendly team of psychics with us here at Psychic Today! See who is available for YOU right now!
Select the psychic of your choice for an exclusive one-to-one reading! Speak to one of our  Trusted Psychics. Plus, you can watch us live right here!
Download our Psychic Today App now!
The Psychic Today App is for all your psychic needs! If you haven't yet added it to your mobile phone, you can do so by following our links here:
To download from the App Store – click here.
Or download it from Google Play – click here.
Psychic Today is Here For You!
Psychic Today is on a mission to continue providing the very best psychic advice. Now we have more ways to reach our trusted psychics, and we have dedicated ourselves to answering your questions.
You can ring them via our EasyCall feature, found on your chosen Psychics profile. Text our psychics through our Text Reading page. You can also send IMs directly to the live stream via our App.
We have made it easier for you to get in contact with our psychics, and they will not disappoint!