New Moon in Cancer – 17th July 2023
July's New Moon will be in its home signs, Cancer, on the 17th July. This makes it an especially powerful New Moon for it also ignites the Divine Feminine, something we could all benefit from connecting to. Romanticism, love and creativity will come to life under this astrological sign and so making a connection with water will also encourage this beneficial energy. Cancer allows us to be vulnerable and held in equal measure, to open our feelings and to practice loving kindness.
All new moons give us the opportunity to start again, to make changes and to do things differently. Being sensitive to our needs and those of others will work favourably now. Understanding and compassion is vital to all types of relationships, both new and old. Not forgetting our personal goals and putting them into practice will see longer lasting results. Do not be surprised if you feel highly sensitive and empathic at this time. You are tuning into the Cancerian energy. This can be a very good time to evaluate what family means to us and if there are any changes you want to make.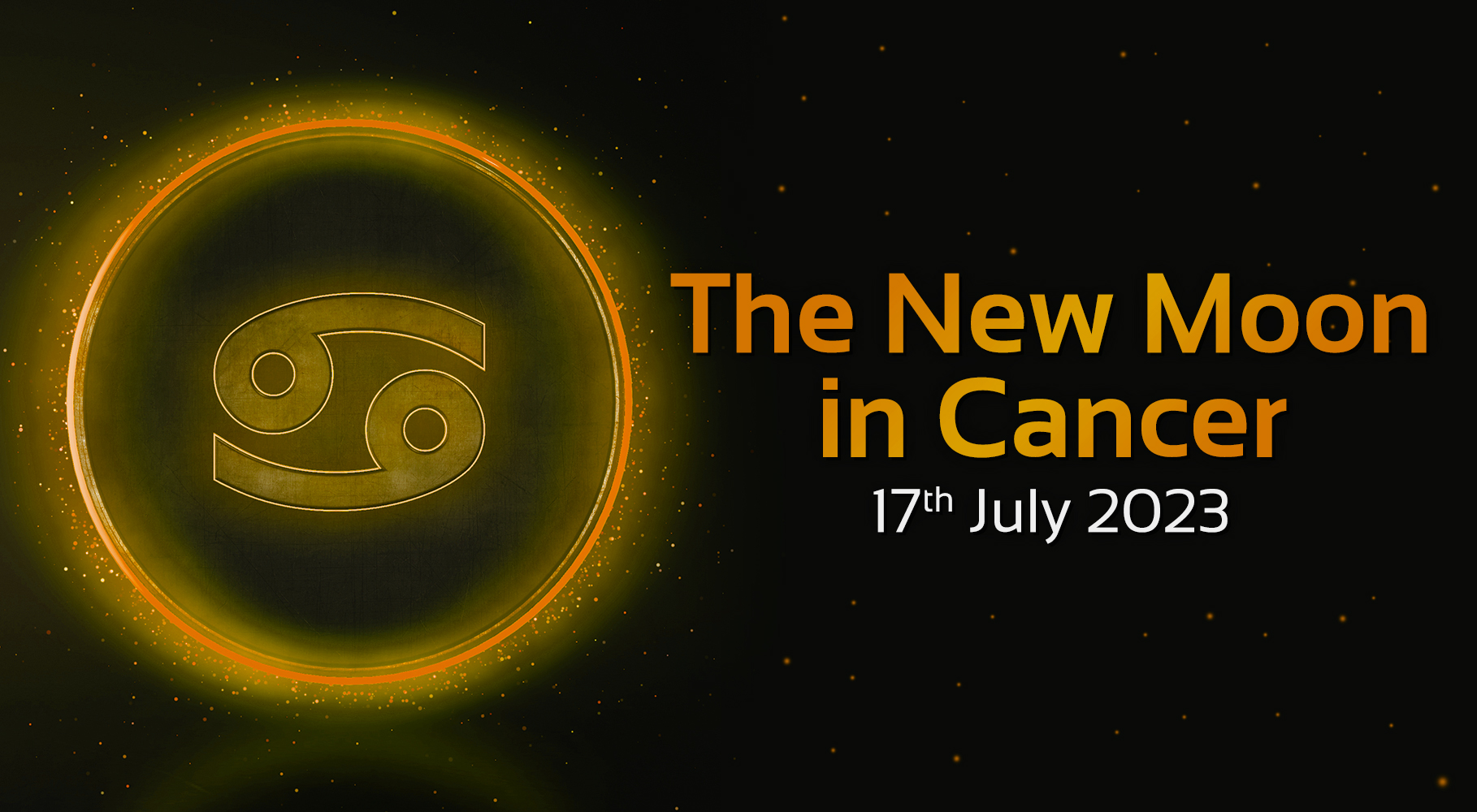 Aries in 4th House
Putting fresh energy into family will serve Aries well at this time. House moves are also more likely successful at this time. Any changes can be made effortlessly and effectively under this Cancer New Moon.
Taurus in 3rd House
Asserting and communicating your needs and wants at this will do well for Taurus. Communication is exceptionally strong under the Cancer New Moon, use it to your advantage.
Gemini in 2nd House
Gemini's now have the opportunity to address their finances with fresh energy. New business plans are more likely to be prosperous, as will putting focus into gaining long term stability for work and home.
Cancer in 1st House
Seeking new forms of independence is good for Cancer under their New Moon. Rather than insulating oneself into their shell, expressive and adventurous energy will bring Cancer much needed positivity.
Leo in 12th House
Leo's may feel drawn to seeking out a new spiritual practice, or to take a current dream more seriously. Putting sensitive feelers out now and looking within at what brings them peace and tranquility will benefit Leo greatly.
Virgo in 11th House
Be open to meeting new people or spending more time with friends. Joining or starting your own social group or activity will benefit you greatly, for it will open up new and rewarding opportunities.
Libra in 10th House
This is the time to look at your career and the direction in which it is going. If you are on the right track, this will come into bigger focus. If this is not the case, research or discuss new thoughts and ideas and where this could lead you.
Scorpio in 9th House
You may be feeling rather adventurous and restless under this Cancer New Moon. It is the time to look at your life from a wider perspective away from the home front. Making plans related to travel, study or adventure now is more likely to bring success.
Sagittarius in 8th House
Sex and money are not subjects we would usually associate with a New Moon intention making! Yet it is reasonable to ask the universe now to focus on bringing stimulating energy to these areas.
Capricorn in 7th House
Your love life will come into focus under this Cancer New Moon. For those already in relationships, spending time with our partner doing something different will bring closer connections. Singletons can happily steer themselves away from past loves and heartache.
Aquarius in 6th House
This is a time to make readjustments to outdated routines or schedules. If you would like to kick start a healthier lifestyle, you are much more likely to succeed if you begin it under this Cancer New Moon.
Pisces in 5th House
This is the perfect time to be having fun with those you love. Creative and expressive activities work well with those both young and old. Cancer's New Moon is pushing you to get out more and start new adventures.
Chloe❤️
Speak with Chloe
Our very own shining star, Chloe, has an abundance of psychic knowledge and wisdom to she would love to share with you! Especially about the New Moon!
And if you want a psychic reading? There is no better time than right now! Psychic visions, under this Moon, will enhance these like no other!
Speak to one of our Psychics!
We have a very experienced and friendly team of psychics with us here at Psychic Today! See who is available for YOU right now!
Select the psychic of your choice for an exclusive one-to-one reading! Speak to one of our  Trusted Psychics. Plus, you can watch us live right here!
Download our Psychic Today App now!
The Psychic Today App is for all your psychic needs! If you haven't yet added it to your mobile phone, you can do so by following our links here:
To download from the App Store – click here.
Or download it from Google Play – click here.
Psychic Today is Here For You!
Psychic Today is on a mission to continue providing the very best psychic advice. Now we have more ways to reach our trusted psychics, and we have dedicated ourselves to answering your questions.
You can ring them via our EasyCall feature, found on your chosen Psychics profile. Text our psychics through our Text Reading page. You can also send IMs directly to the live stream via our App. We have made it easier for you to get in contact with our psychics, and they will not disappoint!