September 2023 – Monthly Horoscopes – with Sky Silverstone
Our resident Astrology Queen, Sky Silverstone, looks at your horoscopes for a new month of 2023! Let's see how it looks for us for September! Read your horoscopes for this month below! Don't forget to check which Trusted Psychic is available right now for a Psychic Reading!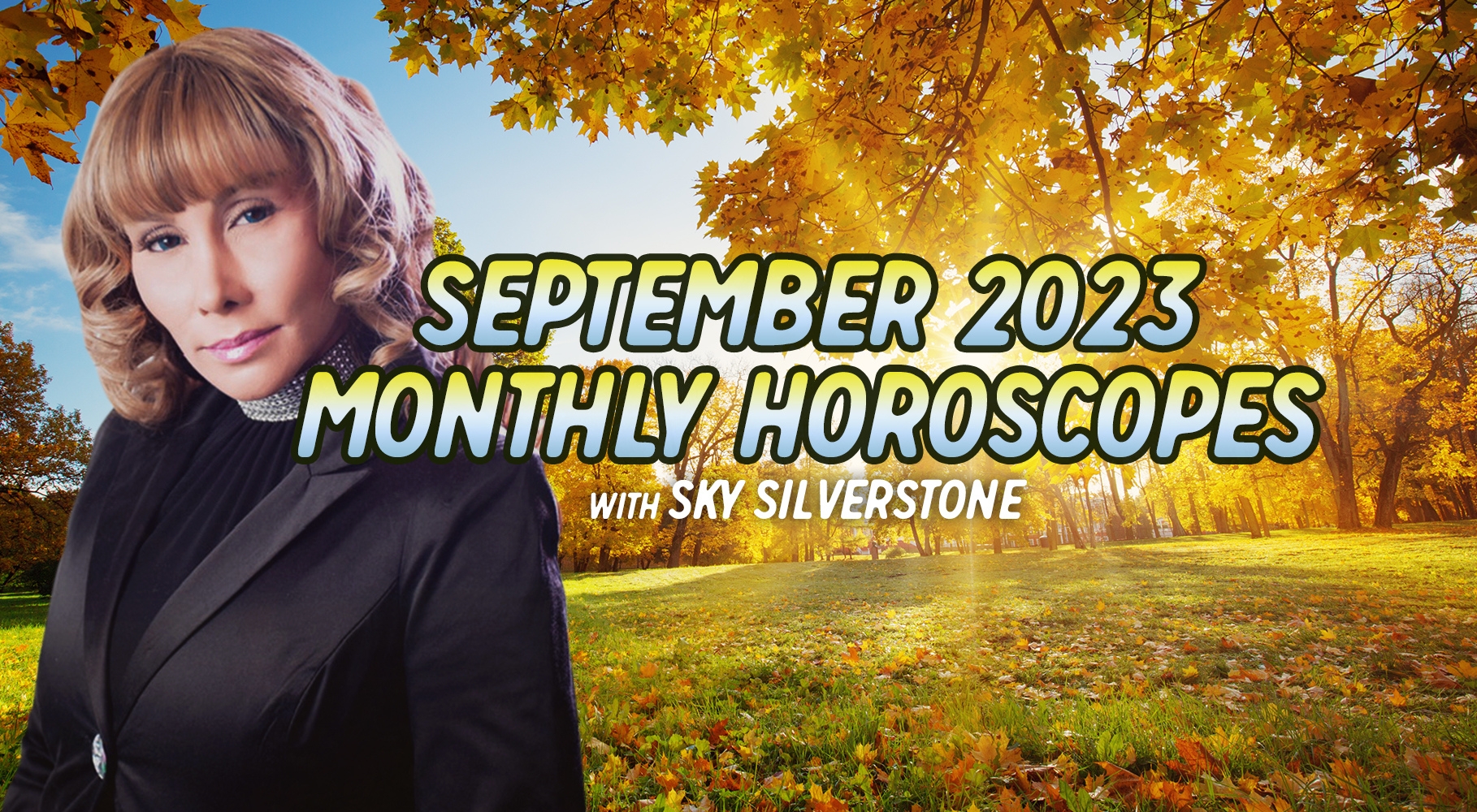 Aries 
Mar 20th – Apr 19th
A fitting quote for your month ahead is – 'Either you run your day, or your day will run you.' This is fitting advice as the almighty Sun throws aspects of your daily work, everyday routines or possibly health areas on to your path. You could be tweaking parts of your work, dealing with colleagues, making daily life run efficiently or analysing your health and well-being in some way. The Sun moves onwards from the 23rd entering your relationship zone. You could be led to analyse which connections have lasting power in your life and which ones need to be cut loose. Others could be dealing with other aspects of this house which may lead to negotiating terms of a contract or re-setting a new one. Lastly, you will feel the heightened psychic and emotional energies emanating from the Full Moon in your sign on the 29th. Wishing you a super September Aries!
Taurus 
Apr 20th – May 20th
A great quote to describe your month is – 'If you're not enjoying what you're doing and it's no longer any fun, it's time to move on or look elsewhere.' This is brought to you through the power of the almighty Sun travelling  through your enjoyment and pleasure zones. Your mind will be drawn towards the need for enjoyment in whatever you do, or you may have invites to get out and let your hair down. Make sure you enjoy life and have fun because the energy changes to be a little more serious when the Sun moves onward from the 23rd. From then onward you're facing work, colleagues, daily routines and/or aspects of your well-being. Your focus may be directed towards making your daily grind more efficient in some way or tweaking areas of your job. Please keep in mind that lucky Jupiter is your sign till May next year. However, from the 4th of September, he starts a retrograde which lasts till the 31st of December. This is time to make decisions carefully regarding work, career, business and new projects, as retrogrades can throw spanners in the smooth workings of life. Wishing you a super September Taurus!
Gemini 
May 21st – Jun 20th
An awesome quote relevant to your month ahead is – ' The magical energy of home & family is that, it's good to leave a loving family to get on with your life, but feels even better to come home to their love & laughter!' The almighty Sun showers on you a need to create a deeper connection with home, family and the roots of life. You may feel a need for some creature comforts, to spend time with family or make some positive changes to your house. Be mindful that your ruling planet Mercury, is in retrograde till the 15th September making it a time to prevent your mind from spiralling out of balance and to take care to avoid miscommunication. As the Sun moves onward from the 23rd, you emerge from being a home bunny to being a party animal. Well, in less dramatic terms, you could be drawn towards engaging in social and friendship connections. You're encouraged to have a bit more fun in life and put the serious matters of life to one side. Wishing you a super September Gemini!
Cancer 
Jun 21st – Jul 22nd
A wonderful quote for your month ahead is – 'The secret of getting more done, and feeling great about it, is to make your to-do list every day! Ticking it off feels like victory.' The almighty Sun pushes you to get on with the admin of life, flying here and there to complete tasks and engage with people along the way. You could strive to make life more efficient and tie up the loose ends of your life. The Sun moves onward on the 23rd encouraging you to take a rest from all the busyness of your life, put your feet up and enjoy some creature comforts of home and loved ones. Family, house and the security of the roots of your life call you in some way. Others may see this in the form of wanting to make positive changes to the décor of their home making it more comfortable. Wishing you a super September Cancer!
Leo 
Jul 23rd – Aug 22nd
An awesome quote for your month ahead is – 'If you're not serious about handling your money sensibly and seriously, you'll find it slips through your fingers.' The almighty Sun travelling through your money house, beckons you to look at your financial areas, analyse where your money is coming from and what you're doing with it. Others may be pushed to do their sums, check budgets and keep their purse strings in check. Venus the Goddess of Love & Abundance is in your sign shining a light on these areas for you. Then as the Sun moves onwards from the 23rd the energy changes from tidying up the money areas, to tidying up unfinished tasks of your life. You may get on with the to-do list and bring efficiency to life and oil the wheels of the smooth running of your life. You may find you make short journeys here and there to tie up loose end. Wishing you a super September Leo!
Virgo 
Aug 23rd – Sep 22nd
A perfect quote for your month ahead is – 'Expunge life's looming storms by choosing to shine and radiate your light to all those around you.' This message is showered upon you as the almighty Sun travels through your sign making it your month! You may change your image, appearance or your wardrobe to improve the impact you make on the world. This means that there's beaming smiles and positivity when people interact with you. Make the most of it Virgo! The Sun moves forward on the 23rd and your attention could be taken to your financial sectors. Here you're encouraged to analyse where your money comes from, what you do with it and the efficiency of your financial areas. Some of you may be setting some budgets, investing or maybe tightening up the purse strings. This is all positively supported by the renewal energies of the New Moon in your sign on the 15th. Wishing you a super September Virgo!
Libra 
Sep 23rd – Oct 22nd
A quote that hits the mark for your month ahead is – 'Without great solitude and peace, no great work is possible.' This is delivered through the almighty Sun placed in an area of your chart that pushes you to seek solitude, peace and thinking time. You may want to step away from the world for some reason. Other energies of this house could mean that some of you are thrown into revelations of secrets or previously unseen information comes to light. The Sun moves onward from the 23rd and you're taken from your inner self to then focus on your outer self. This could be about tweaking something with your image or personality. You may feel a need to change your wardrobe, get a new hairdo or tweak your personality making you more approachable somehow. Overall this energy can change and uplift the way that your outside world sees you. Wishing you a super September Libra!
Scorpio 
Oct 23rd – Nov 21st
An awesome quote for the month ahead is – 'Value your friends because, a friend to walk with in the dark is better than walking alone in the light.' The accent of the month is on the value to your friends and on working with others in some way. You may be dealing your favourable associations or spending time with important connections. Others may feel the energy of this house by working with people in a group effort and developing deeper bonds, as opposed to grafting alone. The energy then changes from the 23rd as the Sun moves onward. Here you may turn away from those important associations or the social side of life and seek a little self-nurturing time. Here you could shut the door to the outside world to spend time at home or somewhere peaceful. This could be a time where some of you analyse your inner thoughts & ideas. Wishing you a super September Scorpio!
Sagittarius 
Nov 22nd – Dec 21st
A great quote for your month ahead is – 'Life has purpose & direction when you set more goals to achieve.' The almighty Sun drives this message home to you as you could be drawn to set direction to your life through your goals, ambitions or career. Some may find that their ideas flow in or even that, the door open towards a career change. Other Saggies could be smiling from ear to ear as they receive a 'thank you, well done,' for a job that's well done. From the 23rd the Sun moves onward and it's a time to celebrate that exact 'job well done' with great friends. You could see the value of having good reliable friends around you, you maybe indulge in a bit of socialising or you could schedule a get-together into the diary. Others may feel the alternative energies of this sector and be drawn to collaborate efforts with a group of like-minded people to achieve better outcomes. Wishing you a super September Sagittarius!
Capricorn 
Dec 22nd – Jan 19th
A great quote describing your month ahead is – 'A simple change of scenery can start small changes in thoughts that can lead to bigger life changes.' The almighty Sun encourages you to change the hum-drum of life, it invites your mind to travel towards greater ideas or take an actual journey to uplift your life. Others may feel the need to learn something new so as to lead them to changes for the future. The Sun moves onward from the 23rd and all that enlightenment pushes you to set some goals, chase an ambition or your mind opens up to how you can advance. Some Caps may feel the alternative of this house and receive a pat on the back for having done a great job. Wishing you a super September Capricorn!
Aquarius 
Jan 20th – Feb 17th
A great quote for your month ahead is – 'The pathway to trust, confidence and certainty in building any type of relationship, is intimacy.' The almighty Sun shines a light on you dealing in with your emotional security, deeper intimacy and sexuality. You could be drawn into some private time with someone important. Other ways the energies of this house could manifest is through dealings with jointly held monies, joint investments or renegotiating the finer details of a contract. The Sun moves onward from the 23rd and encourages you to steer away from the boring everyday routines and find a more scenic route to your daily life. You're pushed to open your mind through learning something new, taking a journey or simply changing your surroundings which could reveal fresh new ways to push forward. Wishing you a super September Aquarius!
Pisces 
Feb 18th – Mar 19th
A most appropriate quote for your month ahead is – 'We all put our relationships in assessment at various points as we look at what works, what doesn't, their value and what it brings us. If you want to keep the connection, make sure you pass that assessment.' The almighty Sun shines its bright light on your important relationships and connections. You may look at commitments or get rid of connections that don't have value. The Sun moves onward from the 23rd you could shut the door to the outside world as your attention turns inwards to a need for intimacy or areas of sexuality are brought to you. Other  Fishes may feel the alternate energies of this sector and have to deal with shared money, joint investments or renegotiate some details within those connections. Wishing you a super September Pisces!
Who is Sky Silverstone?
Sky Silverstone is an astrologer, crystal healer, numerologist, horoscopes queen, and life coach. She has a very open, caring and friendly nature. She makes regular appearances on Psychic Today. Sky would love to give you an astrological reading too! Contact Sky Silverstone!
You Can Speak to one of our Psychics!
We have a very experienced and friendly team of Trusted Psychics here at Psychic Today! Select the psychic of your choice for an exclusive one-to-one reading! You can speak to one of our Trusted Psychics!
Download our Psychic Today App now for Daily Horoscopes!
The Psychic Today App is for all your psychic needs! You can read daily and monthly horoscopes anytime, anywhere. If you haven't yet added it to your mobile phone, you can do so by following our links here: To download from the App Store – click here. Or download it from Google Play – click here.
Psychic Today is Here For You!
Psychic Today is on a mission to continue providing the very best psychic advice. Now we have more ways to reach our trusted psychics, and we have dedicated ourselves to answering your questions. You can ring them via our EasyCall feature, found on your chosen Psychics profile. Text our psychics through our Text Reading page. You can also send IMs directly to the live stream via our App. We have made it easier for you to get in contact with our psychics, and they will not disappoint!