New Moon in Libra – by Chloe
An annular Solar Eclipse occurs on October 14, 2023, at 21 degrees and 8 minutes of Libra, affecting people born with personal planets and points at approximately 16 to 26 degrees of the Cardinal signs (Aries, Cancer, Libra, and Capricorn) most significantly. This New Moon is an especially impactful time because of the Solar Eclipse occurring at the same time, which last happened two years ago. We will be getting an extra boost of energy, with consequences for 6 months later.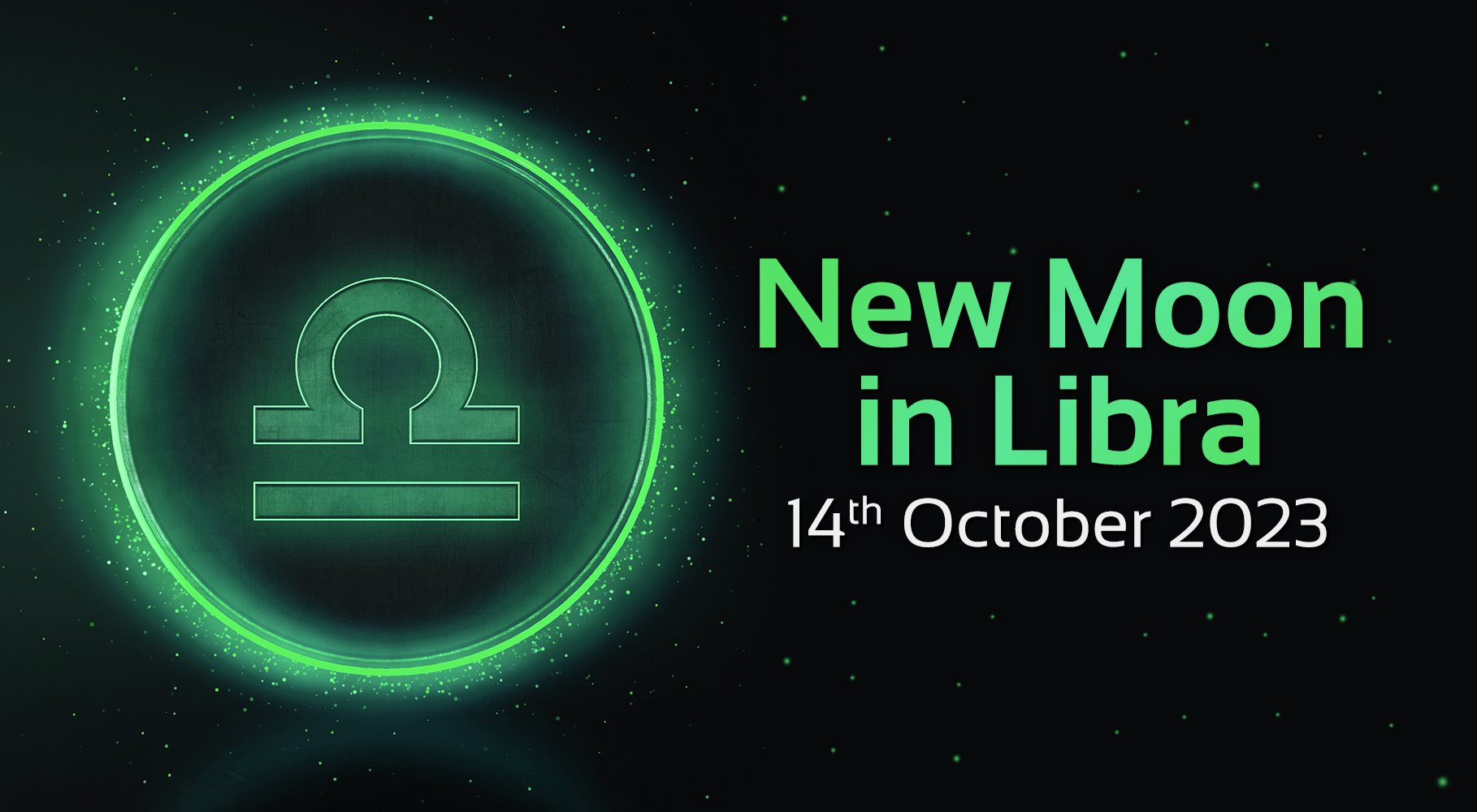 Libra is represented by the scales, the need for harmony and equality. Partnerships become centre stage be that romantically, work or friendship. Discovering a more sociable side of ourselves or others is very possible, so embrace the ability to mix, mingle and chat.
Finding balance in opposing responsibilities, conflicting aspects in our lives or even in one's thinking is possible under this influence. Libra loves harmony and fairness, so this is the time to address conflicts and issues with a clear set of boundaries. Anything holding you back from communicating your truth will be lifted. Like all air elements, Libra is not privy to injustices.
Libra is one of the most persuasive and diplomatic of the signs, therefore channeling this energy into getting something you want may be very possible. Others are more likely to be co-operative at this time, too, so use this to your advantage. Equally, you may find yourself being more adaptable to the needs of others or facing situations in a more diplomatic manner.
Libra's ruling planet, Venus, brings in love, peace and harmony to those that choose it. Finding yourself surrounded by things of beauty or sentimentality won't come as a surprise under this wonderful influence.
Aries in 7th House
Aries has a huge Libra energy in this New Moon. Addressing balance and harmony in both the work and home front can inspire new developments. Others are more likely to cooperate with you now, enabling ideas to evolve and fairness to prevail. Any areas in one's life that need readjusting, can successfully be done under this Libra New Moon.
Taurus in 6th House
This may not be the most inspiring time for Taurus, but it is a valuable time to get organised and efficient. Procrastinating on starting a new routine will not be possible under this Libra New Moon. Taurus loves to indulge,especially when it comes to food and drink. Starting a new health programme now is more likely to be successful.
Gemini in 5th House
Gemini's are going to be in their element under this Libra New Moon! Your social skills will be at an optimum level, therefore joining new groups or partaking in social activities will see you go from strength to strength. Beginning new and creative ventures will be an excellent outlet and you may also find yourself naturally drawn to experimenting with a new look or style of dress.
Cancer in 4th House
Home, parents and the family from which you grew up will feature heavily under this Libra New Moon, Cancer. Feeling drawn to discover more about one's heritage will inspire you to understand more about where you come from. Any difficulties experienced at home could be more easily resolved especially if communication with loved ones has been strained. Wanting to put down new roots or finding a new home may also be appealing to you.
Leo in 3rd House
Any social or work related engagements will be successful for Leo's under this Libra New Moon. Your charm and grace will combine well with great persuasive talk; so if there is something or even someone you want to draw to you right now, take your chance! Stimulating and intellectual conversations are highly probable and venturing out into new territory will serve a greater purpose.
Virgo in 2nd House
If you are feeling a little short on resources, especially in the more materialistic front, Virgo, take advantage of this Libra New Moon, for it will work wonders for your bank balance. New prospects and applying oneself to more fulfilling opportunities or investing in new ventures has more chance of a successful outcome. Getting your finances reviewed and starting up a new plan for them will be very beneficial at this time.
Libra in 1st House
Libra will not only be celebrating their birthday month, but get an amazing opportunity to really show others their finest attributes. Energetically, this is the perfect time to re-brand oneself, make changes to how others see you, or even take a new approach into not caring what others think and shine brightly anyway! If you need to influence others, now is the time to do it.
Scorpio in 12th House
Delving further into the depths of one's subconscious is something Scorpio's are naturally inclined to do. A strong need to address spiritual practice, hidden strengths and weaknesses will enable a new approach to where one finds oneself in the world. Facing up to things we have kept under wraps will allow greater freedom and the chance to access our true spiritual potential.
Sagittarius in 11th House
Manifesting is key to future success, therefore for Sagittarius, this Libra New Moon is ripe for opportunity. The element of air is in abundance, making communication, intellectual stimulation and fast advancement with clearing blockages possible. Making time for socially conscious pursuits and engaging with like minded people will create new and long lasting friendships.
Capricorn in 10th House
This should be a relatively easy period for Capricorn, for you now have the chance to really come into your own. Focusing on your profession, whether it is taking it more seriously or up to the next level, is likely to get you great results. If this has been lacking, this New Moon in Libra allows you to articulate your needs, find a better balance and start planning or taking responsibilities more seriously.
Aquarius in 9th House
If you have been lacking inspiration, or feeling stuck, this Libra New Moon will clear the way for movement. Embarking now on a new course of learning, travel and activity is likely to give some positive long term benefits. Use previous knowledge to assess where you currently are, and how you envision yourself being in the future. New moons are for making intentions, and this one is no exception.
Pisces in 8th House
Try not to become complacent under this Libra New Moon, Pisces, for it is giving you an opportunity to enhance or begin relationships on a physically intimate level. Money is also a focus, so any new debt repayment plans started under this influence are encouraged, as is addressing money that you have involved with others. Allowing yourself to spiritually shed an old skin and encourage a newer and healthier one is good practice.
Speak with Chloe
Our very own shining star, Chloe, has an abundance of psychic knowledge and wisdom to she would love to share with you! Especially about the New Moon!
And if you want a psychic reading? There is no better time than right now! Psychic visions, under this Moon, will enhance these like no other!
Speak to one of our Psychics!
We have a very experienced and friendly team of psychics with us here at Psychic Today! See who is available for YOU right now!
Select the psychic of your choice for an exclusive one-to-one reading! Speak to one of our  Trusted Psychics. Plus, you can watch us live right here!
Download our Psychic Today App now!
The Psychic Today App is for all your psychic needs! If you haven't yet added it to your mobile phone, you can do so by following our links here:
To download from the App Store – click here.
Or download it from Google Play – click here.
Psychic Today is Here For You!
Psychic Today is on a mission to continue providing the very best psychic advice. Now we have more ways to reach our trusted psychics, and we have dedicated ourselves to answering your questions.
You can ring them via our EasyCall feature, found on your chosen Psychics profile. Text our psychics through our Text Reading page. You can also send IMs directly to the live stream via our App. We have made it easier for you to get in contact with our psychics, and they will not disappoint!