New Moon in Scorpio – by Chloe
This November's New Moon in Scorpio is happening alongside the fiery and punchy planet, Mars. Not only this, Mars is also in opposition to Uranus, the planet of awakenings, rebelliousness, and sudden change. Having these two highly charged planets in opposition will bring aggressive, turbulent, and potentially conflicted energy. It is, therefore, a time to expect the unexpected and experience sudden outbursts and conflicts with others. Being prepared for a bumpy ride will also bring new opportunities for learning and resilience in the face of adversity.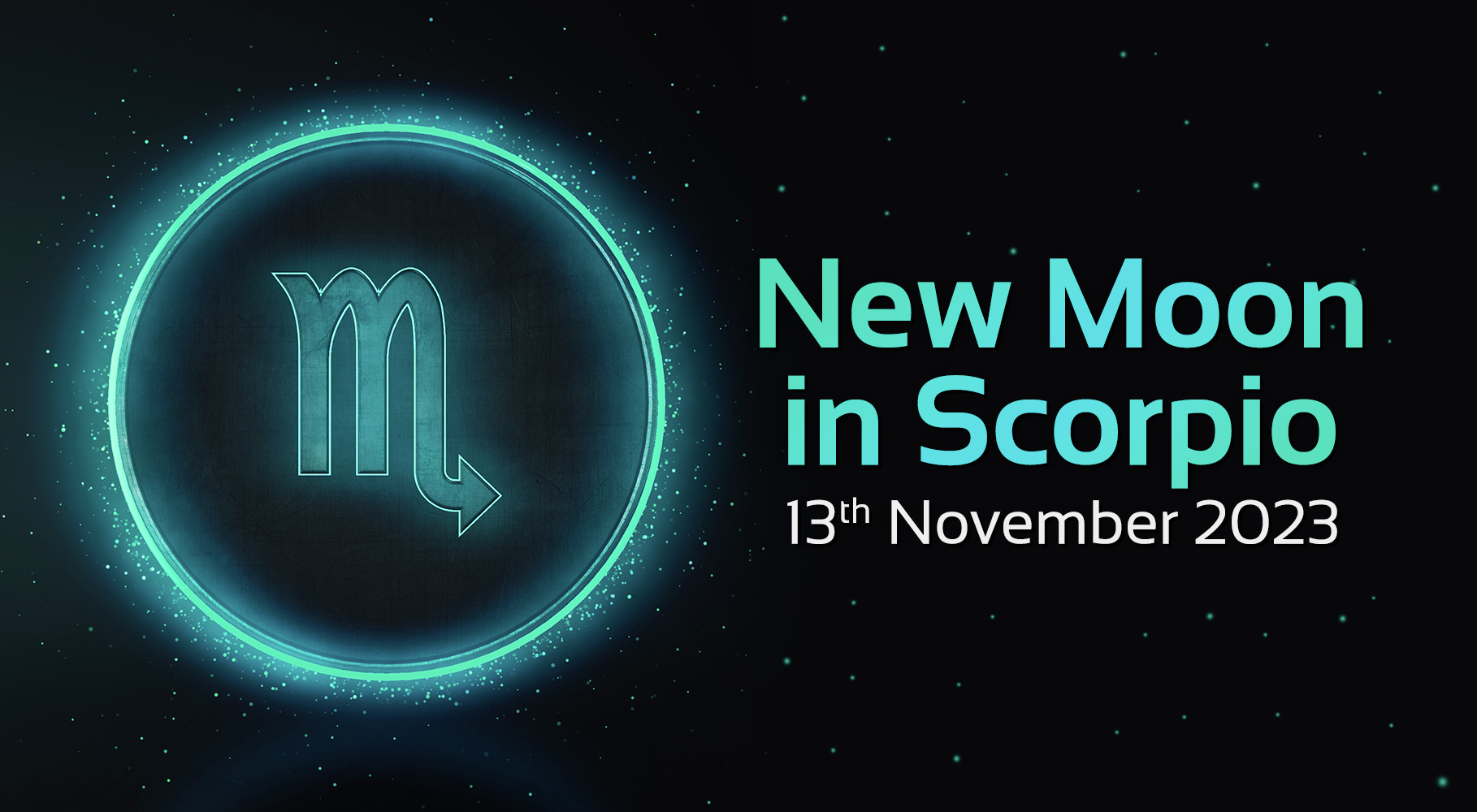 Scorpio is a fixed water sign, renowned for intensity, clear insight, and passionate determination. Pluto is Scorpio's planetary ruler and governor of the underworld and all that is hidden. Scorpios are exceptionally adept at knowing what is going on on a subconscious level and are highly intuitive. They also know when change is necessary, implementing endings and enabling positive regeneration.
Treading carefully, slowly, and mindfully will help to prevent conflict or misunderstandings. The darkness of the New Moon is amplified by the deep and mysterious workings of Scorpio; therefore, it would be the perfect time to tune in, chill out, and listen to what our mind, spirit, and soul are trying to communicate with us.
Aries in 8th House
Aries is on the receiving end of some serious Scorpio magic under this New Moon. Making new financial pacts with others will reap rewards, as would adding some stimulating energy to loving partnerships. Regeneration is the key word for Aries now, so being unafraid of letting something or someone go for better growth is advisable now.
Taurus in 7th House
There are some tough conflicting energies under this month's New Moon, so Taurus may find themselves in the "peacemaker" role. Implementing better coordination with others or with specific situations is more likely to bring better results at this time. Bringing fresh energy and harmony to old and new relationships is beneficial, also.
Gemini in 6th House
Addressing bad habits will take center stage for Geminis at this time. Looking at this as an opportunity to have a duty to oneself will give Geminis the opportunity to understand their self-worth. Making a start to improving one's health, situation, and even outlook will have a lasting effect. Getting organized or even planning a new regime has long-term benefits for Geminis at this time.
Cancer in 5th House
This is the time for Cancer to stop looking inwardly and embrace a more extroverted energy. Look at where things have become a bit flat or dull and think open-mindedly about what needs to be shaken up. New creative pursuits would be beneficial for Leos now, as well as travel-related activities. Where life is lacking positivity, this is the chance to put some positive energy into getting moving again.
Leo in 4th House
Where one is lacking security or love, this is the time for it to be addressed. Looking at one's foundations can be hard, but this New Moon is highlighting what it is we want and need to allow us and those we love to grow and flourish. A new home may be on the horizon, or even a deeper connection to our families. Showing others we care about how we feel about them will be very significant for Leos in the months ahead.
Virgo in 3rd House
Communication is key for Virgo under this November New Moon. Deliberating and procrastinating is not a viable option. This is the time to speak your truths, to make others know what your intentions are, and to deliver what you have been promising to do. Focus on what you really want for your future and start talking to others about it. You may be surprised at what you can achieve.
Libra in 2nd House
Should you be lacking any confidence in work or earning power, now is the time to put some plans into motion. Libra would benefit from looking at one's finances and any new schemes that could either be established or to sustain current ones. Getting practical projects underway now is more likely to see good long-term results.
Scorpio in 1st House
For Scorpios fed up with how they perceive themselves, this New Moon in their sign is also in the house of Aries, the fiery and confident leader of all 12 signs. Asserting some attention onto oneself, be it playing with a new look, enrolling in a fun course, or taking part in more adventurous activities will benefit Scorpio. How you want others to see you is also a good question to ask yourself now, Scorpio.
Sagittarius in 12th House
Looking deeper within can be a real challenge for Sagittarius. However, reviewing one's subconscious can bring some positive and enlightening revelations. If you have been thinking about a new spiritual pursuit, then now is the time to take some action. Joining a meditation group or meeting more spiritually minded people will be very beneficial.
Capricorn in 11th House
Any friends you may have been neglecting recently would greatly appreciate your company. If friendships have been lacking or become a bit tiresome, this period recommends more social activity. Meeting new people or becoming involved with groups that share the same principles as you will be rewarding. Do not be afraid to try something new that may be a bit out of your comfort zone.
Aquarius in 10th House
Any frustrations you are experiencing with your professional life are coming into the spotlight, Aquarius. Ambition is your keyword, and understanding what that means to you. Start making new connections or researching your job market. If you are lacking drive, this New Moon will give you the incentive to get yourself moving.
Pisces in 9th House
Speak with Chloe
Our very own shining star, Chloe, has an abundance of psychic knowledge and wisdom to she would love to share withthatou! Especially about the New Moon!
And if you want a psychic reading? There is no better time than right now! Psychic visions, under this Moon, will enhance these like no other!
Speak to one of our Psychics!
We have a very experienced and friendly team of psychics with us here at Psychic Today! See who is available for YOU right now!
Select the psychic of your choice for an exclusive one-to-one reading! Speak to one of our  Trusted Psychics. Plus, you can watch us live right here!
Download our Psychic Today App now!
The Psychic Today App is for all your psychic needs! If you haven't yet added it to your mobile phone, you can do so by following our links here:
To download from the App Store – click here.
Or download it from Google Play – click here.
Psychic Today is Here For You!
Psychic Today is on a mission to continue providing the very best psychic advice. Now we have more ways to reach our trusted psychics, and we have dedicated ourselves to answering your questions.
You can ring them via our EasyCall feature, found on your chosen Psychics profile. Text our psychics through our Text Reading page. You can also send IMs directly to the live stream via our App. We have made it easier for you to get in contact with our psychics, and they will not disappoint!