SOLAR ECLIPSE – 21st AUGUST 2017
The solar eclipse should start at around 7.30pm and will peak at 8.04pm in London and 7.58pm in Edinburgh. It should last for around 40 minutes.
The 2017 Solar Eclipse In Leo, combined with a lot of recent events has spurred so much discussion. I do hope you will bear with me here as I touch lightly on a few points of this,but understand: as always, there's much more to it all.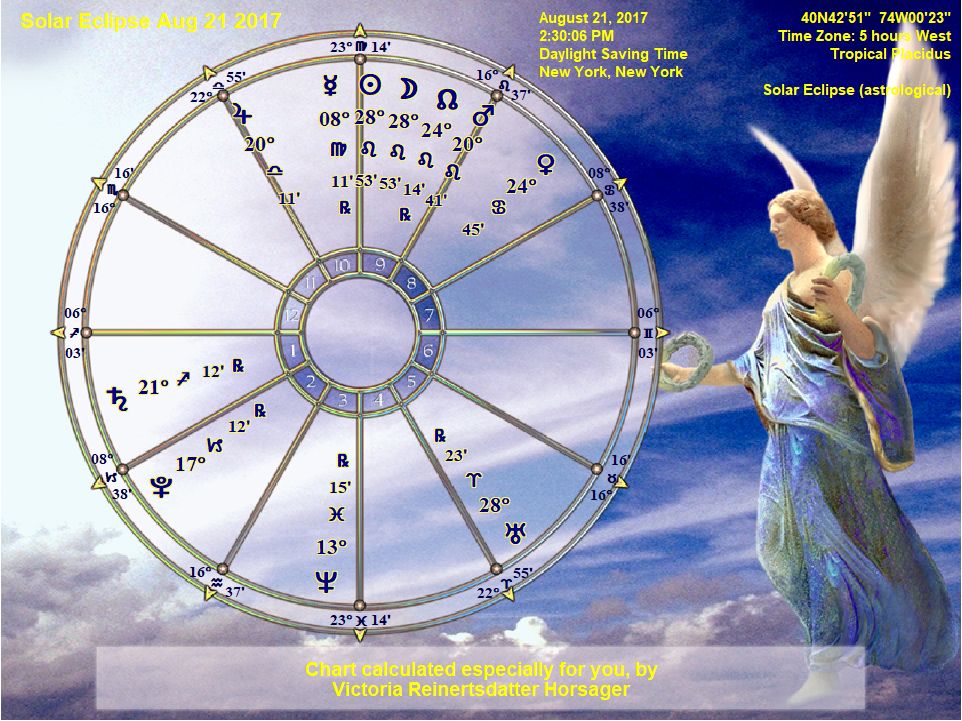 Of course, this is very much like the New Moon cycles you're used to. A solar eclipse is the same in that it does mean the ending of one cycle- and the beginning of another. However, this one's a bit longer term: whereas our New Moon cycles span about a month, eclipse cycles are six months. If you want a hint in terms of what sorts of things you'll be working with, look back to the things you were dealing with during the August 7th lunar eclipse.
So, if you look at the above chart, you can see, the 2017 Solar Eclipse is in Leo, but more than being in Leo: it's very close to the most brilliant star within that constellation: Regulus, which, is also known as The Heart of the Lion. As I mentioned in my post about the lunar eclipse, these charts don't typically show the fixed stars, but other tools we have do. However, what we CAN see, is this trine to Uranus. Let's take a look at what those two things mean.
Regulus is pretty much the heart of leadership and rule. Now, that sounds very positive and, when expressed in terms of responsibility and bravery, it can be. However, as with all things, we've got a Shadow side. Whenever you've got someone or something on the rise, what else do you get? Jealousy. Hatred. Enemies. There is an understanding inherent in these types of things- and a reason "Heavy is the head that wears the crown."
What does this mean for us?
What it can mean for us, and for you, personally- this particular position of the Moon in Leo during the eclipse matters, too. It's in a part of the overall horoscope which doesn't make for a lot of tact. It's quite a peculiar conflict- until you consider the truest nature of real leadership. On first blush, this is such an egotistical placement- yet- Solar Eclipse energy, tying into Regulus's placement in Virgo? Self sacrifice. Greater good thinking. How does that impact you? Well, this depends on aspects in your chart. Softer aspects, you may find yourself leaning into the more "help others" vibe. Harsher? You might start to feel like quite the power hungry one, giving in to your ambition at any cost.
Still, this is clearly a time when many will rise- and others still will fall. The reason I call this "The Rise of the Lioness"- and not so much the "Lion" is this: within us all, we have both energies. The masculine and the feminine within us in balance makes for excellence in leadership. Whether it's leading your household or leading an army- you need to be nurturing and strong.
On a practical level, these things come together to convey a big message. Big changes, based on the focused, strong and consistent efforts of those who seek either power- or to protect. If you take a confident approach based on what's right- you'll find success. If you take a confident approach based on selfish desire: hate to say it, you'll also find success. One will last, the other will not- and well, those selfish desires have a way of poisoning everything around them. Take care to choose wisely.
While some things might come to a head, and others begin- something else happens. With that trine to Uranus, Regulus and this solar eclipse kick off an exciting six months' wait. I think the very best way I could put it: Do you remember Rocky Horror Picture Show?
"I see you shiver…with…antici….PATION!"
That's pretty much it, right there. Be careful, as that kind of nervous excitement, particularly for the next couple of months during Mercury retrograde and Uranus retrograde- can make for some restlessness. It can make for some agitation and an overall general feeling of "WHEN?!" impatience. Hang in there, it's coming- whatever IT may be, for you.
Remember, this is all about new beginnings- so, if you're not sure what you want, it's a good time to figure that out. If you know, it's a good time to make those plans and set some goals. Over the course of the next six months, you may find it easier to take some risks, take the initiative and see positive changes. As a result, of course, you may find others are jealous but, tighten your circle, buckle up and hang in there. You may find some things fall apart and some things stall out at times. This is okay, don't get frustrated and do not lose sight of your long term goals. An interesting little pattern there involving Saturn, Jupiter and Mars keeps us moving, keeps things steady, and implies these are not temporary changes.
Whatever the obstacle, you can overcome it. Kinda tap into the Heart of the Lion and roar, baby, roar. Do all things you do in love and you will find that sustainable, long term joy you're looking for. Your starting point is some radical self honesty- and understanding why you do what you do. Making the most of this next six months after the 2017 Solar Eclipse means, taking it from there and running with it.
What will the solar eclipse bring for you? Get your answer from Victoria and the SMS text psychic team by texting FULL to 87777.
Max 3 x £1.50 texts per reply. Standard network rates apply to messages sent to 87777. Over 18s only. You must have the bill-payer's permission. You may receive free promotional messages. To opt out text STOP to 87777. Service by Com & Tel. Helpline: 0333 335 0297.