FULL MOON IN TAURUS – 4th November 2017
FINALLY! A Full Moon that is predominantly positive! Yay! I know that by now, whenever you see the words "challenges"- you know, oh, boy, here we go. However, this Full Moon in Taurus on November 4th actually ties quite nicely into the Sun in Scorpio. It's not quite a Super Moon but, it is closer to the Earth than usual, so, we may feel it's impact a bit more.
Now, you might be thinking, "Wait, Taurus and Scorpio? Isn't that…bad?" but, the contrasts actually work very nicely together in this case. On the one hand, you have very earthy, practical Taurus- with all its diplomacy and that more or less dramatic Scorpio on the other. What this does then, is enable us to look at the more complex issues, the mysterious: in a different way. Though yes, it does have a way of shining a light on that conflict- but, these things can also provide an effective balance for us.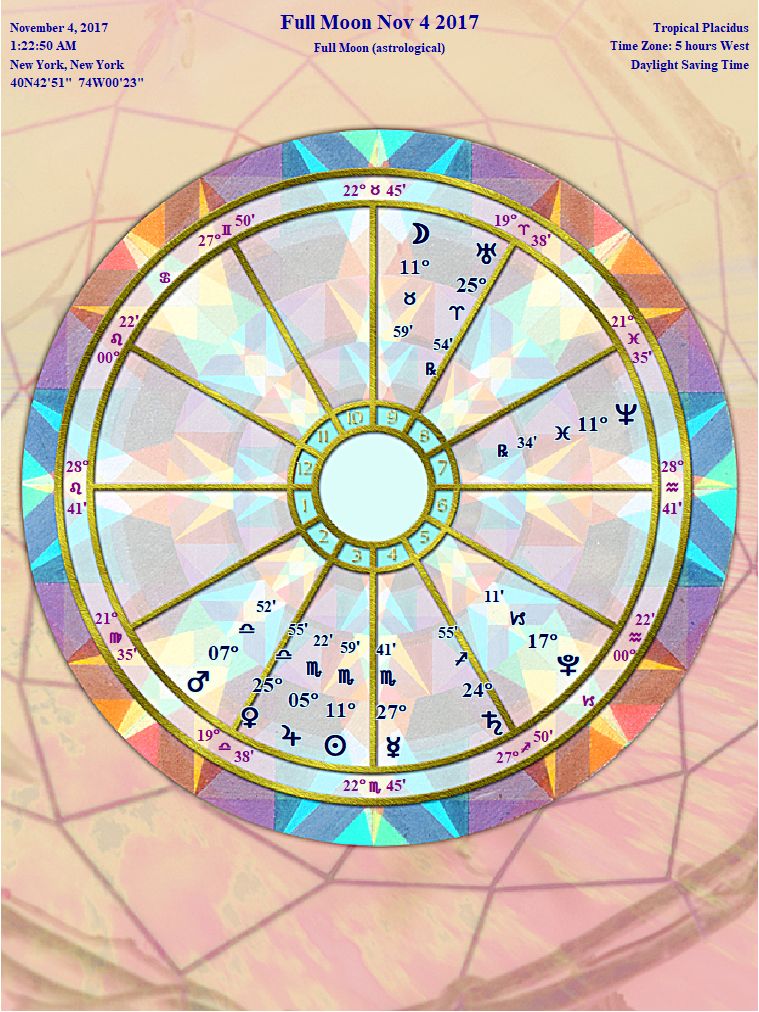 The keywords for this Full Moon are passion and creativity. This means it can have quite the impact on your love life and what you wish to manifest there. Of course, since it is a full moon- we do have that "finish line" factor. So, what else comes into play with a passionate, yet practical sort of Full Moon?
The Taurus Influence

Taurus helps us to recognize that which we already have- now, looking at the chart, here, there is also a tightly opposed Venus and Uranus in the mix. This means that it's given a bit more emphasis- because Taurus's ruling planet is Venus. Because this also has connections with Jupiter and Neptune: the entire mix is just ripe with potential as long as you remain open and even eager for newness. Whether that's trying new things, doing a little exploring, or coming together with a partner to experience new things together: it's a good thing. You may also find yourself giving some things up- but, also, inspiration strikes and realizations can be made.

Let's talk just a minute about that opposition. I note that this happens very close to when the Full Moon rises- this opposition hits right around the 20 minute mark before then. Here's where we may find ourselves caught off guard. Things may happen out of nowhere. You have to be incredibly careful during this sort of thing as those in relationships may well face temptation: and this is not the kind of unexpected change you need or really even want. Instead, if you find yourself dissatisfied or your partner less than open to what you suggest- continue working through it. Communication is key. It may not resolve itself right away, but, taking the higher road- or even ending a dud of a relationship may be your path to happiness.
Still Looking? 
For those of you who are single, this is sort of good news, but kind of not. Passionate flings have been known to happen- but, often, they're not long term. If you can enjoy them at face value: well, you know what they say, life's short. If you are seeking out the serious, if you are expecting long term- may I suggest, instead, a film binge? Keep those expectations in your pocket and keep to your standards to prevent heartache.
That Venus is so interesting though- because, for some, this full moon may well be just the thing to connect on a much deeper, even more spiritual level. However, and here's a rule of thumb I tend to follow: if your actions may hurt someone else by way of deception, no matter how justified or how rationalized- it's not the right way to go.
For those in situations where there is hope but going through a rough patch, this Full Moon can either make it or break it. That, my friends, is up to you. Decide if you want to do the deeper digging Scorpio enables- and then blend it with the practical problem solver that is Taurus. You may just find what seems a hopeless situation is anything but.
What will the full moon bring for you? Get your answer from the SMS text psychic team by texting FULL to 87777.
Max 3 x £1.50 texts per reply. Standard network rates apply to messages sent to 87777. Over 18s only. You must have the bill-payer's permission. You may receive free promotional messages. To opt out text STOP to 87777. Service by Com & Tel. Helpline: 0333 335 0297.