August 2020 – Monthly Horoscopes – with Sky Silverstone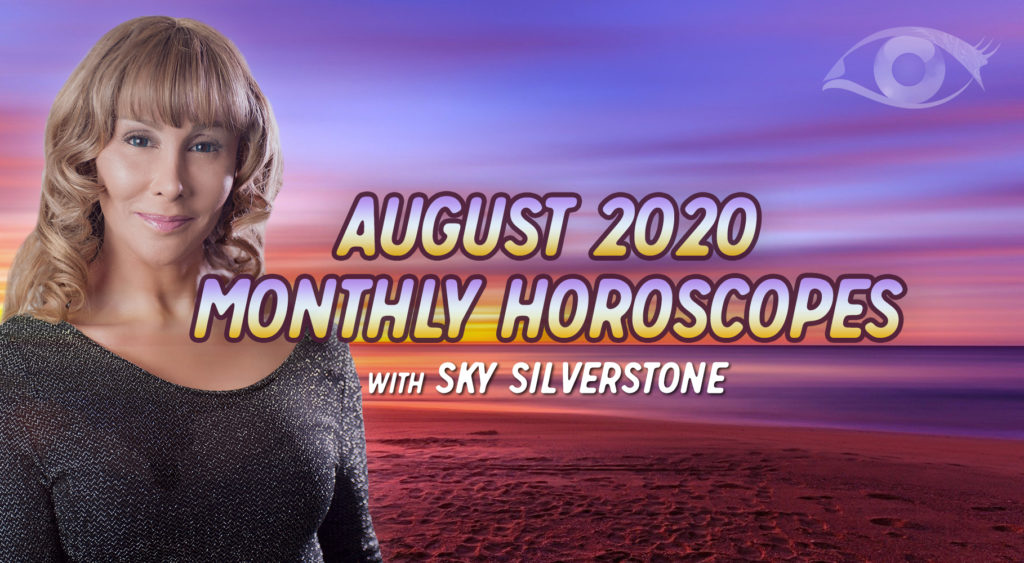 Aries 
Mar 20th – Apr 20th
Dear Aries.  August is your month as Mars your ruler remains in your sign all month. Have a ruling planet in your sign brings you confidence, magnetism, focus and a feel-good factor. And on top of that, Mars creates a desire for action, re-action, power, go-get, even if you want to be lazy, Mars will make you lively and energised. This is the time to tap into this fire-power to get on with whatever inflames your passions.
Now, as Mars and the Sun works very harmoniously together, it gets interesting for you, as the Sun sits in your house of romance, lovers fun, frolics and recreational activities. The result could be your passions and desires for these areas to power up in some way. It's a great month for you to get socialising, spread your wings and simply enjoy the power being showered on you. This is a month go for it, Aries!
Taurus 
Apr 20th – May 21st
Dear Taurus. August is a great month for you as Venus, who's not only is your ruling planet but she also governs the 2nd house of self-worth. And that's exactly where she starts off the month and up to the 7th. Then Venus, the enhancer of magnetism, moves on to uplift areas of all types of social & intellectual connections, communications, short journeys, learning, happy-quick contacts. So putting the two together, may bring you recognition and respect in all that you're saying.
You may feel people just 'really get you,' understand you and support your input. This would be a positive time to look at where in your life, you want to make an impression with your ideas, your intentions and communication abilities. The almighty Sun is uplifting areas of your 'home sweet home,' family and any kids you're connected too. You may feel like you want to be in and around your home this month. Overall a great month for you Taurus.
Gemini 
May 21st – Jun 21st
Dear Gemini. August starts off well with the Goddess of Love, Venus, in your sign up to the 7th enhancing your magnetism, attractiveness and abundance. She showers you with a 'feel-good, look-great' energy. It gets even better when she moves forward on the 7th because she moves into a house that she rules, your 2nd house of self-worth. The month ahead is a positive vibration of Venus energy to attract success, be seen, heard and recognised for something.
This makes it a month to use that Venus-power by pushing forwards to attract abundance or recognition to enhance life in general. More good news, as of 5th your ruler Mercury, the slick-talker, moves into his ruling house, 3rd house. This supercharges your communication abilities, responses, happy chit-chats here & there and gets you heard. You may be fired up to get on with the 'to-do list,' make short trips or run errands. I did say it's a great month for you Gems!
Cancer 
Jun 21st – Jul 23rd
Dear Cancerians. August starts with your communication skills firing on all cylinders as the planet of communication, wit, travel and business, transits through your sign till the 5th. From the 5th Mercury joins the almighty Sun to bring success to your abundance areas, as they both light up your 2nd house. This is a great plus if you can put your energies towards how and where you can attract positive changes in your incomes.
More great news for you crabs, as the Goddess of Love, Venus, enters your sign on the 7th. Venus brings you appeal, attractiveness and magnetism. Dominant in beauty, she may push you to enhance how you present yourself to the world. You're feeling good, looking good and  generally 'hot-to-trot.' As she governs prosperity as well,  it could be an advantage to put your efforts towards creating increases in abundance in some way. When the Goddess is gracing your sign it's always an awesome month!
Leo
Jul 23rd – Aug 23rd
Dear Leo. August has always belonged to you luscious Leo's, it's your month! All due to the almighty Sun travelling through your sign, bringing you attention, upliftment and highlighting you to the world. The Sun shines a light on you and your efforts, so it's a month that supports you to go after goals, your ambitions and generally getting ahead. Keep in mind that you need to keep a careful eye on areas of your daily work, regular routines and wellbeing, as you have 3 major planets in reverse gear in this house.
This can bring in laziness, lack of focus or create a lack-lustre vision of your connection to these areas of life. All that's needed is that you stick to routines; remain positive around your daily life, thus making everything manageable. A positive that adds to your success is that there's a New Moon in your sign on the 19th which can re-energise and renew your existence in some way. Overall a great month for lovely Leos!
Virgo 
Aug 23rd – Sep 23rd
Dear Virgo. August has your ruler Mercury now fully direct, after last months retrograde. Now working his magic in your house of friendships, social acceptance/security and serving humanity. Mercury's energy here may get you chit-chatting, checking up on your mates, arranging social & fun dates, even networking. If you go with just a small percentage of this energy, its a huge change from the past few months!
The almighty light of the Sun is nudging or bringing out into the open your hidden thoughts, areas of the subconscious, secrets and lies. This sector could even bring you some solitude or time within yourself. However your ruler Mercury moves into this area from the 5th and this could have you vocalising or venting about what's going on inside the deepest parts of your mind. Mercury can also help you compartmentalise or organise these areas more efficiently. All in all, this helps to smooth out the connection with the inner and outer you
Libra
Sep 23rd – Oct 23rd
Dear Libra. August is a great month for you as your ruler the Goddess of Love, Venus, travels into your house of career, longterm goals, ambitions and employers. This is a powerful plus if you want to change or attract changes in career/work, or even draw in a new job that could lead to a change in career, as it allows you to be favoured or seen in a great light by superiors. More good news as the almighty Sun highlights friendships, social connections and dealing with the humanitarian side of life.
You may be encouraged to get out there and engage in some fun social times with anyone that's up for a fun time. Then, from the 5th Mercury joins in with the Sun both are encouraging the world to take note of your opinions, words and ideas. Mercury could have you travelling here and there, to meet up with social connections and friends. Overall a lighter, feel-good month that brings you connections with old and new friends.
Scorpio Horoscopes
Oct 23rd – Nov 22nd
Dear Scorpio. August is a fantastic month to get fired up about areas of your daily work, everyday routines and wellbeing. This is all through Mars travelling through his home sign which is your 6th house governing these mentioned areas. Mars is punchy, fiery and power-filled, most likely pushing you with a passion to transform, change, re-create and uplift one or more of these areas in some way.
For example, Mars could fill you with a strong need to get into a new daily fitness routine to get on with and create much-needed changes in your daily work. Another great plus comes through the almighty Sun bringing positive attention to your reputation, to areas of ambitions, if you have a desire for your career and longterm goals. Then Mercury joins in after the 5th showering you with the power to speak up, make moves, get thinking-planning and think up innovative ideas for these areas of life.
Sagittarius Horoscopes
Nov 22nd – Dec 22nd
Dear Sagittarius. August is a supercharged month with the firepower and go-get influence of Mars hitting your 5th house of romance, lovers, fun, parties and frolics. This is much needed after the last few months yeh? Go enjoy, chill, let off some steam and get social in the very least. This is a great plus in creating a feeling within you of, it's all 'water off a ducks back,' and this is a much needed, in response to mighty Jupiter, your ruler is in reverse gear.
However keep in mind, that you need to take time to assess decisions about investments in certain areas carefully, as Jupiter, as well as Saturn and Pluto, are in reverse gear in this sector. But knowing you super Saggies, you're super-optimistic, freedom-loving as Saggies always are, you're enjoying the general lighter feel to live in the country. Not a lot gets a Sagittarius down, so enjoy the month!
Capricorn Horoscopes
Dec 22nd – Jan 20th
Dear Capricorn. August overall is a positive month as we all feel more freedom in society. This adds a positive vibration to your life in the face of 3 planets, including your ruler Saturn, Jupiter and Pluto travelling in reverse gear in your sign. Good news is, that next month Saturn and Jupiter move forward allowing you to feel more uplifted and directed once again. So this is the final month that a little challenge may fall your way and this could simply be in your thoughts, the mind or life in general.
Good news is that the Goddess of love Venus enters your house of relationships, commitments, marriage and contracts. This is uplifting energy inspiring you to delve into these areas or look for where commitments could be more solid and stable. All the while fiery Mars brings you passion or desire to create positive energies within your home, family, or create more stability to what forms the roots of your life.
Aquarius Horoscopes
Jan 20th – Feb 18th
Dear Aquarius. August gets off to a great start for you as you have a Full Moon in your sign on the 3rd filling you with action energy. The Goddess of Love, Venus, enlivens your magnetism to attract romance, flirtations, fun, social activities and possibly lovers. This fits in well with the improved social freedom we now have, as you're able to pursue an improved social life.
Venus then moves onward into the next house from the 7th to bring you favour and recognition within areas of your daily life, such as from your work, within & around everyday routines. Venus in this house, for example, can encourage you to get into a new fitness or wellbeing regime as Venus pushes you to look good and feel good. Overall a great month!
Pisces Horoscopes
Feb 18th – Mar 20th
Dear Pisces. August starts with a tone of 'home sweet home' for the first week, as Venus the Goddess of Love moves through your areas of the home, family and children. From the 7th and for the remainder of the month, Venus is right at home in your 5th house of romance, fun, social connections, love and frolics. This could take you away from your 'home sweet home,' to getting out and about in more social atmospheres.
More good news as the almighty Sun puts a spotlight on your everyday work, daily routines, fitness, health and wellbeing. This could encourage you to put extra efforts into your work areas so as to later pay you dividends. Or you may decide to change up or add to your fitness and wellbeing in some way. A great month overall for you little fishes!
Blessed August to you all.
Sky x
Who is Sky Silverstone?
Sky Silverstone is an astrologer, crystal healer, numerologist, colour analyst, and life coach. She has a very open, caring and friendly nature. She makes regular appearances on Psychic Today. For a more in-depth horoscopes reading, contact Sky today!
Download our Psychic Today Companion App now!
The Psychic Today Companion App, for all your psychic needs! If you haven't yet added it to your mobile phone yet, you can do so by following our links here: 
To download from the App Store click here
Or to download from Google Play click here 
To top up your credit or if you have any questions or queries, our friendly reception staff are available 8:00 am to 2:00 am GMT on 0333 335 0297. You must be over 18 years old to use this service, which is for entertainment purposes only. You must be the bill payer or have the bill payer's permission. We may send free promotional messages. 
Facebook
Text FACEBOOK and your question to 65511 for your free reading! (Usually £1 per message, max 3 messages per reply. One per person. CS: call 0333 335 0297. UK Only)