Knitting Together Numerology Series
Looking At The Number 2 (two) – "We go together"
Where better than the Earth plane to understand the meaning of the number two in Numerology? We live on a planet full of duality and polarity, constantly ebbing and flowing, back and forth to strike that all elusive balance, so let's take a look at what Numerology says about the number Two.
Two's Company
Relationships, whether they be siblings, spouses, friends, lovers, co-workers, colleagues, parent/child, teacher/student, pet/owner all bring with them the challenge of acceptance, communication, compromise, give and take, to strike that balance and ideally create a win/win scenario. Easier said than done! It requires us to be emotionally vulnerable, available and open to being hurt and disappointed when there is a win/lose situation. Usually where there is an imbalance of one party giving or taking too much and also more often than not miscommunication.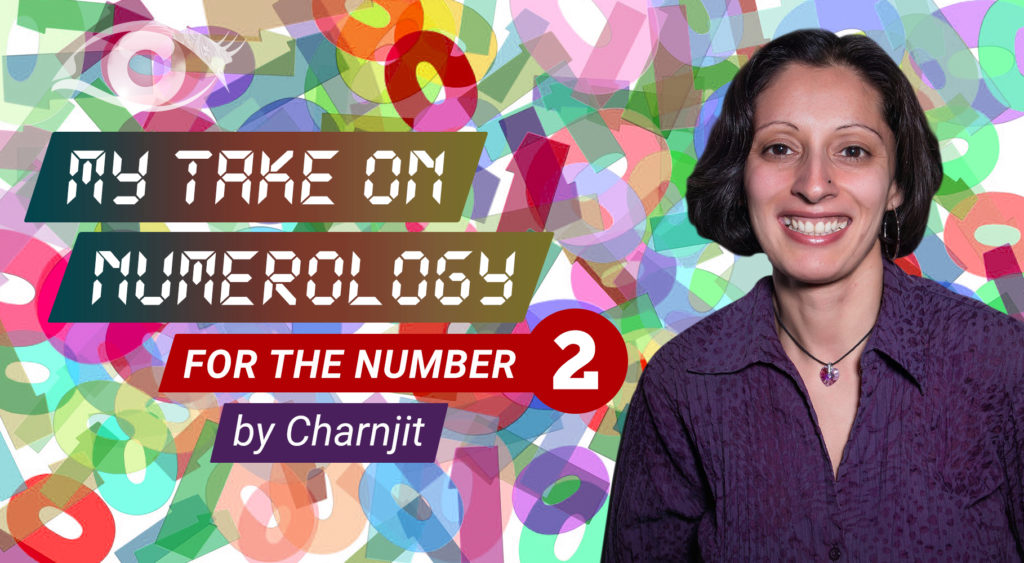 To be open and real also means being open to rejection. Now, more than ever before, language has so many multiple meanings and interpretations. Coupling that with virtual communication (text, email) can really create a challenge if we are not the sensitive type who can tune into energy regardless of the format. That is what life path 2 is about. Numerology shows us that those with the number two on their charts are sensitive souls, trying to create peace and harmony wherever they are. Maybe they are drawn to mediation, art, beauty, music – anything that can bring in that harmonious vibration. They need to be in calm surroundings to stay balanced. 
In western astrology, the second house is about earned income but also about values and self-worth. What price do we put on ourselves? What would we absolutely not sell out for? The second house is ruled by Taurus which is ruled by the planet Venus. The planet of love. The essence of all healthy partnerships – a heart to heart connection. Many issues are overlooked in relationships because the heart wants what the heart wants. How many times have you known that he/she is not good for you? The reply? But I love him/her.
Number Two in Letters
The letters that represent the number two are:
B – second letter (2)
K – eleventh letter (1+1 = 2)
T – twentieth letter (2 + 0 = 2)
Having these letters in a name can indicate sensitivity and sometimes shyness. Particularly if the name starts with one of these letters the person may be shy to initiate things/conversation. Those whose name ends with these letters like to end things amicably. They do not like disputes and arguments. When such instances arise they work very hard to resolve this, sometimes through self-sacrifice or passivity – anything for a quiet life! The letter K, in particular, is very intuitive as 11 is a psychic and master number. The letters B, K, T remind me of the word bucket which reminds me of cups in tarot – all about emotions.
Number Two in Tarot
Talking of tarot we have three major arcana cards that represent the number two:
II – HIGH PRIESTESS (knowledge)
XI – JUSTICE (balance)
XX – JUDGEMENT (prudence)
We have four minor arcana cards that represent the number two:
Two of wands (standstill)
Two of cups (happy)
Two swords (heart)
Two of pentacles (juggling)
Meditation/affirmation with the keywords assigned:
Life is a juggling act. When faced with decisions, I take time to tune into the heart chakra at the standstill point of the fork in the road, gaining and assimilating knowledge with prudence, thereby creating a happy resolve. I now have an answer that brings about balance.
Number Two Charka Cycle
In yoga, the second chakra is the sacral chakra, also known as the svadhisthana chakra. It is the chakra of desire, creativity and courage. It can create craving and the desire for the sweeter things in life. It's the "I want" chakra represented by the colours orange, red/orange, and orange/yellow as each chakra blends with the one above and below.
Kapalbati pranayama (also known as skull shining breath) is a very strong, forceful method of breathwork, felt in the lower abdomen or sacral chakra area. It involves a forceful breath out through the nose, allowing the in-breath to be relaxed and natural but short. When contemplating any form of bodywork it's important to seek out the appropriate sources to make sure it will help rather than hinder. This pranayama is powerful and strong, there are contraindications – you have been warned – check yourself before you wreck yourself! 😊
A few asanas for the sacral chakra:
Chandra namaskar (moon salutation)
Bhujangasana (cobra pose)
Balasana (child's pose)
Utthita Balasana (extended child's pose)
Baddha Konasana (butterfly pose)
Salabhasana (locust pose)
Dhanurasana (bow pose)
The Seven Year Cycle
In our seven-year by seven-year chakra cycle, we are in our 7-year sacral chakra phase between the ages of 7-14, 56-63, 105 –112 and so on. We are in our "double sacral" chakra energy between the ages of 8-9, 57-58, 106-107 etc. My understanding is this is about what we want in life. By age 8-9 many have done the basics of life and are ready to be a bit more creative doing things in a style that they want to. Around age 57-58 we have our second Saturn return (first one being around age 29). So, looking back to the first one, what do we want this time around?
In everyday life
Yin/yang
Masculine/feminine
Mother/father
Sister/brother
Up/down
Left/right
Near/far
Day/night
Scales
Binary (base 2)
Seesaw
Waxing/waning (moon)
Semi-circle (half moon, cup handles, smile)
Swan (which has a partner for life)
Football – a game of two halves
Partners are often referred to as the other half (or in some cases better half 😀 )
That's all for now.  
In the next blog in the Knitting Together Numerology Series, we will be looking at the Number 3 – Connections
Love and light,
C xx
Thank You 
If you enjoyed this blog, see how things would work out for you personally by having a Numerology reading with Charnjit herself. Using your date of birth, she can tell you what to expect and what may develop for you. She can also use cards, her natural psychic senses and much more.
Download our Psychic Today App now!
The Psychic Today App, for all your psychic needs! If you haven't yet added it to your mobile phone yet, you can do so by following our links here: 
To download from the App Store click here
Or to download from Google Play click here 
To top up your credit or if you have any questions or queries, our friendly reception staff are available 8:00 am to 2:00 am GMT on 0333 335 0297. You must be over 18 years old to use this service, which is for entertainment purposes only. You must be the bill payer or have the bill payer's permission. We may send free promotional messages. 
Facebook
Text FACEBOOK and your question to 65511 for your free reading! (Usually £1 per message, max 3 messages per reply. One per person. CS: call 0333 335 0297. UK Only)