September 2020 – Monthly Horoscopes – with Sky Silverstone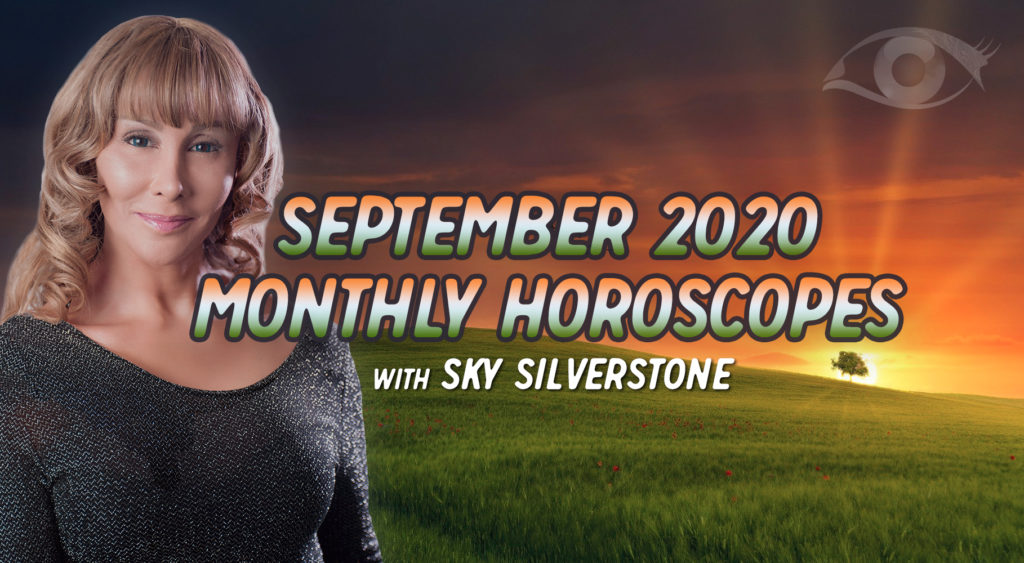 Aries 
Mar 20th – Apr 20th
Dear Aries.  September starts off spectacularly for you, as your ruler Mars remains in your sign bringing fireworks, energy and 'go-get' power for you and your endeavours. However please make the most of this till the 10th as Mars then starts a retrograde till November. When a ruling planet goes in reverse gear, this can create a little despondency, procrastination or a bit of confusion.
All that's needed is for you to pull out your in-built will-power to kick these side-effects out of your day and 'hey-presto' your focus re-balances. Good news for you as of the 6th the Goddess of Love & Abundance Venus enters an area she governs, so her power will be full-on to oil the wheels of romance, flirtations, romance and fun activities. She can super-charge your magnetism this month, so I know it's a fantastic month for your awesome Aries!
Taurus 
Apr 20th – May 21st
Dear Taurus. September starts off well with the almighty Sun gracing areas of your chart governing romance, lovers, parties, fun, enjoyable pass-times and entertainment. You may find that a lighter, brighter energy flows in for you, with possibilities of invitations for social activities. The month starts off with your ruler, Venus the Goddess of Love & Abundance enhancing communications, short happy chatting sessions, connections with those close to you and you may be indulging in short journeys.
Venus draws people to you within these areas and you could find you're in demand from those around you. Then after the 6th Venus moves on pushing you to deal with areas of the home, family and children. You may wish to spend time at home, take care of youngsters, renovate, decorate, cook or clean-up. All in all, a positive month with a possibility of connecting to your roots in some way.
Gemini 
May 21st – Jun 21st
Dear Gemini. September starts off with the almighty Sun highlighting area of your home, family connections and generally the roots of your life. Some of you may be wanting to spend more time at home, get involved with home-projects, family matters or deal with youngsters in your family. Up to the 6th the Goddess of Love & Abundance
Venus, travels through your house of wellbeing, enhancing and uplifting these areas for you. From the 6th Venus moves onwards, bringing you attention and recognition for your positive input, opinions and ideas in certain areas of your life. Here, you could find that your vocal input and guidance has great value to someone. A month to speak up and speak out about what you truly feel and think. Have an outspoken month Gems!
Cancer 
Jun 21st – Jul 23rd
Dear Cancerians. You have a great start to September as the Goddess of Love & Abundance travels through your sign till the 6th. The start of the month may have your focus on your appearance, looks, beauty, self-care or the impact you have on the world. Here, she can bring you attention, respect and recognition in different ways. More good news as from the 6th Venus moves on to uplift areas of abundance.
This is a great plus for you little crabs, as Venus gives you the power to attract positive changes with regards to your wellbeing areas. This month would a great time to chase those changes or take action to attract more comfort to you. Overall, do make the most of these positive abundance energies available for you Cancerians.
Leo
Jul 23rd – Aug 23rd
Dear Leo. September is a supercharged month for you as the Goddess of Love & Abundance enters you sign on the 6th charging you up with magnetism, attention and highlighting you're your positive presence to the outside world. Many of you may start to look at little changes in your presentation to the world, such as your clothes, hair, make-up or your beauty regimes.
This could also be a month that brings you recognition or respect from certain people important to your progression. If you wish to impress or wow people, this could be professionally or personally, Venus could supercharge you to do so. All the while, the almighty Sun travels through your 2nd house of self-worth, highlighting something within these areas for you to work on. It's always an awesome month when the Love Goddess and the almighty Sun are working in your favour!
Virgo 
Aug 23rd – Sep 23rd
Dear Virgo. September belongs to you Virgoans because the almighty Sun, graces each sign every month, and it's your turn as the Sun is in your sign putting the spotlight on you, your ambitions and desires. A light shines on you, not only through the Sun but what makes it awesome is that your ruler Mercury is also in your sign for the start of the month till the 5th. This creates a 'springboard-energy' for you to use to get the month off to a flying start.
Positive vibes continue as Mercury then moves into areas of abundance and self-worth. An example of success coming from this alignment is to push to use your ideas, communication abilities and creative talents to attract positive enhancement toward your wellbeing sectors. The good news keeps rolling in, as there's a New Moon in Virgo on the 17th. After all, September belongs to you in more ways than one, so have a great month Virgoans!
Libra
Sep 23rd – Oct 23rd
Dear Libra. September starts off with your ruling planet Venus the Goddess of Love, enhancing areas of career, reputation and longterm goals up to the 6th. This is a time to focus on gaining recognition for your career goals, ambitions and gain respect through the attention of superiors or those in authority. Venus moves on from the 6th and for the remainder of the month will be creating a magnetism for you within the sector of your friendships, group connections and networking areas.
You could engage a larger friendship circle this month. The planet of communication, creative pursuits and business endeavours, Mercury the 'quick-thinker,' enters your sign on the 5th allowing your opinions, input and ideas to stand out and bring you recognition for all you have to say. More good news as the almighty Sun puts a massive spotlight on you and your world as it enters your sign on the 22nd. Overall a fantastic month for you luscious Librans.
Scorpio 
Oct 23rd – Nov 22nd
Dear Scorpio.  September has the almighty Sun uplifting and highlighting friendships, close associations, group working and group connections. There could be social invitations or a need to collaborate efforts as a collective, opposed to 'going for it alone.' At the same time Mercury the bright-spark of communications, ideas and creative talents is travelling through this same area till the 5th making you heard and recognised within these sectors.
It becomes interesting after the 5th as Mercury moves on to sectors of life that are unseen, hidden or secret from the world. This also includes dreams, secrets or emotions, mixed in with Mercury travelling here, could push you to bring something out from hiding and expose it somehow. Some of you could find that you're more intuitive or psychic and your opening up and speaking more about it. Overall a positive month allowing a deeper connection from within and to then let it out to your outer world.
Sagittarius 
Nov 22nd – Dec 22nd
Dear Sagittarius. September is an awesome month as your ruler Jupiter, who's been travelling in reverse gear for months, now moves forward from retrograde on the 13th. You'll find that slowly your focus, enthusiasm and drive becomes fully charged as the brakes come off with Jupiter direct. At the same time Mars, the enhancer of passion, drive & 'go-get,' is uplifting areas of romance, lovers, fun, frolics, enjoyable pass-times and the lighter side of life.
Mars drives you positively here to go after some of these sectors. However, be mindful to 'go-with-the-flow' from the 11th as Mars turns retrograde in this very house till November. All that's needed is your positive intervention to overcome a few bumps with close connections and harmony restores itself. Overall a good month as Jupiter becomes your driving force from the 13th.
Capricorn 
Dec 22nd – Jan 20th
Dear Capricorn. September brings a massive restoration of harmony as 2 planets out 3, travelling through your sign this month, now move forward. The most important is your ruler Saturn, turning direct on the 29th and Jupiter moving direct on the 13th. This leaves just Pluto in retrograde in your sign and you'll find that life becomes more balanced, the focus is restored and a general feeling of positivity becomes stronger.
The month starts with the firepower of Mars energising areas of home, family, children and the roots of life. There may be a strong desire to spend time at home or with those you love. However be mindful that Mars turns reverse gear on the 11th till November, creating a few challenges or bumps in the road within these areas. All that's needed is for you to engage your cool, calm, earthy energy and harmony is back in play.
Aquarius 
Jan 20th – Feb 18th
Dear Aquarius. September starts the month with fiery Mars uplifting and energising areas of your 3rd house of communication, short/quick chats, short trips, close connections, areas of learning or study. You may be enthusiastic in these areas as Mars adds drive and passion. However, from the 11th Mars goes into reverse gear and remains in retrograde till November. It would be natural that you could feel less enthusiastic or lacking focus or drive within these areas. Good news as Venus the Goddess of Love & Abundance starts the month off travelling through your house of daily work and everyday routines.
This is a great plus as it could bring you attention within work for your positive input, or you could be driven to look good by engaging a new fitness regime. From the 6th Venus then moves into your relationships sectors and many of you could be driven to look at where relationships could bring you stability and longevity. Overall Venus is gracing some major areas of your life-enhancing positivity and attention of others towards you. Have a great month Aquarian's!
Pisces 
Feb 18th – Mar 20th
Dear Pisces. September starts with the Goddess of Love & Abundance travelling through the house of lovers, flirtations, fun, frolics and happy pass-times. A great start that's taking your focus to a lighter, happier side of life in ways personal to you. Then Venus moves on from the 6th to grace areas of daily work, everyday routines, health & wellbeing. You may find that you can gain recognition or respect for your efforts in work, or you may feel a need to look after yourself, to look good and feel good with a new fitness regime.
The Goddess of Beauty may just push you with a desire to beautify yourself or your world in some way. You have the power of the Full Moon in your sign on the 2nd energising wishes and desires for you. Overall a great month with Venus working her magic is some major areas of your life. Have a great month little fishes!
Blessed September to you all.
Sky x
Who is Sky Silverstone?
Sky Silverstone is an astrologer, crystal healer, numerologist, colour analyst, and life coach. She has a very open, caring and friendly nature. She makes regular appearances on Psychic Today. Sky would love to give you an astrological reading too! Contact her here: https://psychictoday.uk/reader/4646/sky-silverstone
Download our Psychic Today Companion App now!
The Psychic Today Companion App, for all your psychic needs! If you haven't yet added it to your mobile phone, you can do so by following our links here: 
To download from the App Store click here
Or to download from Google Play click here 
To top up your credit or if you have any questions or queries, our friendly reception staff are available 8:00 am to 2:00 am GMT on 0333 335 0297. You must be over 18 years old to use this service, which is for entertainment purposes only. You must be the bill payer or have the bill payer's permission. We may send free promotional messages. 
Facebook
Text FACEBOOK and your question to 65511 for your free reading! (Usually £1 per message, max 3 messages per reply. One per person. CS: call 0333 335 0297. UK Only)