Knitting Together Numerology Series
Looking At The Number 3 (three) – Connections
As part of my ongoing Numerology series, today we will look at the Number Three. The third chakra, our solar plexus chakra is our powerhouse, our furnace, how we express our creativity through the body, having that fire in our belly to pursue our passion.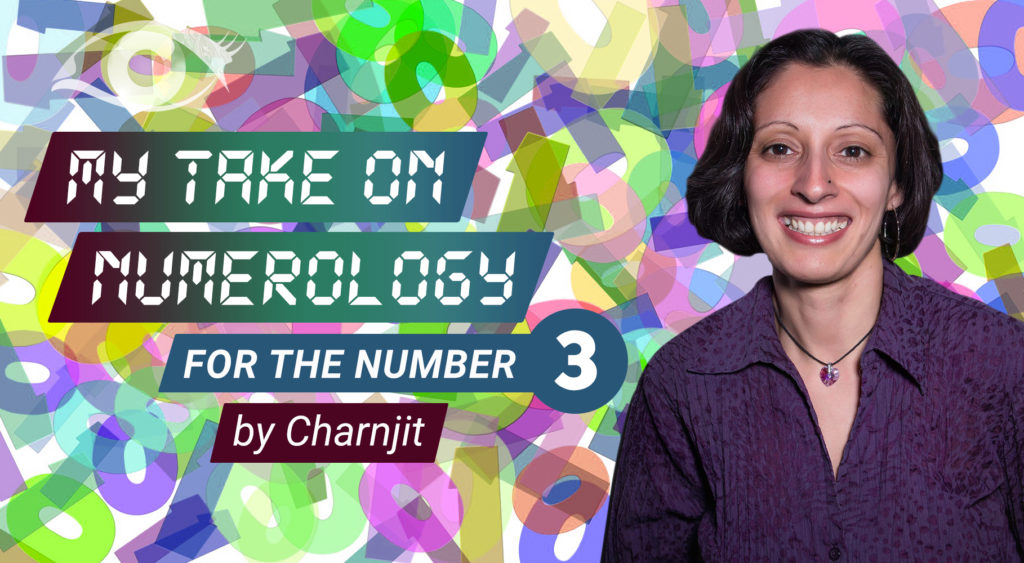 Three Things
(1) Three things are needed for a fire – heat, fuel, and oxygen.
(2) Three things are needed for photosynthesis – water, carbon dioxide and sunlight.
(3) Three things are needed for human survival – water, food and oxygen.
Those with the number three in their chart, whether it be their birthday number, life path number or a pinnacle/period cycle number tend to be the creative types and have a passion for life itself. They work well with their hands and have the potential to be great craftspeople.
For the threes, life is too short to be too serious for too long. They will power through, turn things around and make things positive.
The positive three is sunshine, upbeat, warm, yellow/golden energy. Threes like to be connected and stay connected.
Number Three in Astrology
The third house in western astrology is exactly that – being connected. It's about communication (being ruled by the planet Mercury). It represents short distance travel, co-workers and siblings. 
There are three attributes when it comes to astrology – cardinal, fixed and mutable, appearing in the following rotational order:
Aries – cardinal
Taurus – fixed
Gemini – mutable
Cancer – cardinal
Leo – fixed
Virgo – mutable
Libra – cardinal
Scorpio – fixed
Sagittarius – mutable
Capricorn – cardinal
Aquarius – fixed
Pisces – mutable
Cardinal signs tend to be the starters, fixed signs the stabilisers and mutable signs the adapters. As always, we need to look at a person's whole chart and not just their sun sign for the above interpretation. 
Number Three in Letters
The letters that represent the number three are:
C – third letter (3)
L – twelfth letter (1 + 2 = 3)
U – twenty-first letter (2 + 1 = 3)
Having these letters in a name can indicate community, creativity, collaborative energy. Those whose name starts with one of these letters like to start things in a positive upbeat manner. It can be a struggle to get out of the door if they are not feeling up to par. They do not like negativity. They like laughter, fun, joviality, camaraderie. 
Those with the vowel U in their name, particularly if it's the first vowel, even more so if it's the first letter of their name connect with this energy on a soul level. Whereas the letter A is about ambition, the letter U can be seen as being upbeat. Those whose name ends with one of these letters (again, the vowel will carry greater weight) like to end things on a happy note – sometimes using banter or intellectual wit to ease tension.
Number Three in Tarot
In tarot we have three major arcana that represent the number three:
III – EMPRESS (nurture)
XII – HANGED MAN (charity)
XXI – WORLD (completion)
I also connect the FOOL (0), STAR (XVII) and HANGED MAN (XII) with the three theological virtues, FAITH, HOPE and CHARITY respectively.
We have four minor arcana that represent the number three:
(1) Three of cups (celebrate)
(2) Three of wands (reaching)
(3) Three of pentacles (shine)
(4) Three of swords (healing)
Number Three in Meditation
Using the keywords, we can create the following affirmation/meditation for number three:
I am far-reaching and celebrate every moment I shine along with each cycle of completion with equal measure. I regularly replenish my cup and nurture myself allowing time for self-healing to take place. 
Asana Meditation
Asanas are named after and look like shapes, items and animals. 
A few asanas for the number three:
Boat pose (navasana)

Triangle pose (trikonasana)

Mountain pose (parvatasana) 

Standing mountain pose (tadasana) 
The Seven Year Cycle
In our seven-year by seven-year chakra cycle, we are in our seven-year solar plexus phase between the ages of 14-21, 63-70, 112-119 and so on. We are in our "double solar plexus" chakra energy between the ages of 16-17, 65-66, 114-115 etc. This is powerful, sometimes overwhelming, yet delicate energy. 16-17 is the age of the fully-fledged teenager – no point in even trying to argue, or take it personally, they are in their element! Sadly, it can have the opposite effect if emotions are suppressed and there is no outlet. As with all ages and stages, it is a phase and it does pass. Perhaps it's time to be that teenager again and express yourself!
Number Three in Everyday Life
Triangle – musical instrument, as well as the shape)
Tripod
Triple goddess – maiden, mother, crone (youth, warrior, sage)
Love triangles also are known as third party situation
Thoughts, feelings, actions 
Past, present, future
Cerberus 
Three trimesters 
Three parts of the brainstem
Three sections of vertebrae
Three bones in the inner ear
Deckchair
Mother, father, child
Pyramids
Mind, body, soul
RGB light colour spectrum
Ice cream cones
Roadworks traffic signs
Traffic lights
Capital letter A
Letter V
Letter W 
Peace sign
Mountain
Toblerone
Three Quotes
"Be available to what comes your way, as it comes. And don't worry if you stumble or fall, just pick yourself up, dust yourself off, have a good laugh and carry on" ~ OSHO
"Why fit in when you were born to stand out?" ~ Dr Seuss
"I have just three things to teach: simplicity, patience, compassion. These three are your greatest treasures." ~Lao Tzu
Three's Your Lot!
That's my take on the number 3.   
I hope you found it useful.
The next blog in the Knitting Together Numerology Series will look at the Number 4 – Stable As A Table
Love and light,
C xx
Thank You 
If you enjoyed this blog, see how things would work out for you personally by having a reading with Charnjit herself. Using your date of birth, she can tell you what to expect and what may develop for you. She can also use cards, her natural psychic senses and much more.
Download our Psychic Today App now!
The Psychic Today App, for all your psychic needs! If you haven't yet added it to your mobile phone yet, you can do so by following our links here: 
To download from the App Store click here
Or to download from Google Play click here 
To top up your credit or if you have any questions or queries, our friendly reception staff are available 8:00 am to 2:00 am GMT on 0333 335 0297. You must be over 18 years old to use this service, which is for entertainment purposes only. You must be the bill payer or have the bill payer's permission. We may send free promotional messages. 
Facebook
Text FACEBOOK and your question to 65511 for your free reading! (Usually £1 per message, max 3 messages per reply. One per person. CS: call 0333 335 0297. UK Only)