Forever Creating Memories – with Carma
Memories. Some moments catch us by surprise and stop us in our tracks. These moments create the opportunity for self-reflection and realisations. Often the triggers are music, a movie, a book, an object, a comment and for many a photograph.  However, in today's world, social media is also a strong trigger.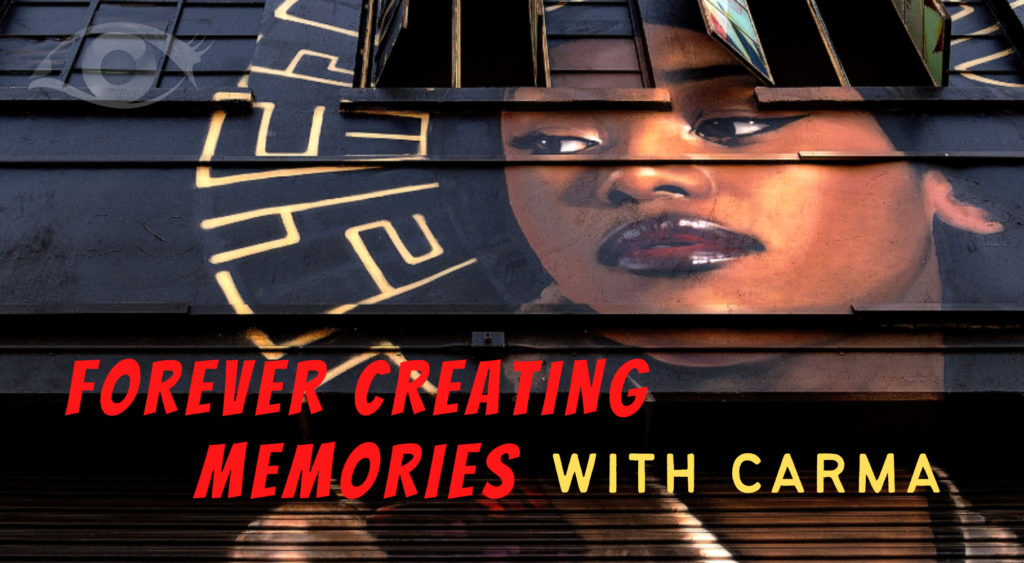 Power of the Memory
No surprise that 2020 and our recent past festive season along with entering the New Year are proving to be potent triggers. Altogether, impacting on our self-reflection and realisation journey, in a significant and life-changing way. Feelings, all types, especially nostalgic ones, will make their presence known, and this is a good thing.  Reason being that we are gently encouraged to look at what is truly concerning us and taking up most of our resources. When we get these surprise moments, it is best to go with them. Even for 5 minutes and return to them later to explore further. These moments provide us with golden nuggets. When we give these thoughts time, we can also work out what and where we need to place our attention.
New Year and New Opportunity 
Just entering 2021, gives us the perfect opportunity to decide what we would like to take further into 2021. Plus what needs to stay in 2020. Whatever we decide to leave behind, we should do so with gratitude because we would not be where we are today without it. After all, we did value the experience, at least once. This inventory requires honesty, if we need support, we could, for example, ask a good friend or a trusted family member. Once we have re-visited these challenging experiences, we can accept their importance in our life.
Only then can we let them go, with peace and love because we have then moved on.  Incidentally, it enables us to feel lighter, clearer and more energetic, and we may even feel metaphorical, able to breathe again. For some, this actually manifests into a physical sigh, of relief and letting go. The letting goes experience will reveal habits that require attention, and they may reside, in people, situations, behaviour, beliefs, thoughts, feelings and so on. On reflection, we will find that these habits have kept us small, limited and fearful. Consequently preventing us from reaching our fullest inspirational and potential self and ultimately happiness. 
Being Stagnant
Being stagnant basically means that we are living our lives on repeat. We will be constantly triggered in our loops to the point of tiredness and dizziness.  Here, we are living in our lower selves. Therefore, guilt and shame will play significant roles, leading to resentfulness, anger, envy and so on. Our world becomes small, and often we feel like we are suffocating. However, we are not ready to give the situation or the person or the people and more importantly ourselves, peace. The reason for this is that we are either looking for an apology, or appreciation, or even an acknowledgement of some kind, or to be told, we were right. None of the above desires will come about in most cases. We will, more than likely remain stubborn, by waiting for an acceptable response. 
Consequently self-sabotaging ourselves by becoming stagnant. This encourages us to hold on to pain, hoping that they will do the right thing, one day.  Most of the time, they will not do the right thing because they too are stuck in loops. By remaining stagnant, we are still imprisoning ourselves, to the old way of being and eventually we will become, drained. We have the choice to stay here, in our comfort zone and by all means, there is nothing comfortable about this zone, other than familiarity. 
Seek a Change
Change, enables the exploration and creativity of solutions to come about, which encourages freedom and empowerment. Otherwise, we will always be living in the past because our past behaviour is still playing out, in the now and also when we are making plans.
On commencement of tackling memories, other perceptions will appear. They will provide a fuller explanation of why certain things happened the way they did, thus allowing understanding and healing to occur. When embarking upon the letting process, we may initially feel lonely. This is natural because we are now accepting the outcome. Subsequently processing our emotions in the healing phase, allows us to re-create our next chapter, in a discerning way. The healing phase amounts to space creative, which allows exploration and acceptance of self with compassion.  
Acceptance
You may find acceptance to be the most challenging part of the process and believe me; you are not alone! While compiling our list, we will see what needs to go and what can stay. By doing this exercise, we will then see what can be added, by first accepting what should be on the list and which column they should be in. This process may remind you of decluttering or moving home as you are organising your piles, similarly, to prepare for a fresh start.
Now, if we are transparent with ourselves, some things we can accept a lot quicker and easier, than others. The deep stuff is often ingrained, so traces are often lurking around, even when we believe that due diligence we have given the situation. Therefore, do not be surprised if fragments of the situation, re-surface, begging for attention and a resolution. If we are struggling to accept it, we are not ready to let it go, and further work is needed.
The Mind Pays Tricks!
However, the more practice we engage, allows us to really flex this muscle, which will make this process that much easier, in the future. The deep, gritty stuff we do not want to look at, let alone accept, are the ones that we often run a mile from and create as much distance as is possible. The intention is to delude ourselves by believing that they either do not belong to us or are not real! How we allow our minds to play tricks on us! 
However, the moment we stop running from ourselves and deal with these painful deep-rooted feelings, we realize as we are travelling through the process, that it is not that bad after all, as we are getting a grip of it and may even enjoy parts of it because we are now feeling more in control. We begin to feel less drained; solutions are coming, connections are visible, clarity is beckoning.
Letting Go
The process of letting go is simply that, a process. So, we will find that we are letting go of bits, at a time and it is therefore slow, it almost feels like a slow-motion movie; however,n this year, it may feel somewhat faster.  Nonetheless, we have to be gentle with ourselves and remind ourselves that these habits did not occur overnight, as they have been with us for quite some time and they will therefore take some time to go. Some parts will be easier to let go; others may feel like the untangling of a tight knot from within, which will naturally require patience and care. When we complete the journey and no longer feel triggered by these events, we can conjure up a smile, be it external or internal.
Still, nonetheless, we are recognising and accepting, a job well done. Often on reflection, we question ourselves as to why we did not do it, sooner. Now, this is where we need to be very compassionate, towards self. As we are often caught up with how others see us, how we want to be viewed, or simply spending more time than we wished, in the wallowing process of self-pity, therefore self-forgiveness and patience, are a must. Importantly, we do not want to reside in wallowing; we simply want to travel through and preferably as quickly as we can, however with understanding and self-love.
Make a Note
While we are going through this process, it would be a good idea to journal (to create space between our thoughts, feelings and ourselves) or speak to another. Either, allows us to get in touch with ourselves, particularly our feelings from a more detached position, so we can make sense of how we are doing and understand ourselves better. The aim is to create a stronger sense of self. Incidentally, we can then see the value and the meaning of the experience, and once we arrive at this place, the person or the situation no longer serves. The experience then becomes part of us in the form of wisdom to be archived and retrieved, when needed. These wisdom memories become useful and remind us of how far we have come in our quest for growth, freedom and happiness.  
A Healthy Flow
How can we sustain a healthy flow of good memories? To avoid being stagnant or to minimise our time there, one needs to be taking care of, e.g. journaling, exploring our feelings inner dialogue, what we fear and holding on, and why.  What we are doing about the things that matter most in our lives and what needs to change. Cultivating the following, such as seeking guidance and the body's movement, e.g. yoga, pilates, walking, etc., breathwork, meditation, visualisation, listening and consuming good information, music, and food as being creative, is the key.
Incidentally, we must choose what we enjoy and what feels good because only then, are we more likely to achieve sustainability. We also need to be mindful when engaging in our daily life, as we will then see a lot more, especially subtleties, that are often missed.  Consequently, creating a new lifestyle.  The rewards are priceless, as we will be able to acquire freedom on so many levels. Simply, by letting go or reducing drama and pain; and enhancing more lightness and peace, into our lives.
New Memories this New Year
As we are just embarked upon 2021, we must not forget that we are in a powerful position to cull back what no longer serves, and carve out a more meaningful and authentic life. It is a life filled with good quality people that support our growth and collaborate thoughtfully in all aspects of our lives. Ultimately, enhancing our well being and connections naturally leads to the creation of better memories and happier life, from this point, onwards.  By doing so, we are giving ourselves the best opportunity to create a vibrant and fulfilling life.
Connect with Carma
Carma is a compassionate, warm and uplifting psychic. She is looking forward to speaking to you and to give you a psychic reading! Contact her right here!
Download our Psychic Today Companion App now!
The Psychic Today Companion App, for all your psychic needs! If you haven't yet added it to your mobile phone, you can do so by following our links here:
To download from the App Store – click here.
Or download it from Google Play – click here.
To top up your credit or if you have any questions or queries, our friendly reception staff are available 8:00 am to 2:00 am GMT on 0333 335 0297. You must be over 18 years old to use this service, which is for entertainment purposes only. You must be the bill payer or have the bill payer's permission. We may send free promotional messages. 
Facebook
Text FACEBOOK and your question to 65511 for your free reading! (Usually £1 per message, max 3 messages per reply. One per person. CS: call 0333 335 0297. UK Only) Click on the link to our page and see our Facebook Live sessions right here!