Ancient Egyptian Mysticism – with Michelle Stars
Hi, my name is Michelle Stars, and I love Egypt! In the world of Ancient Egypt, magicians and priests were known for their magical powers.
Today I am looking at Ancient Egyptian Mysticism and the hidden symbolism of the ancient temples. This form of mysticism is also directly correlated with the human body's glands and chakras. 
In other words, we find things that go together, i.e. glands in the physical body, correlate to the seven main chakras, things that go together or relate to each other somehow.
Interestingly, Spell rituals and incantations were also used. These were sometimes used on people, but their main focus was on controlling the Gods.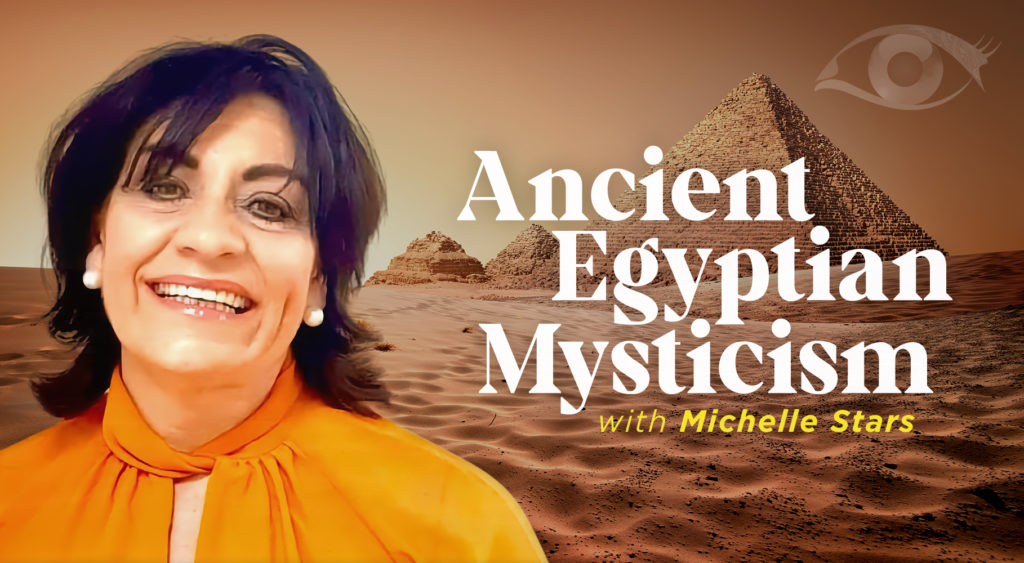 The Seven Main Chakras
As I mentioned above, here is a recap of the seven main chakras located outside the physical body. All within the Aura, which start from the root upwards to the crown chakra as follows:-
Root Chakra

–

Red.
Sacral Chakra

–

Orange.
Solar Plexus Chakra

–

Yellow.
Heart Chakra

–

Green.
Throat Chakra

–

Turquoise

/

Blue.
Third Eye Chakra

–

Indigo.
Crown Chakra

–

Violet.
Colour Therapy
The chakras turn around constantly and vibrate. Therefore, the Aura can change on an hourly or daily basis.  This depends on what is going on within a person's mind, body and spirit.
Therefore, as a Colour Therapist, I can work with the chakra imbalances to balance the mind, body and soul, diagnosing the correct colours needed to assist in the healing process. 
Ancient Egyptian Meditation
We also know that the ancient Egyptians were masters of kundalini meditation too. Additionally, we know that the Ancient Egyptians had a much deeper vision and understanding of eternal life after this life and of the divine.
When a person moved on from a physical body from this world, it was really not the end for the Ancient Egyptians. We can see evidence today of their wisdom in the form of temples, paintings, and special symbols. 
I have been to Egypt many times, absorbing the breathtaking sights and energies. There is something about Egypt which I find energetically amazing!
First, there is the river Nile, which runs south to north, through Africa, one of the world's largest rivers. Previously, I went on Nile cruises from upper to lower Egypt. I visited various temples.
Once inside the temples, I found beautiful colours such as blue, black, red, green, gold and pink.  I highly recommend a visit!
I shall now explain below some various forms of Ancient Mysticism;
Magical Practises
We know that The Egyptians used various tools in these practises. Amulets, i.e., magical stones, spells, magical ceremonies, lucky and unlucky days and many more, like horoscopes, worship of animals, the magic of sounds and so on.
Amulet – Magical Stones
The 'utchat', one popular amulet used, which I'm sure you'll know better as the 'Eye of Horus'. By wearing this, the Ancient Egyptians intended to bring well-being, blessings, strength, safety and protection, and so much more to the living and the dead, as amulets were known to have been placed on both the living and the dead.  
Spells and Magical Ceremonies
Magical Ceremonies
Egyptian magic was original of two kinds.  First and foremost, the Egyptians used magic for legitimate purposes, with the idea of being of benefit to others, both the living and the dead.
The second kind was made up against wicked plots and schemes, intended to help those who had been affected, to bring calm back to them… In other words, they used magic to ward off any darkness that may have been sent towards someone. 
Spells
The Ancient Egyptians often wrote Protective and wellbeing spells. They often wrote these on papyrus, which was sometimes folded and worn on the body. Spells usually were made up of two parts, i.e. (i) words to be spoken and (ii) actions to be taken.
The Ancient Egyptians designated special men who knew how to speak the words correctly, especially the secret names of deities. 
Lucky and Unlucky Days
There are papyri containing copies of the Egyptian Calendar.  According to these, the Egyptians marked each third of every day for three hundred and sixty days of the year as being lucky or unlucky.
They used Symbols for each day.  They marked the rest of the days as being only partly lucky or unlucky.
Horoscopes
The  Ancient Egyptians were very skilled at predicting births. In turn, if they knew the exact time, place and date of a person's birth, they could predict their horoscope, using a 'tablet' made of gold, silver and acacia wood to which three belts were attached. 
Upon the outer belt 'Zeus' (a god) was surrounded by 'decani,' i.e. 36 groups of stars (a small constellation) used in ancient Egyptian astronomy. The second belt was surrounded by the twelve signs of the Zodiac, and the third belt was surrounded by the sun and the moon. 
They then placed eight Precious stones within the middle belt, and time of birth, details of etc. would then be predictable using this method. But, of course, today, we have much more straightforward astrology systems to calculate a birth chart!
Animal Worship
We know that the  Ancient Egyptians honoured certain birds, animals and reptiles. They believed that the birds, animals, and reptiles possessed specific characteristics of the gods they made sacred. i.e.
(i) The Bull. The bull was a type of and procreative power of the god of reproduction in nature. 
The Egyptians believed that every sacred animal and living thing possessed qualities or attributes of some god, a form of Ra (the sun-god) himself.
(ii) The Cow. The cow was the type of his female counterpart. 
Sound
Like us today, the Ancient Egyptians liked the sound of their music; for instance, they used stringed instruments which they plucked to make noise. In addition, they used sounds during magical formulas to recreate for good.
Percussion instruments including
drums
cymbals
the rattling of metal bands 
From many writings of priests and teachers, we can judge that the man who was without faith and god in some form or other was scarce, if not wholly unknown, during Ancient times.  
Love and Light.
Michelle Stars x
See Michelle's Top Tips!
Michelle Stars takes a bright and exciting look at having a good Spring Clean! Click on the video below to see more!
Speak to Michelle Stars!
Get a colour reading with Michelle! With fantastic energy and a really canny ability to see into emotions, even in the most complex situations, see what fresh starts might be happening in a relationship now and forwards into the future! Contact her right here!
Speak to one of our Colour Therapists!
We have a very experienced and friendly team of psychics with us here at Psychic Today! Select the psychic of your choice for an exclusive one-to-one reading with the use of Colour Therapy! Click on our link here to see who is available right now!
Download our Psychic Today Companion App now!
The Psychic Today Companion App for all your psychic needs! So, if you haven't yet added it to your mobile phone, you can do so by following our links here:
To download from the App Store – click here.
Or download it from Google Play – click here.
To top up your credit or if you have any questions or queries, our friendly reception staff are available 8:00 am to 2:00 am GMT on 0333 335 0297. You must be over 18 years old to use this service, which is for entertainment purposes only. You must be the bill payer or have the bill payer's permission. We may send free promotional messages. 
Facebook
Text FACEBOOK and your question to 65511 for your free reading! (Usually £1 per message, max 3 messages per reply. One per person. CS: call 0333 335 0297. UK Only) Click on the link to our page and see our Facebook Live sessions right here!