Colour Therapy – with Michelle Stars
Colour Therapy has been used as a form of wellbeing therapy for years and years throughout history. It has been recorded from around 2000BC that colour therapy has been used.
In the beginning, the Atlanteans, Ancient Egyptians and Ancient Greeks used Colour healing therapy. Colour Therapy was also being used and still has a great influence on Chinese and Indian philosophies. 
Colour is part of the Electromagnetic Spectrum; light travels to the Earth at 180,000 miles per second. In simple terms, the electromagnetic spectrum is energy that spreads out as it goes, and for example, the light that comes from your lamp in your home. Please read on below!
Atlanteans
The Atlanteans used colour in many ways. They were known for using colour when babies came into the world when they departed this world and generally on many different occasions throughout life.
Indeed, the Atlanteans were believed to have built great temples for treating people. Additionally, twelve steps were leading to twelve columns, which led to a large open domed circular room in the heart of the temple. 
The domed ceiling was studded with interlocking crystal, which created pools of colour and pattern vibrations.  As a result, those patterns of colour formed ancient symbols on the temple floor.
There were twelve individual rooms around the temple enclosed by a crystal door. Colour vibration was therefore greatly used as a modality for wellbeing.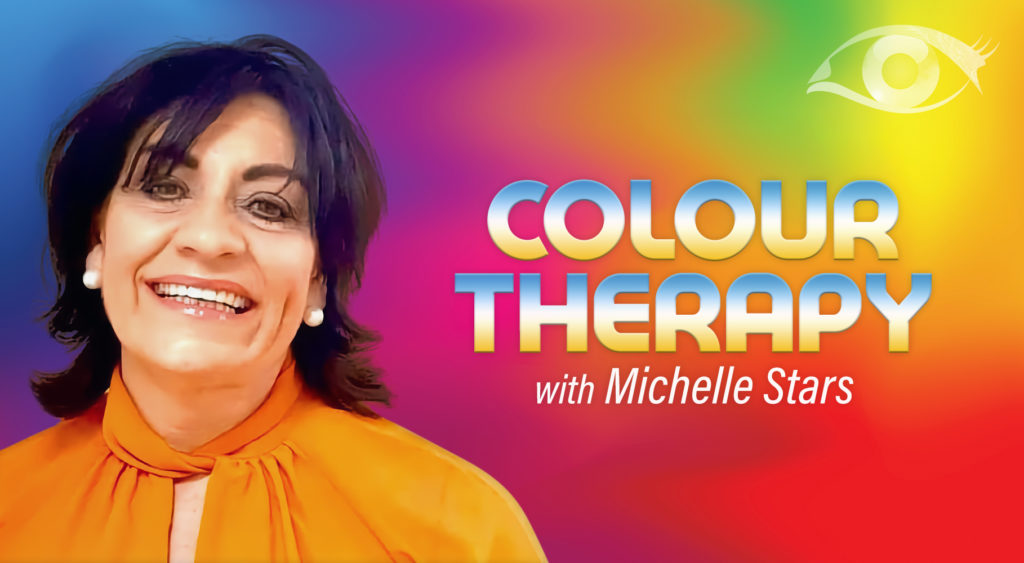 Ancient Egyptians
The Ancient Egyptians built great temples in Egypt, i.e. Karnak, Thebes and many more. There were individual rooms inside the temples, which were the colour halls for healing.
In fact, these halls were constructed for the sunlight to shine inside to then be refracted into the rainbow colours of the spectrum. The people who came to the temples for assistance for their wellbeing would have been colour diagnosed, then placed into a relevant room with a relevant colour, then irradiated by that specified colour.  
Like the Atlanteans, the Ancient Egyptians also used crystals and believed that these stones had the colour vibrations of the universe contained within. Additionally, they also used to ground crystals up using them in treatments. Solarised spring water was used too.
This water would have been infused with the desired vibrational frequency of the prescribed colour. Thus, the Egyptian God Ra was the Sun God. The colour ascribed to Ra was gold.
Indian Philosophy
In ancient Indian philosophy, the Aura was viewed as a 'coat of many colours' that man always wore. The Aura is situated around the body and continually changes in hues, depending on a person's mental, emotional, and physical well-being.
The Aura was seen to have seven layers. So, within the physical body's auric layers are the seven main chakras. Each chakra radiates a different colour.  
The word 'Chakra' is a Sanskrit word meaning 'wheel' or 'circle' because the chakras do spin around, enabling the energies to vibrate and pulsate within the wheel/circle. 
Chinese Colour Healing
The Chinese use a form of colour therapy called 'Five Colour Healing Therapy'. This method is based on the theory of Yin-Yang. It utilises the spectral energy of colour to certain areas of the human body to adjust the flow of the Qi to bring about an optimal state of physical and mental balance to open up the healing process.
Ancient Greece
Phototherapy (light therapy) was practised in Ancient Greece. The Ancient Greeks built temples devoted to colour therapy. The temples were built for healing purposes with sunlight shining through colour components to create individual colour light treatments.
The Aura and Seven Main Chakras
As I mentioned above, the Aura comprises seven layers and is located outside the physical body. Within the Aura are seven main chakras, which start from the root upwards to the crown chakra as follows:-
Root Chakra

–

Red.
Sacral Chakra

–

Orange.
Solar Plexus Chakra

–

Yellow.
Heart Chakra

–

Green.
Throat Chakra

–

Turquoise

/

Blue.
Third Eye Chakra

–

Indigo.
Crown Chakra

–

Violet.
The chakras turn around constantly and vibrate. The Aura can change on an hourly or daily basis.  It depends on what is going on within a person's mind, body and spirit. Therefore, a Colour Therapist can work with the chakra imbalances to balance the mind, body and spirit, diagnosing the correct colours needed to assist in the healing process. 
Crystals, Plants and Animals
They all have an aura too, but these are different to the human aura in colour. For example:
Crystals

– have a

white aura

.

Plants

– have a

golden-yellow aura

.

Animals

have an

indigo/blue aura

. 
Using Colour in General 
I believe that Colour Therapy is one of the most beautiful modalities of the wellbeing arts.  
Using colour is a great way of getting in touch with our bodies.  It helps us communicate our moods and emotions by feeding ourselves with colour, i.e., how of the colour of clothing you may wear.
The colour of the food you may eat. In general, the colours you may surround yourself in your home, i.e. the decor and ornamental colour, can alter your whole vibration of thought and feeling.   
If you are not sure of the colour to use, you can choose white as white light contains all rainbow colours. However, please remember not to overdo yourself with too much colour as your body will only take exactly what it needs.  
Positive Colour Statements
There is also a good way of feeding yourself positive colour statements. You can use affirmations as well. Let's go through some examples of affirmations you may use for certain colours.
Red – I have the courage to move forward.
Orange – I am full of enthusiasm for life.
Yellow – I am open to change and have the courage to do so.
Green – I breathe in harmony.
Indigo – I have faith in my abilities and use my intuition in all circumstances.
Violet – I trust my higher self.
Pink – I think, speak and act with unconditional love.
These are just a few examples to help you to invent your own affirmations.  If you use one of them for at least seven days, this will assist in helping change your outlook on what you believe about your capabilities. Try it! 
More Colour Therapy!
Another exercise you could practise every day when you go to your wardrobe to choose something to wear is to tune into yourself for a minute then intuitively go with what colour you feel you need to wear for the day. Best of all, it really can put you in the right frame of mind and be in tune with yourself for the rest of the day.
Have you ever had days where you feel low and choose darker colours to wear? By the end of the day, you have become so depleted of energy and can't wait for that day to end to take off your clothing and go to sleep?
Try forcing yourself to wear bright colours to counteract the mood from feeling negative to positive. You never know, this could work wonders!
Love and Light.
Michelle Stars x
See Michelle's Colours for Love!
Michelle Stars takes a bright and exciting look at what colours we can wear to attract those we want to romance! Click on the video below to see more!
Speak to Michelle Stars!
Get a colour reading with Michelle! With fantastic energy and a really canny ability to see into emotions, even in the most complex situations, see what fresh starts might be happening in a relationship now and forwards into the future! Contact her right here!
Speak to one of our Colour Therapists!
We have a very experienced and friendly team of psychics with us here at Psychic Today! Select the psychic of your choice for an exclusive one-to-one reading with the use of Colour Therapy! Click on our link here to see who is available right now!
You can watch Psychic Today Live!
You can watch the show LIVE between 8 am and 10 pm on Sky Channel 680 or via our website and on our YouTube page!
Download our Psychic Today Companion App now!
The Psychic Today Companion App for all your psychic needs! If you haven't yet added it to your mobile phone, you can do so by following our links here:
To download from the App Store – click here.
Or download it from Google Play – click here.
To top up your credit or if you have any questions or queries, our friendly reception staff are available 8:00 am to 2:00 am GMT on 0333 335 0297. You must be over 18 years old to use this service, which is for entertainment purposes only. You must be the bill payer or have the bill payer's permission. We may send free promotional messages. 
Facebook
Text FACEBOOK and your question to 65511 for your free reading! (Usually £1 per message, max 3 messages per reply. One per person. CS: call 0333 335 0297. UK Only) Click on the link to our page and see our Facebook Live sessions right here!