Clairvoyance: Seeing is Beliving!
By Daisy Mirach, Psychic Investigator
Clairvoyance is the ability to see an event or outcome in the future, outside of our normal sensory abilities. We all may experience clairvoyant "flashes" at some point or another in our lives. A common example is to see the image of a specific person when our telephone rings. We know who is on the other end of the line before we pick up the call.
But what about those Clairvoyants whose visions are so powerful that it leads them to use their skills to see things for other people? That is the story for many of our psychics. Find out all about Clairvoyants and the amazing skills of Clairvoyance right here!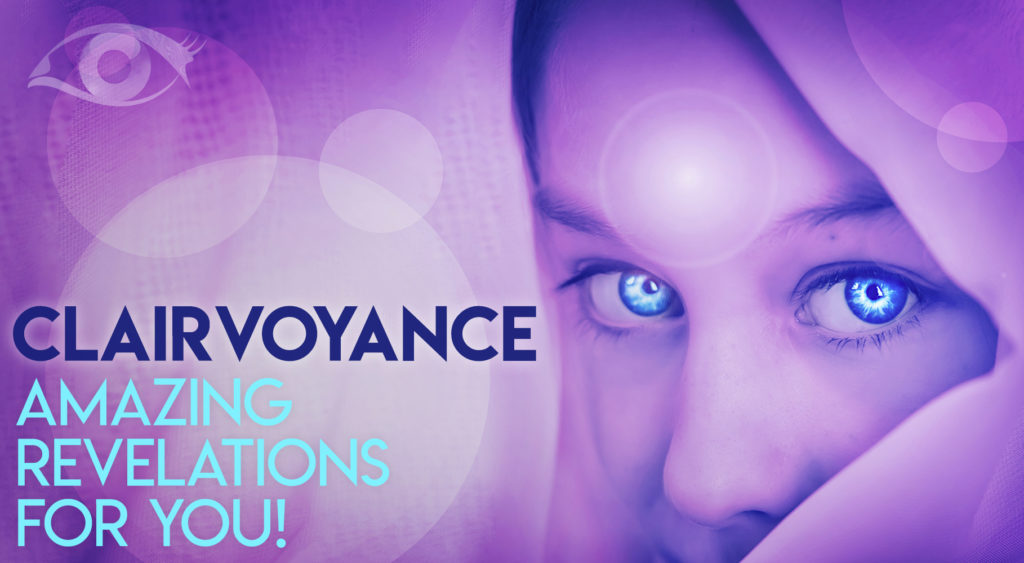 The Young Clairvoyant
Many Clairvoyants have premonitory dreams or visions at an early age. In these, they often see a very realistic, colourful, and life-like moving image of an event. Sometimes these visions suddenly come upon them while they are awake. Often, these flashes of vision are so overwhelming that they cannot be ignored. Just like when you awake from a particularly bad dream, it can stay with you for hours, days, months, or even years! The Clairvoyant often feels uneasy.
These Clairvoyant visions can come at any time, seemingly out of the blue. But at other times, they can occur at a precise moment. Some examples might be the Clairvoyant meeting someone, shaking their hand and suddenly getting a clear vision about this person. Alternatively, this can happen when they make contact with a certain object which is the catalyst for a vision. We call this Psychometry.
Precognition Visions
Clairvoyants who receive these precognition visions often describe them as being "all-encompassing". If you have seen the film about the Precogs in Minority Report with Tom Cruise, you will understand how shocking these images can be. In the event that the Clairvoyant sees come to pass, can you imagine what the Clairvoyant feels?  If the event is a bad one, this can be terrifying!
In addition to the visions, imagine what happens if you tell people about your vision, especially if you are just a child. People will put this down to imagination, or having a bad dream. They may even worry that you have something wrong with you! Thus, many Clairvoyants feel quite alienated from their experiences.
On the other hand, if the Clairvoyant does not say anything and keeps this vision to themselves, they can feel completely isolated. It is often only much later in life that they can begin to recognise these visions as being gifts. They have to learn to control their visions and tune into their gifts when they need to. They can then use them to help other people.
How Does Clairvoyance Work?
We humans only use parts of our brains. And of course, our brains control everything we think about and that we do. People who use different parts of the brain to others are often considered to be exceptional!  This might be an Einstein or a Pythagoras, for example. But on the other hand, it could equally be a powerful athlete, circus performer or mentalist. These people use elements of their brains that others do not. They have highly developed sections in their brain that others do not.
The gift of Clairvoyance comes from what is known as the third eye or the sixth sense. While several different parts of the brain are used in Clairvoyance. Perhaps the easiest way to describe this is through the use of the pineal gland. The pineal gland is the physical function behind the third eye chakra. This is situated between or just above the eyebrows. It has a form shaped rather like a pyramid or a pinecone. And this is where the image of an eye placed in a triangular shape, representing the third eye originated from.
The Science of Clairvoyance 
Clairvoyants are thought to have a more developed or larger pineal gland than "Normal" people. They are therefore simply using parts of the brain that most other people cannot. Some of us simply possess a larger pineal gland than others, and therefore have a greater ability to "see".  As a comparison, we could say that some of us need to wear glasses to see clearly, while others have naturally great eyesight! In the same way, some people are able to experience psychic visions and some cannot.
The pineal gland is directly connected with our vision and our eyesight. It actually contains some similar properties to our physical eyes. Thus, it is considered to be the eye of our sixth sense that creates inner visions. It also produces and regulates specific hormones and controls our sleeping and waking states. But in addition, it produces a substance called DMT(Dimethyltryptamine). This is known as the "Spirit Molecule" and is apparently present when we dream.
DMT is also naturally present in certain plants. Certain animals also produce DMT, notably in certain types of frogs! The Amazonic Shamans have used DMT for centuries to induce a state of higher consciousness and to receive spiritual visions.
Controlling Clairvoyance 
As they go through life, Clairvoyants learn to adjust to their visions and usually work on developing their psychic senses. Eventually, they can open up their senses and tune in to a person's energy to receive visions. When a professional clairvoyant uses their skills to read for people on a regular basis, their gifts develop further. They get much stronger through regular practice.
In a phone reading, a Clairvoyant who reads for you connects with you via your voice vibrations. Questions you ask or certain words you may use can also trigger the visions they receive. You might mention a specific name or ask a question about something you need advice on.
The images start forming in the Clairvoyant's third eye and they will start relaying information to you.  These images can come in as still pictures or moving visions. Some Clairvoyants also have excellent remote viewing skills.  They are able to view a person or situation now or in the future. This is just as if they were standing next to them, or like a fly on the wall!
Try a Clairvoyant reading for revelations. Remember that Clairvoyance means " clear vision". It can be amazing what a Clairvoyant can reveal for you!  Expect the unexpected!
Speak to one of our Clairvoyants!
We have a very experienced and friendly team of psychics with us here at Psychic Today! Click here and select the Clairvoyant of your choice for an exclusive one-to-one reading!
Don't forget you can watch us LIVE on our website, PLUS our Facebook page for special LIVE sessions to interact with your questions for FREE with our psychics!
Download our Psychic Today Companion App now!
The Psychic Today Companion App for all your psychic needs! If you haven't yet added it to your mobile phone, you can do so by following our links here:
To download from the App Store – click here.
Or download it from Google Play – click here.
To top up your credit or if you have any questions or queries, our friendly reception staff are available 8:00 am to 2:00 am GMT on 0333 335 0297. You must be over 18 years old to use this service, which is for entertainment purposes only. You must be the bill payer or have the bill payer's permission. We may send free promotional messages. 
Facebook
Text FACEBOOK and your question to 65511 for your free reading! (Usually £1 per message, max 3 messages per reply. One per person. CS: call 0333 335 0297. UK Only) Click on the link to our page and see our Facebook Live sessions right here!