The Flower Full Moon in Scorpio – 16th May 2022
This bombastic Full Moon in the sign of Scorpio is here to shake things up for everyone! To liven up matters and raise temperatures, as well as eyebrows, it is coinciding with a Lunar Eclipse!
Full moons are usually intense times, but Lunar Eclipses are the same but EXTRA stronger! Be sure to expect some random changes in behaviour, revealing revelations and lots and lots of home truth drama!
This Full Moon in May is also known as a Flower Moon. It all begins on the 16th of May 2022, and the Moon will peak at around 05:14 am UK time. Read on below!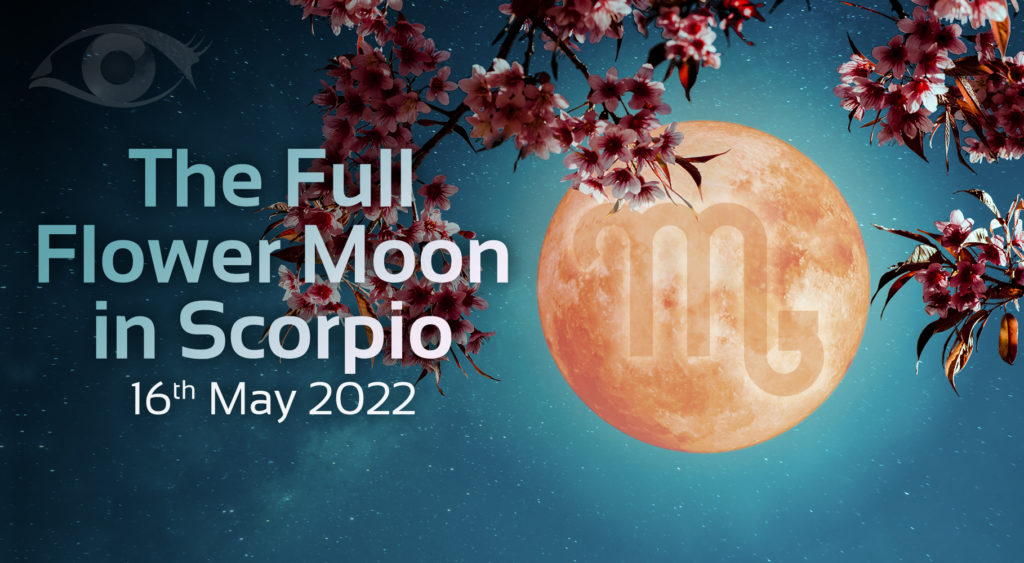 A Flower Moon
There are countless wildflowers that bloom in May that give this moon the Flower Moon name. The traditional Full Moon names originated from the northern hemisphere.
For example, many types of anemone, bluebells, wild garlic and violets, to name just a few. It is no wonder that the colourful displays these flowers create in nature have inspired people to name this time after them.
Other names for this brightest Moon are Corn Planting Moon, and Milk Moon (from the Old English name of  Rimilcemona which means Month of Three Milkings, when cows were milked three times a day).
Astrological Influences
This Full Moon is one for revelations, combined with the Lunar Eclipse, it finds itself square with Saturn for some potential home truths to be revealed and exposed!
With Neptune and Mars trine, this enhances the effect of the eclipse to give you that feisty energy that can make you take on and tackle whatever is thrown your way!
That should get that blood pumping! Speaking of which, this Full Moon is also a Blood Moon on account of the Lunar Eclipse effect of turning the moon a dark orange/red colour!
Lunar Eclipse
The effect of this Lunar Eclipse may make the Moon appear slightly larger than normal in the night sky, depending on where you are in the world.
The umbra and penumbra make up the shadows that appear between the planets when closely aligned. The Umbra is the darkest part and the Penumbra is the partial darkest.
Direct sunlight is blocked by the Earth, and the only light reaching the moon is sunlight refracted by Earth's atmosphere, which is what produces a reddish colour on the Moon.
Bolder Behavior
This has an effect on our behaviour too. The bolder lunation towards the Full Moon brings in a sharper focus on home, family, as well as love and relationships.
Make sure you don't wear yourself out with unnecessary discussions that beat around the bush. Confront it straight on! Say what you see is the problem and then get working on a better solution.
This big Lunar Eclipse can point a way forward!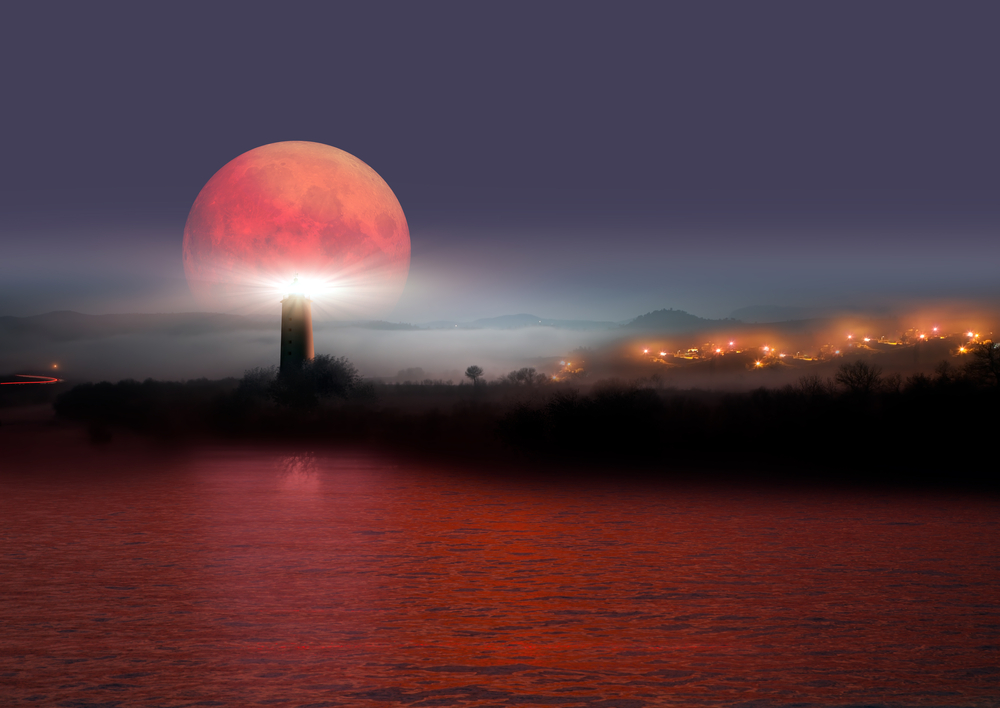 Elements for your Flower Moon
The Colours: Red, Orange and Yellow.
The Stones: Ruby, Amber and Garnet.
The Herbs: Cinnamon and Mint.
The Elements: Fire.
The Power Animal: The Horse.
Thank You for Reading
An exciting Super Moon will be heading this way in June, which is a Strawberry Moon! For now, though, have a lovely rest of the month!
Until then,
Love and Light X
Speak to one of our Psychics!
Psychic Today has a highly experienced and friendly team of Natural Psychics, all of whom can provide you with unique guidance with any dilemmas you face in life! See who is available for YOU right now!
Select the psychic of your choice for an exclusive one-to-one reading! Speak to one of our  Trusted Psychics. Plus, you can watch us live right here!
Download our Psychic Today App now!
The Psychic Today App for all your psychic needs and get psychic readings on the go! If you haven't yet downloaded it to your mobile phone, you can do so by following our links here:
To download from the App Store – click here.
Or download it from Google Play – click here.
To top up your credit or if you have any questions or queries, our friendly reception staff are available 8:00 am to 2:00 am GMT on 0333 335 0297. You must be over 18 years old to use this service, which is for entertainment purposes only. You must be the bill payer or have the bill payer's permission. We may send free promotional messages. 
Psychic Today is Here For You!
Psychic Today is on a mission to continue providing the very best psychic advice. Now we have more ways to reach our trusted psychics, and we have dedicated ourselves to answering your questions.
You can ring them via our EasyCall feature, found on your chosen Psychics profile. Text our psychics through our Text Reading page. You can also send IMs directly to the live stream via our App.
We have made it easier for you to get in contact with our psychics, and they will not disappoint!