Self-Esteem: 5 Things To Stop – with Jules
Your thoughts and feelings (good or bad) about yourself are Self-Esteem. High self-esteem is when you feel and perceive yourself positively (not to be confused with arrogance) and are worthy of the good that exists. 
With low self-esteem, you tend to feel negative about yourself. Perhaps you are fearful of choices, never putting yourself first. Low self-esteem represents a lack of confidence and a pessimistic outlook on life. 
Remember, self-esteem is your responsibility and no one else's, so choose to think and feel better about yourself and create self-esteem with the 5 points below.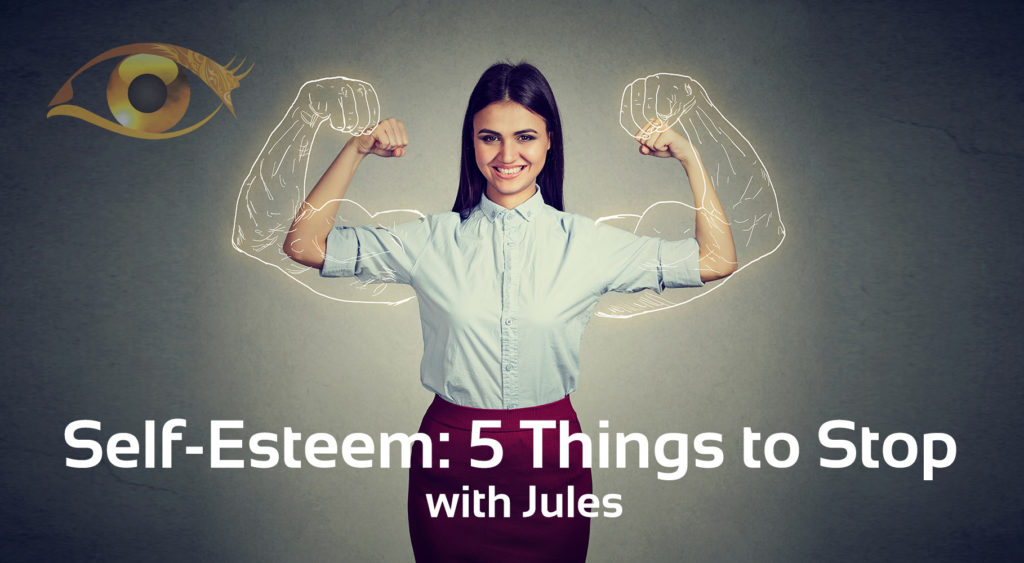 What You Will Need to Succeed (if you wish)
Mirror to see yourself and speak your affirmations.

Pen/pencil and paper/post-its to write affirmations/reminders on.

Any or all of the following Crystals:  Rose Quartz (love), Clear Quartz (clarity), Tiger's Eye (light in the dark), Black Agate / Tourmaline / Jasper (protection/grounding).

Plenty of courage, determination and self-compassion, with an open mind and a forgiving heart.
5 Things To Stop For Better Self-Esteem
(1) Living in the Past 
No good will come of this, the past is gone, and you can't change any of it. All you can do is learn from it. Remember, the past is our teacher, but it doesn't define our present or future unless we allow it to. 
If you are struggling with a loss, e.g. a broken relationship, try to forgive the person and yourself or if not, then forgive the situation and practice gratitude for the lesson, then release it from your energy – it's liberating!
Common links to the past, such as an Ex (usually an ex for a reason), will have no doubt taught you much about yourself and what types of relationships are right or wrong.
Living in the past can be habit forming and usually indicates that you exist in a place of fear, a familiar yet wrong place to dwell. Acceptance and forgiveness of the past will set you free and improve your self-esteem.
(2) Fearing Change
Fear and worry about change usually stem from a lack of control, low self-confidence and not living in the present tense.  The past is gone, and the future isn't here yet, so we only have the here and now.
Reliving negative memories and emotions tied to the past because of how things turned out, or unanswered questions will only prevent feeling optimistic about the future and all its changes.
What we focus on, we manifest, so choose wisely. Don't assume all will turn out badly based on experience. Change is unavoidable. Every day is different, and surrendering to this is what will set you free from fear. 
If you know that you are doing your best with everything, you will feel less fear of the unknown and be more open to change. Self-sabotage and negative belief patterns do nothing but create reasons to be fearful. 
(3) Trying to Please Everyone
Being a people pleaser is hard work, right?  It often leaves you exhausted and sometimes resentful because you may not get back the equivalent of what you put in. 
Learning how to say 'No' is vital, and if that's too difficult to do straight away (you will get better at it the more you try), practice being less available to all and sundry.
Ask yourself how you feel before, during and after all the people pleasing. Imagine pleasing yourself as much as you try to please everyone else!
This is exactly the method you should put into practice, and just see how your self-esteem improves!  The phrase 'you can't please everyone all the time, so you may as well please yourself!' is incredibly apt here.  
(4) Overthinking
Wouldn't it be great if we only needed to think a thought once, but that's unrealistic. Our minds and thoughts produce ideas and concepts and create things, which is normal human behaviour. 
However, we often relive our memories that have the strongest feelings attached, thus creating overthinking. In comparison, notice how we dismiss memories and thoughts with little feeling attached to them. 
Replaying situations or asking the same question repeatedly in our minds usually takes us on a downward spiral. It produces feelings of worry and insecurity, which can be addictive. 
Why is that?!  Well, overthinking is habitual. The good news is that we can choose what we think and feel, so with determination and effort, you can break the habit, and better self-esteem reduces overthinking.
(5) Putting yourself Down
Aka, negative self-talk like 'I can't do this', 'I'm a failure', and 'nobody likes me' is putting yourself down and is another habitual behaviour that can create self-fulfilling prophecy type outcomes. 
You may have been mistreated and believe you are no good and not worth anything, another learned pattern, BUT you can change this. Affirmations used daily can be of benefit here.
Usually, the first thing in the morning and last thing at night that you speak and hear, often into a mirror, will eventually sink into your mind and become part of your natural thought process and psyche. 
Thoughts become feelings, and feelings become beliefs.  If you affirm daily that you are, for example: good enough, loveable and deserving, you will eventually feel this way about yourself and create better self-esteem.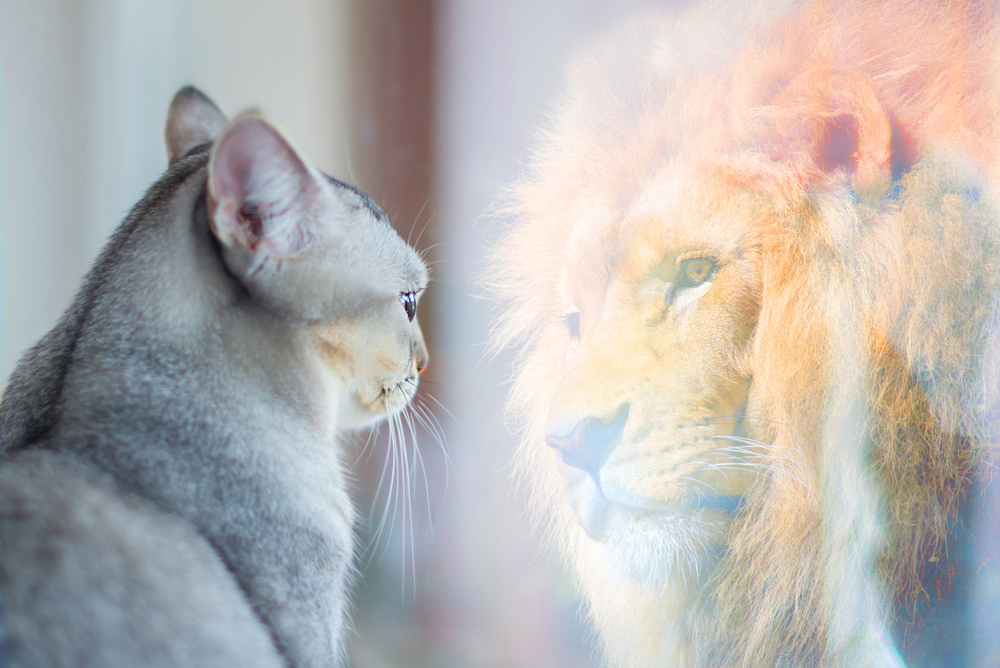 When Should You Work on Your Self-Esteem?
You should improve your self-esteem when you first become aware of your negative thoughts and feelings, particularly if a situation arises, such as the need to make a major decision and communicate effectively. 
Ask yourself regularly, 'am I happy and do I feel good?' if you answer no, then you know something needs to change. Going easy on yourself is self-compassion and will remove the barriers to better self-esteem.  
When you catch yourself experiencing any of the above 5 points, "Stop! Have a word with yourself!" is the phrase I use. You have the power to choose what you want – you just have to want to change it for the better. 
By taking back your power and reversing the learned behaviours and feelings, you WILL create better self-esteem, which is self-love.  
Love, Light and Blessings,
Jules xxx
Speak to Jules!
Jules has been a practising Psychic, Channeller, and Soul Plan Practitioner for almost 20 years. Her preferred areas to read on are Love & Relationships along with Destiny & Life Path.
You can also speak to one of our other  Trusted Psychics. Plus, you can watch us live right here!
Download our Psychic Today App now!
The Psychic Today App for all your psychic needs and get psychic readings on the go! If you haven't yet downloaded it to your mobile phone, you can do so by following our links here:
To download from the App Store – click here.
Or download it from Google Play – click here.
To top up your credit or if you have any questions or queries, our friendly reception staff are available 8:00 am to 2:00 am GMT on 0333 335 0297. You must be over 18 years old to use this service, which is for entertainment purposes only. You must be the bill payer or have the bill payer's permission. We may send free promotional messages. 
Psychic Today is Here For You!
Psychic Today is on a mission to continue providing the very best psychic advice. Now we have more ways to reach our trusted psychics, and we have dedicated ourselves to answering your questions.
You can ring them via our EasyCall feature, found on your chosen Psychics profile. Text our psychics through our Text Reading page. You can also send IMs directly to the live stream via our App.
We have made it easier for you to get in contact with our psychics, and they will not disappoint!