The Philosophies of Karma – By Carma
Karma is a very familiar concept.  Quotes such as "What you put out, you get back" or "What goes around, comes around" are often quoted. Like the Jewish and Christian principles, " You reap what you sow. " 
So what is Karma? To truly understand this concept, we first must explore its origins from about the 4th century and later perspectives. This can be easily achieved by intellectual travel.
So our first destination is China, followed by India, Europe and then America. However, before arriving in China, we will explore the relationship between Karma and Rebirths.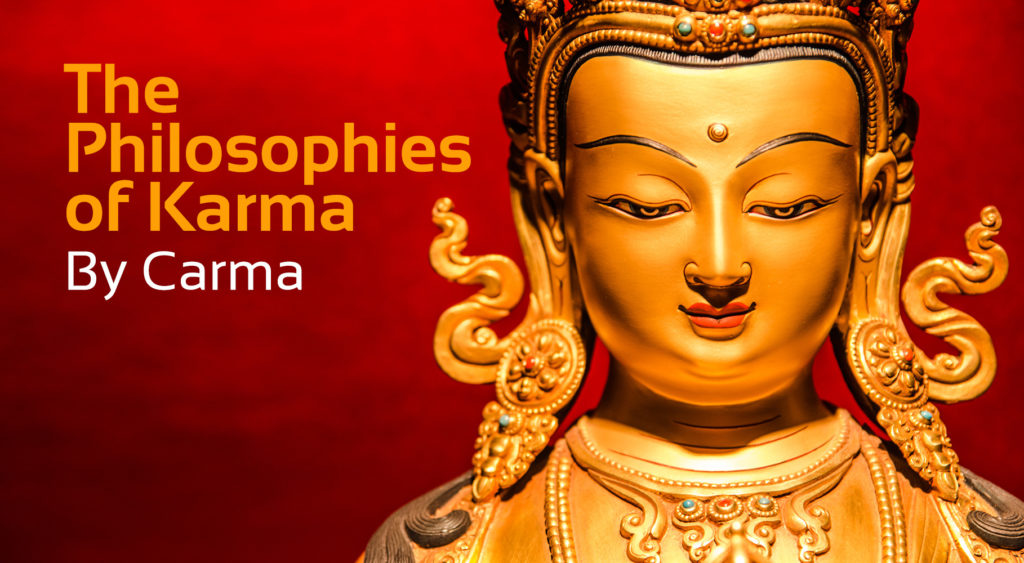 The Relationship of Karma
The concept is also explored, alongside the idea of rebirth in Taoism and Indian religions, particularly Buddhism, Hinduism, Sikhism and Jainism. 
The familiar understanding of Karma comes from Buddhism. The definition given to Karma is "action" or "doing", driven by intention, which leads to future consequences.
Therefore, karma is known as a cause-and-effect principle. So a fundamental, causal law. When good intent and deeds (thoughts and actions) align, they will contribute to good Karma and happier rebirths.
While bad intent and bad deeds will contribute to bad Karma and rebirths. The consequence can be material, moral or emotional. Therefore Karma refers to the totality of our actions and intent as a law of the Universe.
Rebirths/Reincarnations/Life After Death/Samsara 
Buddhism, Hinduism and Sikhism believe rebirths may occur in realms dependent on quality. So the seeds of Karmic impulses from the current life pass on into another life and lifetime of Karmas. 
The cycle is broken when the Karma is paid off (or the person is destroyed due to their bad deeds). The realms of gods will instantly embrace us, where suffering ends. 
Jainism does support Karmic reincarnation and the awakening of the soul but goes no further. Modern Taoism believes in reincarnation, governed by how harmonious we have lived with mother earth than Karma.
Jainism and Taoism, however, do not support the belief that awakening will end the cycle. Therefore neither see a perceived end.  
China: Taoism (Daoism)
Taoism is about cosmic energy, freedom and change.   A spirit of evolution and openness sustains its relevance. By supporting free will through Taoism, Karma powers choice, which is the universe's way.
Taoism is deeply rooted in ancient China. It is a way of thinking based on a system of beliefs, attitudes and practices steep in humanitarian values that we apply in the best way we know.
Consequently, it is considered to be both a philosophy and a religion. Taoism promotes harmony with self and nature, especially through the concept of yin and yang (opposites), learning from others and accepting.
Taoism is governed by 3 Karmic poles, positive, neutral and negative. The aim is to accumulate positive or neutral Karma (involuntarily actions). Karma makes awakening (enlightenment) possible but not necessary.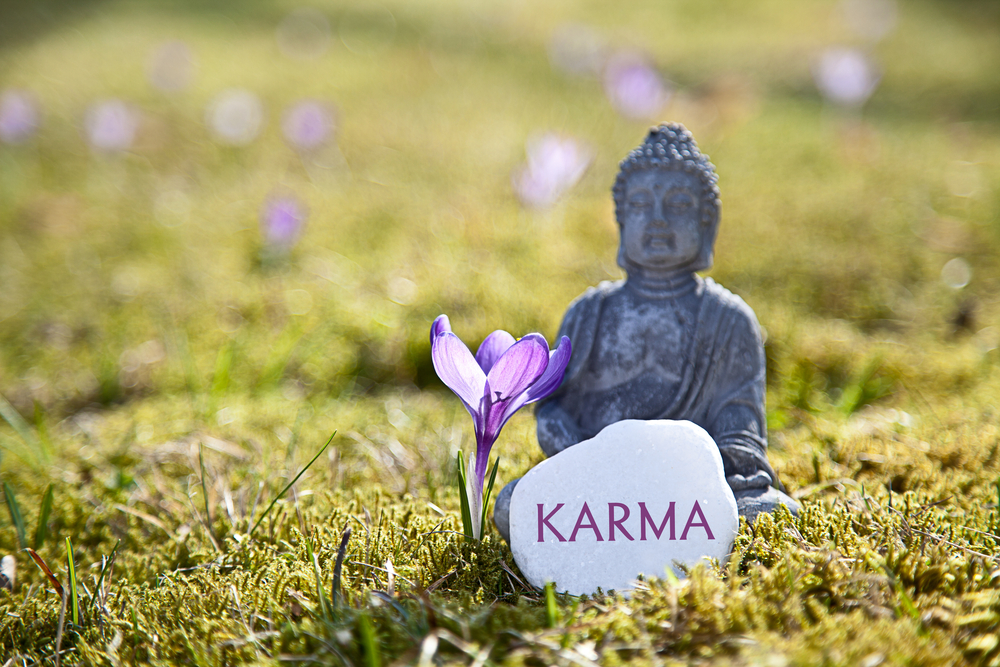 India: Hinduism, Buddhism & Sikhism 
All the above religions refer to Saint Paramhansa Yogananda, who described karma as a "law of Justice" that determines who we are. We can't escape our basic patterns but follow our basic nature against them. 
All three religions believe that we must accept the consequences of our actions and learn from them on our path to awakening, also referred to as "Nirvana" or "Moksha" or "Mukti".
Karma determines our rebirth cycle. So physically hurting someone will lead to misfortunes either in this life or the next, and the opposite outcome is achieved through virtuous actions.
Sometimes the Karmic result is not obvious or observable, meaning it is a future or past debt to clear instead of an instant one. So it is no surprise that mindfulness is encouraged.   
India: Jainism
It is one of the oldest Indian philosophies. Jainism's view of the soul is impure at its origin but remains impure and defiled like natural gold. Karma either defies the soul further or refines it to a cleaner state. 
Karma also operates as a self-sustaining mechanism as a natural universal law without needing a Divine entity.  The soul attracts Karmic matter with action. All souls are equal, meaning with thoughts and actions. 
If we achieve this state, there is no gain other than to say that we have arrived at our state. The path to awakening is practising non-violence to all living things, including plants and animals.
We can reincarnate into an animal or even a plant and vice versa, depending on the quality of our Karma. The soul continuously reincarnates into one of the four realms: subhuman, human, celestial or hell.
Other Later Perspectives
Spiritism: France
Is philosophy, science and religion combined? Spiritism, established in France in the 19th Century, "The Law of Cause and Effect". Spirits choose how to suffer retribution for the wrong they did in previous lives.
Spirits understand that Karma is an inherent condition of the Spirit. To progress in the Spirit, one must live a hard life to eliminate moral guilt. 
Psychoanalysis: Switzerland 
Carl Jung (1875) connects Karma with unresolved emotions. Popular methods recommended for enhancing emotional self-awareness are meditation, counselling, psychoanalysis and metacognition. 
To tackle negative Karma and acquire better emotional hygiene and reduce Karmic impacts. This process of emotional maturation aspires to a goal of individuation or self-actualisation.
Harold Coward & Karl Potter
(1964
)
America
Both claim that Karma can be understood as a principle of psychology and habit. Karma seeds, habits and habits create the nature of man. Both habits and perceptions affect the course of one's life.
They can be linked and compared to a person's "character". Karma and character are an assessment of the person and are determined by that person's habitual thinking and acting.  
Theosophical Society (the 1970s) America
Karma is the Law of Return; The beneficial or harmful effect will return to oneself. The saying "What goes around comes around" emanates from this.   
So, it is the Law of Cause and Effect. Operating in the human realm and bringing about adjustments between an individual and others.  In particular, one's thoughts, emotions and actions.   
Gananath Obeyesekere: Anthropologist & Psychoanalysis (2002) Sri Lanka
Every action has a consequence, which explains our current and future life.  Karma is not itself "reward and punishment" but the law that produces consequence. 
Karma considers action, intentions, attitude and desires before and during the action.  Therefore, the quality of one's afterlife becomes contingent on the practice of social ethics through the concept of Karma.
How To Accumulate Karma
Sanchita Karma: A pile-up of unresolved Karma on previous lives, Essentially what was not seen. Every moment we are adding or reducing our Karma. The aim is to arrive at zero. Otherwise, we will keep birthing in new physical bodies till we do.  
Praarabdha Karma: Karmic Karma. What we have come to earth in this lifetime to work through.  If we can bring this lifetime Karma to nil. Then more past debts will surface to be worked through.  So Sanchita Karma gets dissolved, for instance, family dynamics.
Kriyamana Karma: This instant  Karma is created in this lifetime due to free will. This contributes to future Karma if not worked off immediately. For instance, our instant Karma is fined if we park in the wrong spot.  Another example is a burglary by two men; only one got caught. The one caught has received instant Karma, and the one that got away on this occasion will have to meet this debt in the future.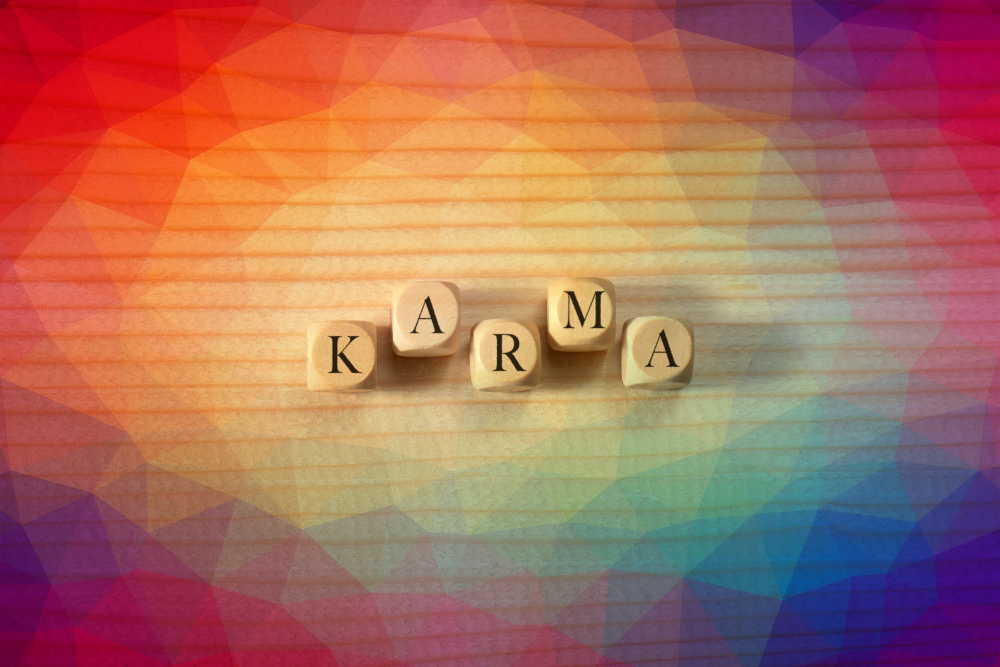 In Summary
In closing, regardless of the philosophy we embrace, we can agree that Karma plays a powerful role in reminding us to live a good life. One that aligns with nature by cultivating self-awareness and good habits. 
So essentially, a life governed by virtues, healthy intentions and perceptions will enable us to achieve a happier and freer existence.  
I look forward to seeing you in part 2 of Karma, where we will explore Karmic relationships, patterns, how to reduce them and lots more. So, see you then and in the meanwhile, wishing you all "Love and Light".   
Connect with Carma
Carma is a compassionate, warm and uplifting psychic. She is looking forward to speaking to you and giving you a psychic reading! Contact her right here!
Speak to one of our Psychics!
Psychic Today has a highly experienced and friendly team of Natural Psychics, all of whom can provide you with unique guidance with any dilemmas you face in life! See who is available for YOU right now!
Select the psychic of your choice for an exclusive one-to-one reading! Speak to one of our  Trusted Psychics. Plus, you can watch us live right here!
Download our Psychic Today App now!
The Psychic Today App for all your psychic needs and get psychic readings on the go! If you haven't yet downloaded it to your mobile phone, you can do so by following our links here:
To download from the App Store – click here.
Or download it from Google Play – click here.
To top up your credit or if you have any questions or queries, our friendly reception staff are available 8:00 am to 2:00 am GMT on 0333 335 0297. You must be over 18 years old to use this service, which is for entertainment purposes only. You must be the bill payer or have the bill payer's permission. We may send free promotional messages. 
Psychic Today is Here For You!
Psychic Today is on a mission to continue providing the very best psychic advice. Now we have more ways to reach our trusted psychics, and we have dedicated ourselves to answering your questions.
You can ring them via our EasyCall feature, found on your chosen Psychics profile. Text our psychics through our Text Reading page. You can also send IMs directly to the live stream via our App.