New Moon in Aquarius – 21st January 2023
The first New Moon of 2023 is not only a Supermoon, it is also making a harmonious aspect to the planet of good luck, Jupiter!
At the same time as the New Moon, Venus, the planet of love, will be meeting Saturn, the planet of responsibility and learning.
Therefore, now is an excellent time to be seeking out friends you love and spending time with them. Making a long-term commitment can also be beneficial now as the planetary aspects look favourable for longevity.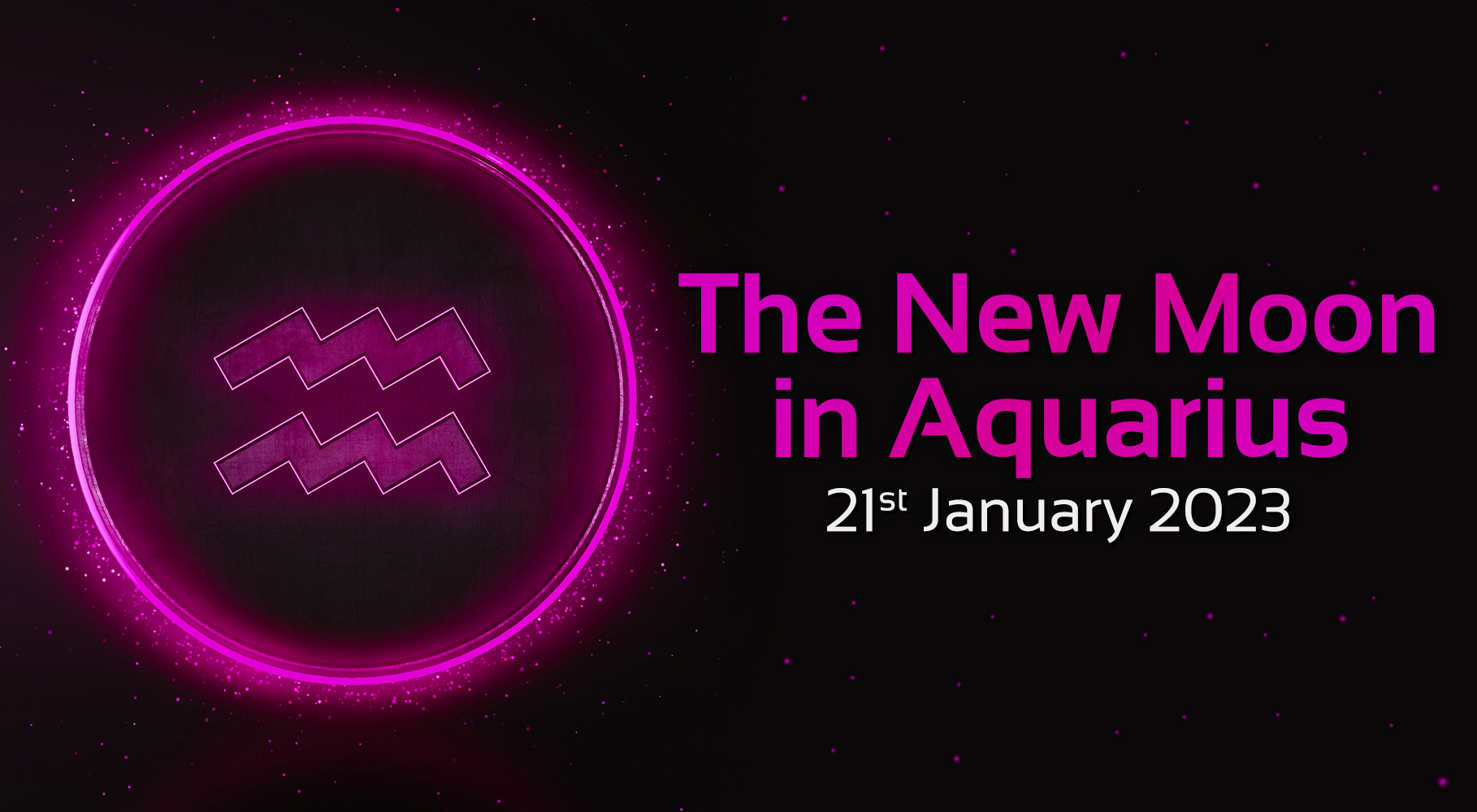 With Aquarius' planetary ruler, Uranus, you may have a strong calling for the community to come together and call out against certain traditions. Do not be surprised if there seems to be a higher number of unexpected events coming your way, which can be used as a catalyst for creative change.
Keeping in touch with your individuality and expressing your views would serve you well now. With Aquarius being an air sign, clarity of thought will give insight into sharpening a vision for the future.
Regarding work, think of your most significant and audacious goal; with this being the first New Moon of 2023, your intentions could set the foundation for the year ahead. To understand how this New Moon will affect your star sign, look below:
Aries – 11th House
This relates to friendships, attitudes to friends and acquaintances and all non-emotional relationships. Now would be an excellent time to either seek out new friendships or bring new energies into new ones. If you would like to join any new social groups or make a start with the community, establishing interest now will serve you and others well. If you have the desire to start up a new networking goal, do so at this time. Humanitarian interests could be taken up at this time also.
Taurus – 10th House
Focusing on how you want to progress in your professional field should be seriously considered. Visualise how you want others to see you in your line of work and what you consider success. Reputation and your standing in society will be at play here. Decide how you want to progress in the year ahead and where and what you want to be.
Gemini – 9th House
If you have been considering travel, adventure or new learning, now is the time to start taking these aspirations more seriously. Religion, law, science or psychology are focused here for you. Visualising oneself in the broader world or striking up business internationally is exciting. If this is entirely new to you, then it will be a great experience and learning curve.
Cancer – 8th House
Sex and money are vital areas to focus on, and understand how you want this to manifest in the year ahead. Inhibitions will be encouraged to pass, making way for expressions of your desires in which way you see fit. Regeneration is encouraged in finances, so starting new payment plans or ways of earning an income would be beneficial.
Leo – 7th House
With the key word being cooperation, now suggests a good time to put new life into marriages or established relationships. For those that are unattached, break away from old loves, dreams or any heartache that is holding you back. Regarding business, look at what may be lacking or where you may have lacked good working partnerships.
Virgo- 6th House
Duties and everyday routines can be revved up a bit here. If the mundane is taking precedence in your life now, inventing new ways of reinventing your appearance, home or lifestyle would bring enjoyment. Work and health are vital here, so if there has been one taking precedence over the other, seeking ways to balance both responsibilities should bring greater harmony.
Libra – 5th House
Creativity, romance, children and having fun are important for Libra's now. Being unable to enjoy life will only bring unhappiness, so if this has been lacking, put your intentions on ways to change this. Plan time to travel, get creative or have some extra time focusing on those you love and keep the momentum going now should set this precedent for the rest of 2023.
Scorpio – 4th House
Renewal with those you live with, family, heritage and ancestry plays a key role under this New Moon. Because the home is important for Scorpio's now, if buying a new home or selling an old one has been on one's mind, getting the ball rolling now is key to success. If researching your family roots has been merely an idea until now, find ways of learning more about your ancestry or family members.
Sagittarius – 3rd House
Awareness and communication feature strongly for Sagittarius now. Inspiring others to get what you want is key for future success. Do not be afraid to ask others to help you reach your goals and visualise how your current environment can be improved. Your abilities for learning new skills at this time will have a long serving purpose.
Capricorn – 2nd House
Finances and possession's feature heavily under this period. Asking how we value ourselves in relation to work and earnings, a need for fulfilment and our sense of self worth will help understand what intentions we set for 2023. Negativity about money can be turned around by being aware and wanting to change this thought.
Aquarius – 1st House
Identity is the buzzword for Aquarius under the first New Moon of 2023. How do we want others to perceive us, would we like to change the way others see us or are we happy with who we are? Your approach to life and how you look after yourself will come into question now, so if you want change, set the bar realistically high for the year ahead.
Chloe 
Speak with Chloe
Our very own shining star, Chloe, has an abundance of psychic knowledge and wisdom to she would love to share with you! Especially about the New Moon!
And if you want a psychic reading? There is no better time than right now! Psychic visions, under this Moon, will enhance these like no other!
Redeem Our New Moon Offer!
Be sure to check out our exclusive Psychic Today Offer: 10-minute psychic reading for just £10!
You can use your purchased minutes with ANY of our Top Psychics. This offer is available via the Psychic Today Website or App and is a one-off purchase.
Speak to one of our Psychics!
We have a very experienced and friendly team of psychics with us here at Psychic Today! See who is available for YOU right now!
Select the psychic of your choice for an exclusive one-to-one reading! Speak to one of our  Trusted Psychics. Plus, you can watch us live right here!
Download our Psychic Today App now!
The Psychic Today App is for all your psychic needs! If you haven't yet added it to your mobile phone, you can do so by following our links here:
To download from the App Store – click here.
Or download it from Google Play – click here.
Psychic Today is Here For You!
Psychic Today is on a mission to continue providing the very best psychic advice. Now we have more ways to reach our trusted psychics, and we have dedicated ourselves to answering your questions.
You can ring them via our EasyCall feature, found on your chosen Psychics profile. Text our psychics through our Text Reading page. You can also send IMs directly to the live stream via our App.
We have made it easier for you to get in contact with our psychics, and they will not disappoint!