February 2023 – Monthly Horoscopes – with Sky Silverstone
Our resident Astrology Queen, Sky Silverstone, looks at your horoscopes for the new month of 2022! Let's see how it looks for us for February! Read your horoscopes for this new month below!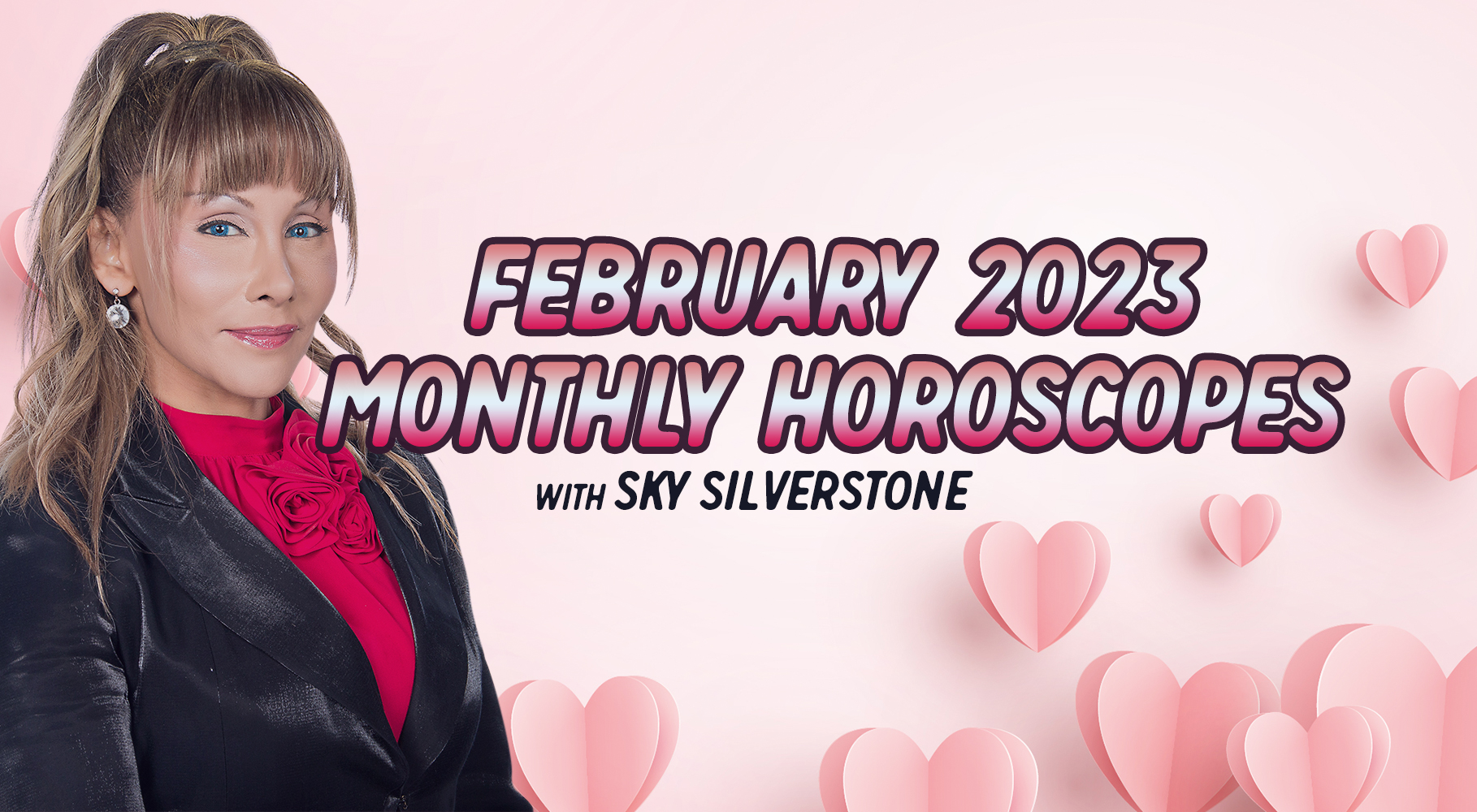 Don't forget to check who is available right now for a Psychic Reading on our website, PLUS check out our Facebook page for special LIVE sessions to interact with our psychics!  
Aries 
Mar 20th – Apr 20th
Dear Aries. Welcome to the February horoscopes! For you this month, friendships are like four-leaf clovers, hard to find but so lucky to have. Valentine's month shows you that the love from good associations brings happiness and upliftment to your world. This is a positive energy that feeds and energise you. All this is created through the powerful Sun highlighting connections with others. This also guides you to eliminate those individuals who are not for your highest good, against those that feed your life with fulfilment.
Then on the 18th the Sun moves onwards and you could feel a need to bring peace & quiet to your life so as to look into the deeper parts of your mind & thoughts. You could be drawn to look inside yourself for deeper knowledge of where you're going this year and why. Good news as the Goddess of love & Money Venus, brings you her awesome qualities as she enters your sign on the 20th. Venus creates a time for you to feel good and look good as she showers your personality with positivity for the world to embrace. Here you could be received well and supported by people around you!
Taurus 
Apr 20th – May 21st
Dear Taurus. Welcome to the February horoscopes! The month has an accent on where your career and ambitions are taking you. This is through the almighty Sun travelling through these areas creating a need for you to change your career or transform your work in some way. Some of you may find important answers whilst others start to initiate good changes. In this Valentine's month, love and relationships will be key to you because your ruler Venus, the Goddess of Love is travelling through your friendships zone.
How could it be anything else! Some singletons may find a wonderful friendship becoming the spark that leads to more, whilst those who are attached, find a closeness of friendship with in their connection, thus making their relationship stronger. Then on the18th the Sun also moves into the same area as Venus, drawing you to unite energies with friends, make new connections, or friends of the past could float in. Other Bulls may find this energy manifesting in a different way, such as collaborating efforts in work with colleagues leading to better outcomes. Wishing you a great Valentine's month of February Taurus!
Gemini 
May 21st – Jun 21st
Dear Gemini. Welcome to the February horoscopes! It's a great Valentine's month for you as the God of Passion and Action, Mars, is in your sign! Mars will push you with positive energy towards connections, friendships and building good relationships. Meanwhile, the almighty Sun encourages you to take a different route to your everyday activities. Some Gems may bring in new daily practices, new routines and different ways in tackling the mundane in their life. The other way this energy could manifest is to take you on a journey, be it a a mental one, or a physical one.
Either one, brings you wisdom and enlightenment for your year ahead and this will be different for each individual. Then, when the Sun moves forward on the 18th, get ready as your ambitions and career is brought to the forefront of your existence in some way. For some there could be breakthroughs, whilst for others there comes a passionate ambition and a need to chase it. Wishing you an awesome Valentine's month of February Gemini!
Cancer 
Jun 21st – Jul 23rd
Dear Cancer. Welcome to the February horoscopes! And, ooh la la! Valentine's could bring some of you an opportunity to indulge in some duvet-dancing. You may shut the door to the nosey outside world to get some privacy in a way personal to you. This is delivered through the almighty Sun shaking up your privacy sector. Some of you may feel an alternative to this energy through questions getting thrown at you such as, can you keep a secret? Are those lies? What do your gut instincts tell you about the truth? Overall you could step away from the busy world and deal with private matters, shared money or you possibly get to throw ice on a crisis in some way.
The almighty Sun moves onwards from the 18th leading you away from, closing that door to the outside world, but instead opening-up your life to something exciting and personal to you. In all this, you may desire to take a different route that takes you away from the hum-drum of life. This could involve taking a journey, be it one of enlightening the mind or an actual physical journey. Other Cancerians may feel the alternative energies of this house and delve into their spirituality or maybe deal with philosophical themes. Have a great Valentine's month of February Cancer!
Leo 
Jul 23rd – Aug 23rd
Dear Leo. Welcome to the February horoscopes! It could be an ideal Valentine's for you, as the accent is on relationships, connections and the close associations of your life. The almighty Sun travels through this sector creating a need to analyse the importance and value of certain relationships. You may come out to the other end of this with a more committed energy to someone, or you may cut off unwanted connections.
Valentines could be a decider for you! After analysing the relationships that are important, there's a perfect change in energies as the Sun moves on from the 18th possibly leading you into the bedroom for some privacy. Others may experience the alternatives of the energies of this house by dealing with shared financial matters or something associated with inheritance. Finally, keep in mind that the month's Full Moon on the 5th is in your sign, so watch out for raised emotions and heightened intuition. Have a wonderful Valentine's month of February Leo!
Virgo 
Aug 23rd – Sep 23rd
Dear Virgo. Welcome to the February horoscopes! The Goddess of Love & Relationships Venus, is bringing you Valentine's blessings as she graces your house of relationships and associations. You may find partners and new connections drawn to you, creating a chance to spice up your month of love. Meanwhile, the Sun shines a light on your daily work, colleagues, everyday routines and health areas. You may find your job being renewed or a desire to get a new job as opportunities could crop up. Some may have support from colleagues putting a shine on their work areas.
Others may see the energy of this house manifest in the need to set a new health regime. The Sun moves forward on the 18th and its light is shone on your most important relationships. This house encourages you to look at who in your life has relationship-longevity or commitment for you. In that process, some of you may move on from people that don't serve you, while others realise who they absolutely need with them. Have a wonderful Valentine's month Virgo!
Libra 
Sep 23rd – Oct 23rd
Dear Libra. Welcome to the February horoscopes! You of all the signs may be in the best position for an awesome Valentine's month as the almighty Sun travels through your house of flirtations, love affairs, fun, sex and socializing. Irrespective of whether you're single or attached, it's an ideal month of love as you could receive invites, social options jump out for you or you could find yourself involved in flirtations, having fun and walking an enjoyable path far from the mundane.
The Sun moves on the 18th going on to uplift your daily job with opportunities. You could have happy associations with your colleagues or you'll be tweaking and reinventing the daily content of your life. Some could be drawn into looking for a new job or revamping the existing one. An alternative manifestation of this house is addressing health, fitness or well-being. Therefore, in the vein of sustaining your good health, some of you may start a new regime personal to you. Wishing you a wonderful Valentine's month of February Libra!
Scorpio 
Oct 23rd – Nov 22nd
Dear Scorpio. Welcome to the February horoscopes! This Valentine's month could have you looking for love that's mixed in with the creature comforts of your home. For example; creating a romantic ambience at home for dinner, or singletons could be inviting friends over for food, fun and laughter at home. Others may simply want a chance for some  downtime in their comfortable abode. Some may want to make changes to the house & home, such as re-decorate or start looking for a new home.
The Sun moves onward from the 18th and the energy changes completely from, being at home to being out to party. The Sun encourages you to accept possible invitations to socialize, flirt and have fun. This house invites you to ditch the boring everyday stuff and take a walk on the wild side, or simply indulge in something that's a lot more fun than work. Wishing you a wonderful Valentine's month of February Scorpio!
Sagittarius 
Nov 22nd – Dec 22nd
Dear Sagittarius. Welcome to the February horoscopes! Well, it's said that you like to shoot your arrows into fresh new fields for fun, well this month may just entice you to do that. The Sun travels through a house that draws you out and about to get life's loose ends tied up. Valentine's could be a mix of fun short travels and enjoyable short flirtations along the way. The month accentuates relationships with those closest to you, as the Sun shines a spotlight on them.
The Sun then moves onward from the 18th and many of you seek the sanctuary of you 'home sweet home.' Your family may be needing you to spend time with them at home or you desire some downtime. Another manifestation of this house is to look for another place to live, with a desire to move house or redecorate the existing home to re-energise it. Wishing you a wonderful Valentine's month of February Sagittarius!
Capricorn 
Dec 22nd – Jan 20th
Dear Capricorn. Welcome to the February horoscopes! With the planet of communication, travels and quick thinking Mercury, in your sign and now fully direct from retrograde this month, Valentine's month could bring you the gift of the gab. For example, whether you're attached or single, Mercury brings you the right words for that special Valentine's flirtation. In the meantime, the almighty Sun may have you either counting your pennies and tightening up the money belt or you could find a little extra in your money pot.
The Sun energises your money house and pushes you to address where you stand with your finances and where you can make favourable changes. Then on the 18th the Sun moves onwards and this is an ideal move as you go from analysing your finances to tying up the admin of life. You could be flying here and there, ticking off the to to-do list and having fun light-hearted chats along the way. Wishing you a wonderful Valentine's month of February Capricorn!
Aquarius 
Jan 20th – Feb 18th
Dear Aquarius. Welcome to the February horoscopes! The Valentines month is your month, as the almighty Sun shines it light on you as it travels through your sign. You could be shining out in your appearance, the impact you make and your personality. Whether you're single or attached you could be getting attention from the world around you. There's more success for you, as the smooth operator of the planets Mercury, enters your sign on the 11th just before Valentine's.
You could be energised with quick thinking, the gift of the gab ideal for flirtations, along with swift travels. Make the most of it as it could be an exciting month in many ways for you. Then the Sun moves on the 18th going on to elevate areas of money, incomes and your financial sectors. This will encourage you to look at how you could enhance your incomes, analyse where your money comes from or, otherwise you may need to tighten your money belt. Wishing you a wonderful Valentine's month of February Aquarius!
Pisces 
Feb 18th – Mar 20th
Dear Pisces. Welcome to the February horoscopes! What an awesome Valentine's planetary recipe you've got going on in your sign! With Venus the Goddess of Love along with your ruler, dreamy creative Neptune gracing your sign. Whether you're single or attached, this combo could set romance on fire because the joining of these two planets brings in a sweet romantic, fantasy-filled and relaxed vibe as you float through your month. Enjoy it and have fun fishes! It gets better as the almighty Sun enters your sign on the 20th putting its shine on you to the outside world.
This could uplift your personality and draw attention from those around you. You'll feel uplifted, energised and drawn to make an impact in some way. This could manifest in another way for some, such as a need to redefine how people see you, perhaps through adopting a new look, changing your hair or getting a new wardrobe. This is certainly enhanced through the renewal powers of the New Moon occurring in your sign on the 20th. Enjoy and have fun as you're set to have an awesome Valentine's month Pisces!
Redeem Our New Beginnings Offer!
Be sure to check out our exclusive Psychic Today Offer: 30-minute psychic reading for just £30!
You can use your purchased minutes with ANY of our Top Psychics. This offer is available via the Psychic Today Website or App and is a one-off purchase.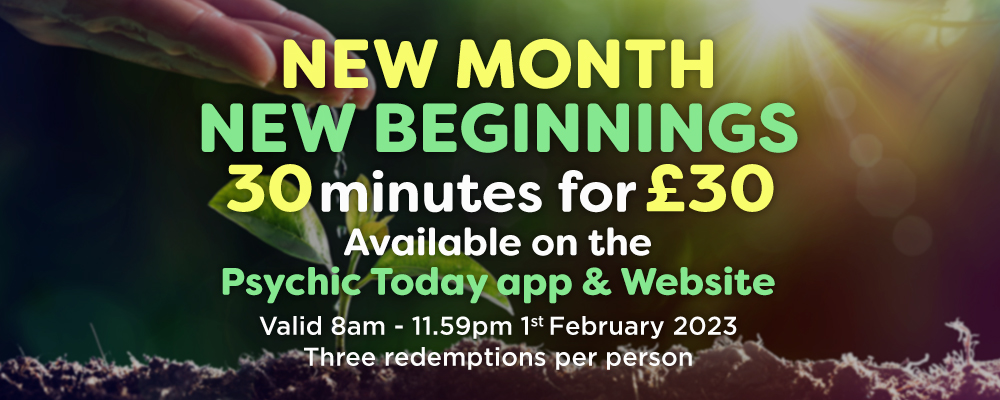 Who is Sky Silverstone?
Sky Silverstone is an astrologer, crystal healer, numerologist, horoscopes queen, and life coach. She has a very open, caring and friendly nature. She makes regular appearances on Psychic Today. Sky would love to give you an astrological reading too! Contact Sky Silverstone!
You Can Speak to one of our Psychics!
We have a very experienced and friendly team of psychics with us here at Psychic Today! See who is available for YOU right now! Select the psychic of your choice for an exclusive one-to-one reading! You can speak to one of our Trusted Psychics. Plus, you can watch us live right here!
Download our Psychic Today App now!
The Psychic Today App is for all your psychic needs! You can read daily and monthly horoscopes anytime, anywhere. If you haven't yet added it to your mobile phone, you can do so by following our links here: To download from the App Store – click here. Or download it from Google Play – click here.
Psychic Today is Here For You!
Psychic Today is on a mission to continue providing the very best psychic advice. Now we have more ways to reach our trusted psychics, and we have dedicated ourselves to answering your questions. You can ring them via our EasyCall feature, found on your chosen Psychics profile. Text our psychics through our Text Reading page. You can also send IMs directly to the live stream via our App. We have made it easier for you to get in contact with our psychics, and they will not disappoint!