May 2023 – Monthly Horoscopes – with Sky Silverstone
Our resident Astrology Queen, Sky Silverstone, looks at your horoscopes for the new month of 2023! Let's see how it looks for us for May! Read your horoscopes for this new month below!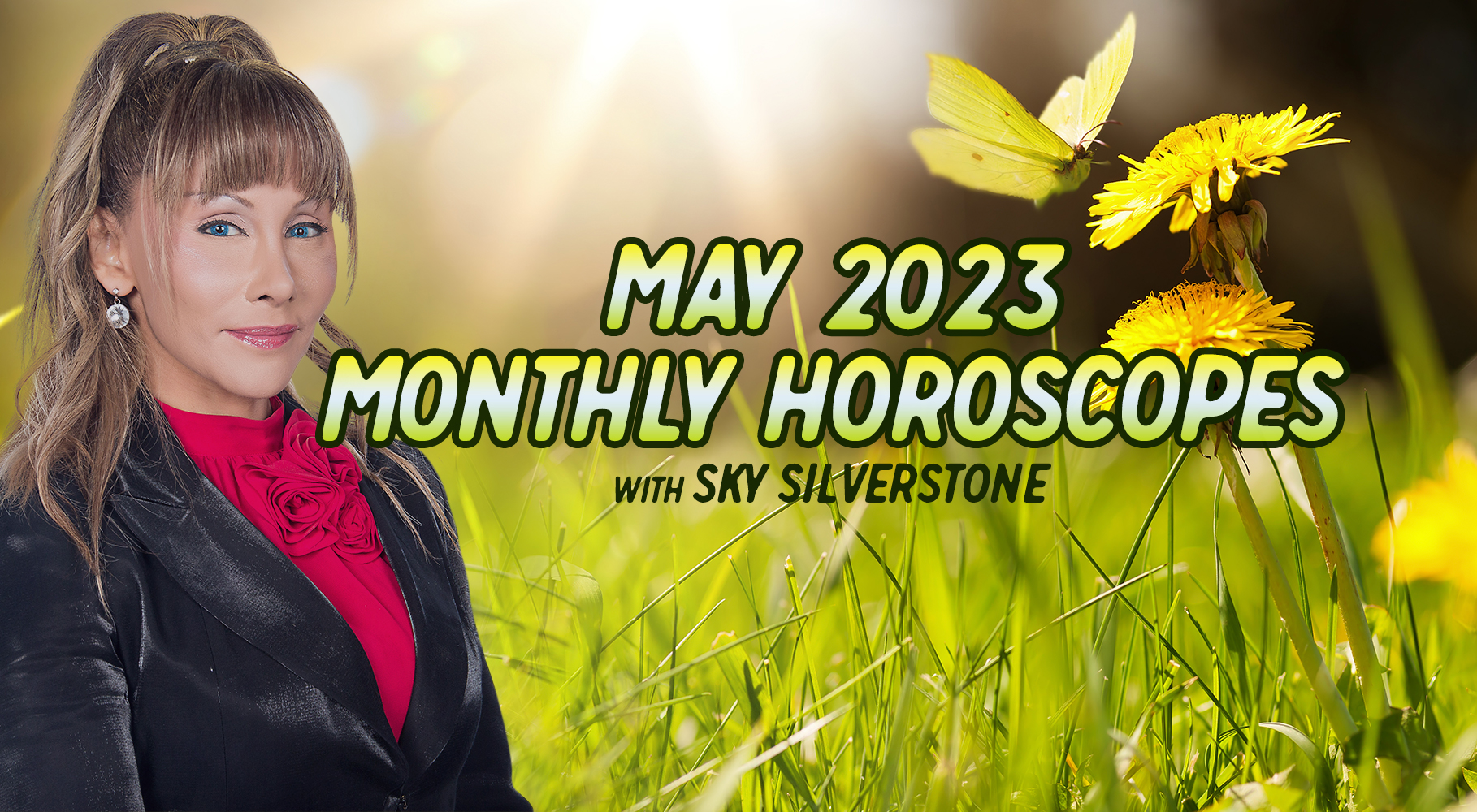 Don't forget to check who is available right now for a Psychic Reading on our website, PLUS check out our Facebook page for special LIVE sessions to interact with our psychics!
Aries 
Mar 20th – Apr 20th
Are you keeping an eye on your money? Are your incomes yielding the most for you? Where's your money coming in from and where's t going? With the almighty Sun travelling through your money sectors, these are the types of questions that maybe be popping up in your mind. Others may be tightening up their spending and cutting out on unnecessary expenditures. Keep in mind that the mighty communicator Mercury, is retrograding in this area till the 15th.
Here, I would advise you to avoid any major decisions with investments, money and expenditure, as mistakes are easily made in this retrograde with later regret. The Sun moves onward from the 21st and the accent moves from tidying up your money areas to bringing efficiency to the admin of your life. Here you could be running errands, tying up loose ends and getting outstanding jobs finished. For others of you, this is a house that may bring in dealings with siblings in some way. Wishing you a fantastic month of May Aries!
Taurus 
Apr 20th – May 21st
You bulls have the most eventful month out of all the signs. ls. Firstly the almighty Sun is shining a light on you and your world as it travels through your sign. You may find yourself changing something for the better with your image and you could be received well by everyone. Keep in mind that the mighty communicator and thought provoker Mercury, is also in your sign. Mercury can enhance your creative mind, your ideas and brings effective communication skills.
However, avoid taking action with any great ideas you may have till after the 15th, as Mercury in reverse gear usually throws a spanner in the works. Great news for you as the planet of luck, success and life-expansion Jupiter, moves into your sign on the 16th. This is very auspicious for you bulls because if you're striving to create ambitious changes in your life, Jupiter can be a great door-opener. Finally, refreshing new energies float in for you as the New Moon is in your sign on the 19th. It's a great month for you, so have an awesome May Taurus!
Gemini 
May 21st – Jun 21st
It may well be a very thought-provoking month for you Gems as the almighty Sun lights up areas of your subconscious and hidden mind. You could slam the doors shut to the outside world to take time to analyse your connection with your higher self to guide better with your. future This is exacerbated with your ruler Mercury retrograding in this same sector till the 15th. However the side effect could be overthinking so make sure you don't over analyse life.
Also don't commit to any major decisions as this retrograde could easily push you to make mistakes you later regret. Your mind and ideas become more accurate and focused after the 15th when your ruler becomes direct. The Sun moves onwards from the 21st and enters your sign. This lights you up to the world making you shine out. You may make positive changes to your image and improve how the world sees you. A great month off May for you Gemini!
Cancer 
Jun 21st – Jul 23rd
Friends are those people who you rely on and who are there for you, no matter what. The month starts with an accent on evaluating who your nearest and dearest are for you. You may be drawn towards spending time with your connections, whether it's social or supporting them. Others may find that social occasions beckon, leading to social gatherings with friends. Be mindful of how you express your words within your friendship circles as Mercury the planet of communication is retrograding till the 15th.
This could create misunderstandings which can be avoided with a little forethought before speaking. Mars the mighty warrior planet is in your sign all month, drawing you to take action or chase a personal goal or ambition. You could be the flavour of everyone's month as the Goddess of Love Venus enters your sign on the 7th and remains with you all month. This inspires you to put your best foot forward to gain support or be heard. The Sun moves on from your friendships zone from the 21st and goes on in encouraging you to take some time out to analyse your innermost thoughts. Have a great month of May Cancer!
Leo 
Jul 23rd – Aug 23rd
A month that brings you an accent on your career, ambitions and goals as the Sun travels through this sector. Others could receive a pat on the back for something well done or as a result, there's popularity with a boost to your reputation. It would be a great time to move forewords to achieve a desire or ambition. Be mindful to take care with your words with people with in these mentioned areas as the planet of communication Mercury, is in retrograde here till the 15th.
This could easily create misunderstandings that could be avoided by choosing your words with care. The Sun moves forward on the 21st and your attention is directed towards your nearest and dearest friends. You could analyse who your most trusted people are, or you could be invited to spend social time with them. Have a marvellous month of May Leo!
Virgo 
Aug 23rd – Sep 23rd
The major news for the month is that your ruler Mercury is retrograding till the 15th in your areas of intimacy and shared money. This is time to be careful with your words, watch out for the mind spiralling in the wrong direction and avoid making major decisions. Everything becomes a lot clearer for better outcomes when Mercury is direct after the 15th. The almighty Sun is also in this sector highlighting whatever needs your attention.
You could be drawn to taking time away from the world to spend time with your most intimate connections. Others could be analysing areas of shared resources and finances. The Sun then moves onwards from the 21st throwing an accent on your career, ambitions and goals. Some may experience these effects by receiving gratitude for something done well or popularity is gained as a result. Have a wonderful month of May Virgo!
Libra 
Sep 23rd – Oct 23rd
The Sun travels through your sectors of intimacy, secrecy and shared finances. You could be drawn to take time for some privacy and shut the door to the outside world. For others, there could be a need to address or analyse shared monetary resources or item, for example; a property. However, be mindful that Mercury the planet of communication and positive ideas is in retrograde.
Here I would advise that care is taken with all your communications and do not commit to any major plans as the situation often changes when Mercury goes forward on the 15th. The Sun moves on from the 21st and you could be drawn to getting away from your normal everyday routines to something more exhilarating. Some of you may be drawn towards deeper spiritual matters or taking a pathway to gain answers to a niggling feeling within your intuition. Have a wonderful month of May Libra!
Scorpio 
Oct 23rd – Nov 22nd
It's an eventful month so make notes Scorpio! The Sun energises your relationships sectors and leads you to analyse your commitments. You may ditch a connection or decide you want more stability from it. Others may feel the alternative effects of this house and enter into a new contract of some kind or renegotiate an existing one. Be mindful to communicate with forethought within any of these relationships as the great mover & shaker Mercury, is retrograding.
This could create issues with communications or misunderstandings but all that's needed is forethought before saying anything until Mercury is direct from the 15th. Then huge changes are afoot as there's a Full Moon and a Lunar Eclipse in your sign. Eclipses create changes and transformation weeks before to months ahead. As a water sign, you'll feel its effects more intensely. Then finally the Sun moves forward on the 21st and you could be enticed to shut the door to the world and take some time for privacy. Have a wonderful May Scorpio!
Sagittarius 
Nov 22nd – Dec 22nd
Work, colleagues and daily routines are thoroughly taking over your life at the start of this month. You could be thrust into dealing with or changing the components of your daily life. Others are drawn to improving their well-being, fitness or health in some way. However, be mindful that the planet of communication and logical thought is retrograding. This could create misunderstandings within these areas so engage everyone with forethought before saying anything. Also, avoid committing to anything that's major especially if it could be put on hold.
This because the situation often changes when Mercury moves direct on the 15th. Then the Sun moves forward on the 21st into your relationships sector. Here you could be analysing the longevity of your connections such as letting go of someone or alternatively, wanting more commitment with them. Other energies of this house are about contracts personal to you, so some of you could be dealing with a new or revamped one. Have a great month of May Sagittarius!
Capricorn 
Dec 22nd – Jan 20th
A fun start to the month as the Sun brings you chances to enjoy life, socialise or possibly be invited for some frolics under the covers! Others may simply get a chance to walk a lighter, more enjoyable side of life. However, be mindful of your communications with people in these areas as Mercury is retrograding in this sector. This needs you to engage some forethought before speaking to avoid misunderstandings.
Also delay entering into anything that's brand new, because when Mercury moves forward on the 15th often there's a realisation that it's all been a waste of time. Then the Sun moves onwards on the 21st and you could be drawn to dealing with areas of work, colleagues and your daily activities. Other Caps could feel the alternative of this house and be dealing with health fitness or well-being in some way. Have a great month of May Capricorn!
Aquarius 
Jan 20th – Feb 18th
As the Sun travels through areas of home and family you'll be drawn to seeking some creature comforts. Your home, family, good food and pleasure beckon you. Put your feet up, sit back and enjoy. Be mindful that Mercury the planet of the mind and communications is retrograding in this same house. Misunderstandings easily occur in retrogrades, so be careful to think before you speak especially with family. Also avoid major new starts or major life-changing decisions, for example; deciding to move home.
Decisions made in Mercury retrograde mostly are forced to change once the planet moves direct on the 15th. The energies change from the 21st from a desire to be a couch potato to getting out and about. You could receive invitations to socialize and have fun. Some of you could be in a flirtatious mood as you take the road of enjoyment, ditching the more serious bits of your life. Have a wonderful month of May Aquarius!
Pisces 
Feb 18th – Mar 20th
The Sun travels through your house of intellect, learning, running short journeys and analysing problems. You could be thrown into learning something new, sorting out the nitty-gritty of your life or jumping onto quick travels here and there. Some of you may tie up the admin of life as others tick off a list of niggling issues that lave long needed addressing. Mercury is the governor of this house and as he's in retrograde till the 15th so don't let your thoughts run away into any negative spiral.
This reverse gear can create miscommunications and misunderstandings unless great care is taken to avoid them. The Sun then moves onwards from the 21st and the accent moves your interests to house, home and family. Some of you may be happy to be a couch potato for a while, immersing yourself in some creature comforts as others spend time with their loved ones. Have a wonderful month of May Pisces!
Who is Sky Silverstone?
Sky Silverstone is an astrologer, crystal healer, numerologist, horoscopes queen, and life coach. She has a very open, caring and friendly nature. She makes regular appearances on Psychic Today. Sky would love to give you an astrological reading too! Contact Sky Silverstone!
You Can Speak to one of our Psychics!
We have a very experienced and friendly team of psychics with us here at Psychic Today! See who is available for YOU right now! Select the psychic of your choice for an exclusive one-to-one reading! You can speak to one of our Trusted Psychics. Plus, you can watch us live right here!
Download our Psychic Today App now for Daily Horoscopes!
The Psychic Today App is for all your psychic needs! You can read daily and monthly horoscopes anytime, anywhere. If you haven't yet added it to your mobile phone, you can do so by following our links here: To download from the App Store – click here. Or download it from Google Play – click here.
Psychic Today is Here For You!
Psychic Today is on a mission to continue providing the very best psychic advice. Now we have more ways to reach our trusted psychics, and we have dedicated ourselves to answering your questions. You can ring them via our EasyCall feature, found on your chosen Psychics profile. Text our psychics through our Text Reading page. You can also send IMs directly to the live stream via our App. We have made it easier for you to get in contact with our psychics, and they will not disappoint!