New Moon in Aries – 20th April 2023
On April 20th at 5.12am, we will be experiencing a New Moon Eclipse in Aries, the second new moon in a row under this zodiac sign. This last degree of Aries gives us an opportunity to really push our energy to be more courageous, take risks and be brave. Mars is Aries' planetary ruler, bringing activity, aggression and vast amounts of energy via the element of fire. The planet's action can be sudden, self assertive and disruptive. Mars is also known as the planet of war, therefore it is no surprise that we may all be experiencing some kind of unrest and impulsiveness.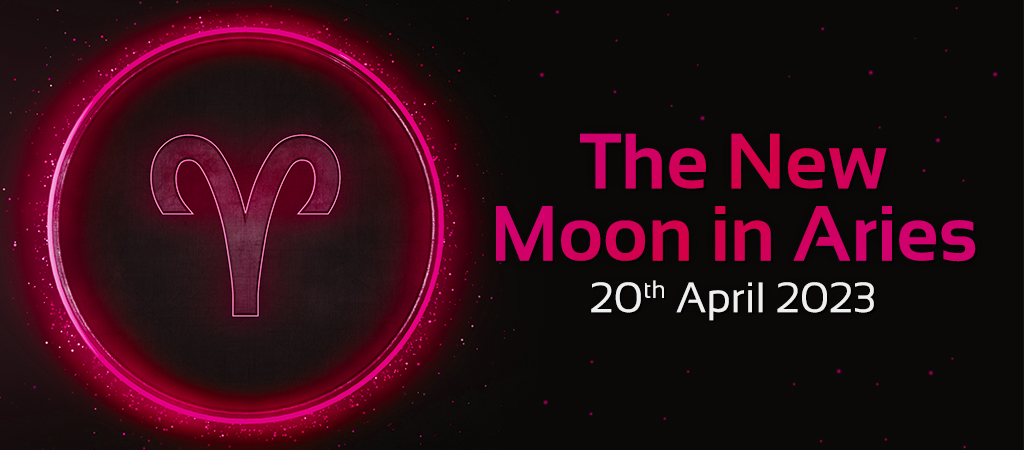 Cooling down this energy comes via watery Pluto making an out-of-sign alignment, forcing us to assess what is necessary to destroy in order to rebuild. Interestingly, Aries deals with more external and extroverted energies, using ones head for clarity. Yet Pluto delves inwardly looking into the subconscious and darker aspects of ourselves. Striking a balance with these conflicting energies will be challenging, yet it comes with its advantages.
As with all New Moons, we have the opportunity to start again, and as Aries is the first sign of the zodiac, now the potential is even greater to get a head start.
The best traits The Ram has to offer us are areas such as enterprise, straight talking, bravery, sincerity and taking action for personal growth. If you are someone that mostly tows the line, submits to conformity, then this is the opportunity to get out of your comfort zone, especially if it relates to one's ambitions.
We could all do with taking time to reflect on negative habits that are detrimental to our wellbeing. Aries determination to make new rules and administer some self improvement tools into our routine will be successful and sustainable.
Aries 1st House
With this extremely powerful energy, Aries, you now have the ability to aim high and achieve goals. Identity is key here, so if you are wanting a new image, a new job or even new love, you have the opportunity to get what it is you want. Use this energy to effectively "package" yourself in the way you want to be seen.
Pisces 2nd House
Practicality is the key word here for Pisces under this Aries New Moon. You may find you will be excelling at sorting out all of the financial aspects of your life, should you use this energy to your advantage. Getting yourself into a new way of working in this area will give you a sense of fulfillment and security you need. Understanding what your self- worth and values will also come into play at this time, also.
Aquarius 3rd House
Being an air sign, you are good at using one's mind and intellect effectively. This Aries New Moon in your 3rd House of Gemini allows you to become more self aware and how your impact effects those around you. Communicating your ideas to get what you want will serve you well at this time and you will also be good at influencing others.
Capricorn 4th House
Putting energy into family and the home will be fruitful for you now, Capricorn. If you want to improve the home, or find more time to be with those you love, then now is going to be the time to do so. Energy invested now in your family will also show others how much you appreciate them. You may also find yourself drawn to discovering more about your heritage and your roots.
Sagittarius 5th House
Pushing yourself to be more creative and seek out some fun, suits you well at this time, Sagittarius. You have an exceptionally high amount of energy now so putting it to good use will be productive. You will also be feeling inspired to show others how you feel or express yourself more openly. This is also a great time to begin new enterprises or be involved in more adventurous pursuits.
Scorpio 6th House
Scorpio, if you have been struggling to get yourself into order, Aries New Moon will gladly give you the determination to address this. Getting yourself into a routine that serves you well is highly recommended here, be it from healthier living, setting clear boundries with others or just getting the motivation to be more consistent.
Libra 7th House
Libra, this New Moon will feel very familiar for you, as it is encouraging new ways of co-operating with others. Partnerships will be a big factor now, so if there have been struggles, it will be easier for you to find a new balance with those involved. Your diplomatic skills will be greatly appreciated at this time so implementing long term strategies now will serve all well into the future.
Virgo 8th House
This New Moon in your 8th house encourages you to put an end to anything that is preventing your growth, especially in the spiritual element. Looking deeply within can feel counter intuitive, especially under the influence of an Aries New Moon, yet on delving deeper we can start to see patterns that may have been oppressive. New awakenings on a more subconscious level will be beneficial for you now.
Leo 9th House
Leo, if you have been deliberating on starting a new course or a new activity that will aid you with greater knowledge, then start making plans. The New Moon in your 9th House of aspiration and learning will propel you to achieve your goals and at the same time equip you with new ideas. New ways of expanding your journey, be it through travel or adventure can be very beneficial for you now.
Cancer 10th House
If you feel like you have been lacking something in either your profession or your reputation, Cancer, now is a time to re-evaluate. You have the chance now to be more influential in your community, workplace and with those you interact with. Responsibility is key now, so if you are hoping to achieve more in this area of your life, new ways enabling you to do so will be successful.
Gemini 11th House
Gemini, you are a naturally sociable person and so this new moon is encouraging you to address friendships new and old. If you would like to broaden your circle of friends, now is the perfect time to join new groups that appeal to hobbies and interests. Do not be surprised if you are drawn to more humanitarian issues at this time, also.
Taurus 12th House
Taurus, you may have an instinct to take time out under this Aries New Moon, for it is resting in your spiritual and dream house of Pisces. It may do you some good to begin a new practice that relates to self improvement, meditation and anything creative. Reflection is a powerful tool for you right now.
Chloe 
Speak with Chloe
Our very own shining star, Chloe, has an abundance of psychic knowledge and wisdom to she would love to share with you! Especially about the New Moon!
And if you want a psychic reading? There is no better time than right now! Psychic visions, under this Moon, will enhance these like no other!
Speak to one of our Psychics!
We have a very experienced and friendly team of psychics with us here at Psychic Today! See who is available for YOU right now!
Select the psychic of your choice for an exclusive one-to-one reading! Speak to one of our  Trusted Psychics. Plus, you can watch us live right here!
Download our Psychic Today App now!
The Psychic Today App is for all your psychic needs! If you haven't yet added it to your mobile phone, you can do so by following our links here:
To download from the App Store – click here.
Or download it from Google Play – click here.
Psychic Today is Here For You!
Psychic Today is on a mission to continue providing the very best psychic advice. Now we have more ways to reach our trusted psychics, and we have dedicated ourselves to answering your questions.
We have made it easier for you to get in contact with our psychics, and they will not disappoint! You can ring them via our EasyCall feature, found on your chosen Psychics profile. Text our psychics through our Text Reading page. You can also send IMs directly to the live stream via our App.