New Moon in Taurus – 19th May 2023
This New Moon in Taurus is happening on the 19th May at 16.53 at 28 degrees. It is a very powerful new moon because Jupiter, the North Node, Mercury, Uranus and of course the Sun and the Moon are all in Taurus. This means all energies are exalted in Taurus. So embracing the warmth, elegance and harmony of the fixed Earth sign of Taurus will be beneficial for all astrological signs. Stability over emotions is almost certain now. Taurus teaches us to be patient, slow moving and to relax into Venus' loving energy.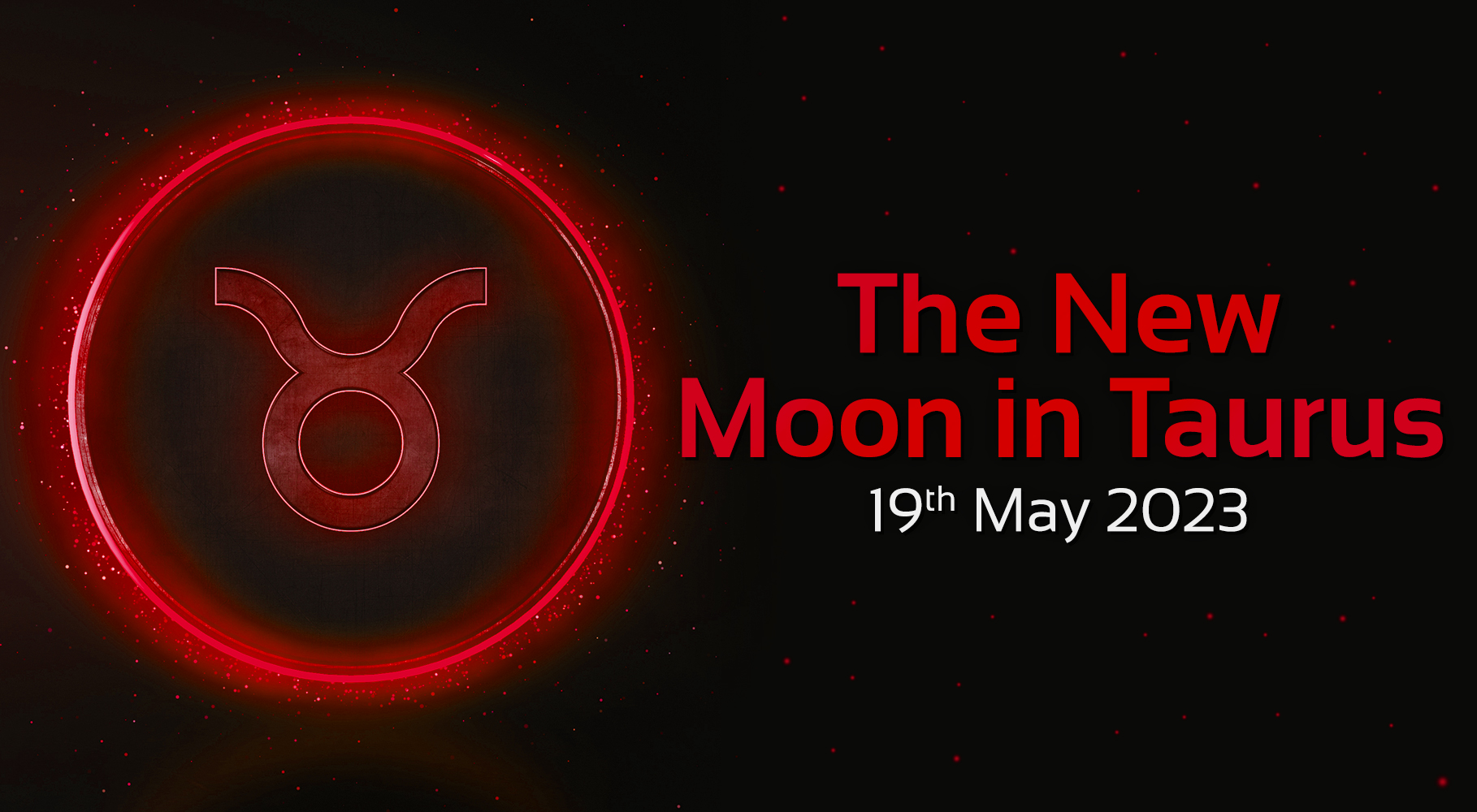 As with all New Moons, this one is asking us to reflect on areas we can improve upon, where we can approach areas differently or what we need to begin. Taurus loves to feel comfort and rules the senses. therefore looking at where we have become complacent or overly comfortable would benefit from a new approach. Maybe we have become too comfortable staying in and watching too much tv, or we crave adventure but lack the confidence to explore. Renewed effort is key under this influence and with the unusual trine new moon to Pluto, we can warm to the new energy and release an old layer to reveal a fresh new one.
Remembering Taurus is ruled by Venus, the planet of love, beauty and romance, we may feel more inclined to indulge in some art, music and stimulate our senses. Giving time to such pursuits will also harmonise with the slow moving earthy energy of Taurus, reminding us to appreciate the simple pleasures life has to offer us.
Aries in 2nd House
In true Taurus style, anything related to abundance, especially when it comes to what we poses, pursuing abundance will be favourable for Aries, now. Finding new ways to increase one's earning power, devoting time to creating stability or even just realising the need to slow it down a bit will be very fruitful for you at this time.
Taurus in 1st House
As a Taurus under this new moon influence, Taureans get the go ahead to indulge their senses and flourish under Venus' influence. Yet getting complacent is not an option. Taureans have the opportunity to start again and consider ways in which they can influence others and situations in a more considered and controlled way.
Gemini in 12th House
This is a time for Gemini's to take a step back, breathe and meditate to new ways of being. Spiritual pursuits will serve Gemini's well at this time, especially if this intention has been on hold. If you have been thinking about your dreams and wanting to pursue them, then now is the time to get planning.
Cancer in 11th House
For those Cancers that have been spending too much time hiding under their shell, this new moon in the 11th house of friends and new partnerships, beckons social activity. Putting more of an emphasis on meeting new people will bring a surge of energy to Cancer people, and under the slow and steady influence of Taurus, you can feel safe and assured it will be very beneficial to your wellbeing.
Leo in 10th House
Just like Taurus, Leo is a fixed sign and getting Leo to start something new can take a considerable amount of energy. Yet if you are a Leo that has a need to learn something new, whether it be professional or personal, will get off to a great start now. Your influence could be very strong now especially in the community or in positions of responsibility.
Virgo in 9th House
Virgo may feel inclined to seek greater wisdom in areas that relate to religion, law or the deeper workings of the mind or philosophy. Taking on new responsibilities will serve Virgo well at this time, for this new moon energy in Taurus will allow Virgo's to do it at a slow and steady pace.
Libra in 8th House
Libra's are going to be feeling a pull towards unravelling the deeper depths of themselves and what it is they need to let go of. This will be a challenging time of transformation, focusing on relationships of a sexual nature, money and support from others. New ways of approaching these matters and assessing what needs to change or let go of will help Libra's on their journey of self discovery.
Scorpio in 7th House
Partnerships of all types will come under the spotlight for Scorpio's under the Taurus New Moon. Scorpio's that would like to reinvigorate current relationships will be greatly supported at this time, as will new ones taking off. Understanding what makes others compatible with Scorpios in business or pleasure, will give this sign a nod to those worth investing energy into.
Sagittarius in 6th House
Despite Sagittarius being known as resourceful and energetic, this new moon influence in the 6th house of routine will probably come pretty easily to Sagittarius. If having to focus attention on the mundane puts you into a state of anguish, instead see this as time well spent organising oneself to enable more time for adventure and fun in the long run!
Capricorns in 5th House
Capricorn can afford to let their hair down and seek out new creative ways to enjoy themselves under this new moon in May. Dependability is something Capricorn is very good at, yet it is vital at this point for you to get out a bit more and warm yourself against the new rays of light waiting for you. Be proud of your achievements at this time and be unafraid of new dynamic ways of working.
Aquarius in 4th House
What would it take for Aquarius to feel more secure right now? The new moon focusing on family and home, brings into question what it takes for you to feel safe and secure and what family means to you. Discussing this with loved ones will be beneficial to finding new ways of creating a more loving homelife and potentially setting new boundaries and ways of working together more harmoniously.
Pisces in 3rd House
Thinking about how you relate to others intellectually will come into focus for Pisces right now. Your own siblings may play a significant part in what develops over the coming weeks and how you potentially influence one another. If you have been holding back on thoughts and how you express yourself, finding new ways of delivering your ideas and analysis will serve you well at this time.
Chloe❤️
Speak with Chloe
Our very own shining star, Chloe, has an abundance of psychic knowledge and wisdom to she would love to share with you! Especially about the New Moon!
And if you want a psychic reading? There is no better time than right now! Psychic visions, under this Moon, will enhance these like no other!
Speak to one of our Psychics!
We have a very experienced and friendly team of psychics with us here at Psychic Today! See who is available for YOU right now!
Select the psychic of your choice for an exclusive one-to-one reading! Speak to one of our  Trusted Psychics. Plus, you can watch us live right here!
Download our Psychic Today App now!
The Psychic Today App is for all your psychic needs! If you haven't yet added it to your mobile phone, you can do so by following our links here:
To download from the App Store – click here.
Or download it from Google Play – click here.
Psychic Today is Here For You!
Psychic Today is on a mission to continue providing the very best psychic advice. Now we have more ways to reach our trusted psychics, and we have dedicated ourselves to answering your questions.
You can ring them via our EasyCall feature, found on your chosen Psychics profile. Text our psychics through our Text Reading page. You can also send IMs directly to the live stream via our App.
We have made it easier for you to get in contact with our psychics, and they will not disappoint!