New Moon in Gemini – 18th June 2023
The New Moon in Gemini will occur on the 18th June at 5.37 am GMT. Gemini is an air sign and ruled by the planet Mercury, the planet of intellect and quick communication. It therefore will be a great time to get one's head out of any negative self talking or internalised self doubt. As with all New Moons, planting any seeds of thought now will produce a fertile and long lasting legacy. However, there is need to throw caution to the wind, for there is a clash with the planet of illusion, Neptune. Any intention making will be better to be made, 11 hours after the New Moon when Jupiter harmonises with Saturn.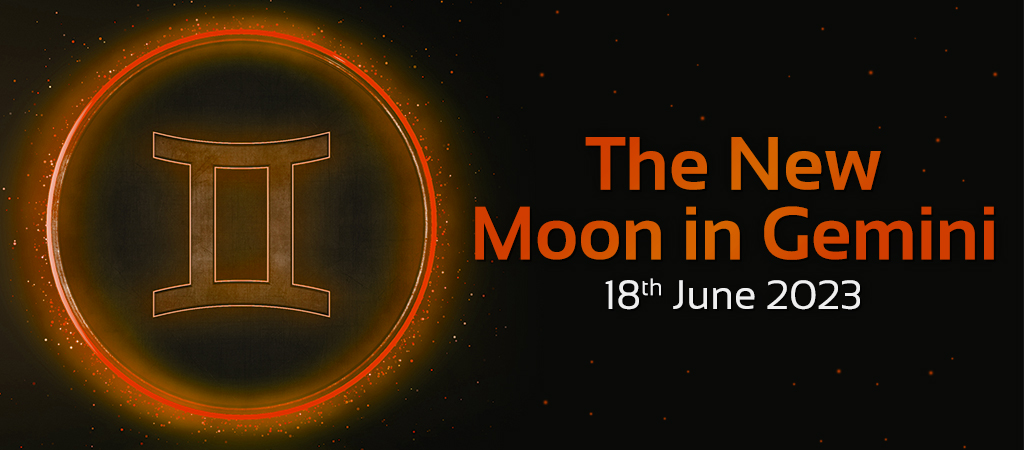 Gemini's are quick witted, inventive and clever, and so finding new ways of expressing one's wants and needs will do well at this time. If communication is not a strength of yours, then using this energy to start to address this or try out new ways in which to do so, will be rewarded.
If you have been unconfident with using technology or social media, the Gemini's new moon will guide you to try this out more. Consider the role of The Magician in the tarot. He is very skilled at what he wants to communicate to his audience, keeping them captivated and mystified in order for those watching him to continue to do so and come back for more. Asking such questions like, "what do I need to reveal to the external world" and "what impact do I need this to have?" is a good starting point. If you are looking for new work, or needing to diversify, how can you quickly and efficiently get this across to employers or new customers? Gemini's make fantastic sales people, so embrace this by thinking of refreshing ways to highlight your best attributes.
In relationships, communication is key to success, it underpins the ability to understand the other person properly. Finding time to really talk and equally listen to your partner can bring about new developments and highlight the positives in your communication styles.
For those singletons that are looking for love, then new thinking of new ways to meet people would be favourable. Gemini's ruling planet Mercury also rules technology and quick communication. Therefore this could be a successful time to embark on online dating and get chatting to new people.
Aries in Third House
Aries, you have a huge amount of Gemini air energy in your sign here, so this is a fantastic time for writing and speaking. Starting a journal, speaking more openly and confidently. You will also be very adept at learning and thinking of new ideas right now. You may also find yourself better equipped at thinking quickly on your feet.
Taurus in Second House
Thinking objectively about your finances could bring rewarding long term gain. Finding new ways of being resourceful will appeal to the Taurus sensibility. This is easy work for Taurus' for it is natural for them to be mindful with their material wealth. Invest time into deciding what it is you would like an abundance of and start putting this out into the universe.
Gemini in First House
How you express yourself now, Gemini, is important if there is an image you would like to project. How you market yourself to your audience will be important to your personal growth, especially if there is something different you want to communicate. This New Moon gives the opportunity to showcase a "new you" should you want to!
Cancer in Twelfth House
If you are feeling highly sensitive and feeling the urge to go into your shell, this is to be expected right now. The New Moon is in the Twelfth House of Pisces, so you will be feeling dreamy, reflective and spiritual. Understanding one's subconscious could bring enlightenment and create a new need to meditate or bring a spiritual practice into one's life.
Leo in Eleventh House
This is a fertile time to involve yourself in group activities, especially if it involves humanitarian interest. You might find yourself drawn to a wider range of people or that your friendships become important to you, now. Thinking about your life goals and what you truly desire in your profession would be a stimulating and enriching focus.
Virgo in Tenth House
Ambition and responsibility are key themes for Virgo right now. If you are looking for career progression, now is the perfect time to confidently communicate your desires to those that can influence your position. If you have been lacking the confidence to do this, take time to review your achievements and find out how you can take your career up to the next level.
Libra in Ninth House
What is it that you would like to aspire to, Libra? Maybe this has not been something you have thought about, recently. This New Moon asks you to think about this on many levels, from a spiritual, ambitious and personal level. Knowledge is key, so finding new ways of gaining some in areas you would like to focus on will serve you well.
Scorpio in Eighth House
There is a very dominant transformative energy for Scorpios under this New Moon influence. Scorpio's are the most adept at understanding change and so now is a promising time to shake things up and experiment with new ways of being. Asking others for help or support will see positive results, and could equip you for long term gain.
Sagittarius in Seventh House
Your co-operation with others under this New Moon influence will not go un-noticed or unrewarded. This is also a time to reflect on what is lacking in yourself. Thinking about how you would like to make a difference here will be very beneficial for you in the months ahead.
Capricorn in Sixth House
Now is a good time to get yourself into a new routine. This can seem quite dull, yet any new habits that take off now, should see continuation into the months ahead. Duty to others is important now, so if you have been neglecting this or not taking one's responsibilities to others seriously, its time to make a start. Making small changes will actually be more rewarding than you may have considered.
Aquarius in Fifth House
Using enterprising ways to bring fun and enjoyment to yourself and others will be successful under this Gemini New Moon. Initiating holidays, games and hobbies will be greatly appreciated and could also see another side of your personality shine through. Make time to connect playfully with those you love.
Pisces in Fourth House
Your personal understanding of family and security will come under the spotlight under the Gemini New Moon. Building new bonds with those you want to feel more connected too, will add security to family dynamics. Do not be surprised if you feel drawn to finding out more about your ancestors. Use this time to start delving and investigating!
Chloe❤️
Speak with Chloe
Our very own shining star, Chloe, has an abundance of psychic knowledge and wisdom to she would love to share with you! Especially about the New Moon!
And if you want a psychic reading? There is no better time than right now! Psychic visions, under this Moon, will enhance these like no other!
Speak to one of our Psychics!
We have a very experienced and friendly team of psychics with us here at Psychic Today! See who is available for YOU right now!
Select the psychic of your choice for an exclusive one-to-one reading! Speak to one of our  Trusted Psychics. Plus, you can watch us live right here!
Download our Psychic Today App now!
The Psychic Today App is for all your psychic needs! If you haven't yet added it to your mobile phone, you can do so by following our links here:
To download from the App Store – click here.
Or download it from Google Play – click here.
Psychic Today is Here For You!
Psychic Today is on a mission to continue providing the very best psychic advice. Now we have more ways to reach our trusted psychics, and we have dedicated ourselves to answering your questions.
You can ring them via our EasyCall feature, found on your chosen Psychics profile. Text our psychics through our Text Reading page. You can also send IMs directly to the live stream via our App. We have made it easier for you to get in contact with our psychics, and they will not disappoint!