August's Blue Full Moon – 30th August 2023
This magical month of August 2023 is blessed with two full moons. The second full-moon is called a "Blue Moon". This double full moon in a month appears every 2-3 years, and makes for an intensive time to focus your intent into magic. The term "Blue Moon" originates from the 16th century expression "the moon is blue" meaning that something was impossible, akin to pigs might fly modern saying. Remember all Magic requires Intent, belief and action. This is a time to consider the joys of the summer and the mental and physical preparation.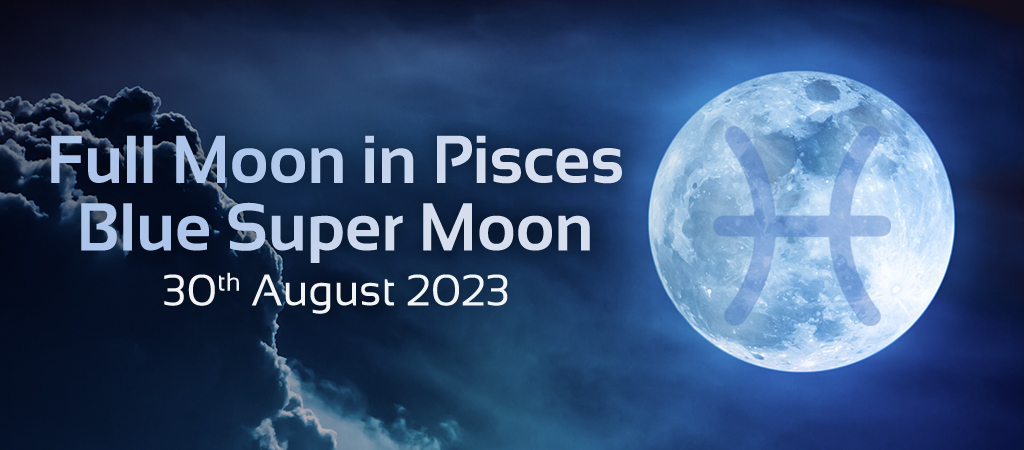 Blue Moon Full Moon Magic Spell by Indigos Oracle
You are going to need: paper, pencil, colouring pencils, colour pens, and fire materials. Begin the spell by going for a walk during the daylight to enjoy the end of the summer. As you walk feel sincere gratitude for what you have and what you have experienced. Be mindful to experience the connection with all the beautiful plants and creatures around you, no distractions such as phones, people or music. As you walk allow yourself to be guided to a flower with many petals. 
Place the flower in water and wait till the evening of the Full Moon. On the evening of the Full Moon take the flower outside and hold over a flower bed or plant. As you remove one petal a time  
Recite:
"As I drop a petal back into the earth one at a time, I am so grateful & appreciative that *…………. is mine." (Fill in with what you are thankful for).
Next take your piece of paper and draw a horseshoe with the points facing upwards. It is now time to request your wishes fill the horseshoe with any desires, dreams and requests you have, from small wishes to elaborate wishes. Don't hold back! 
Recite:
 "Under the magic of the "Blue Moon" tonight I make my request. Within the horseshoe I seal the magic of the things I desire the best." 
Next take the paper and within the centre of the horseshoe write a list of what you can do what action you can take to get you closer to your chosen goals. Sometimes that action is to let go or accept something rather than change something.  
Recite:
"Under this magical Full Moons glow. I am ready to take action and let go."
The final part of the spell is sealing the magic! Take the paper in your hand roll it into a scroll and place it onto a fire or in a firepit, take care to be safe and have water available. 
Recite:
"My spell is now written and casted under the Blue Full Moon. I trust and believe whole heartedly my wishes will be granted soon!"
Watch the paper burn and see if you can notice any patterns or faces within the flames. End when the fire is extinguished with "so mote it be, blessed be or thank you." 
Bright blessings, 
Indigo's Oracle
Speak to one of our Psychics!
We have a very experienced and friendly team of psychics with us here at Psychic Today! See who is available for YOU right now!
Select the psychic of your choice for an exclusive one-to-one reading! Speak to one of our  Trusted Psychics. Plus, you can watch us live right here!
Download our Psychic Today App now!
The Psychic Today App is for all your psychic needs! If you haven't yet added it to your mobile phone, you can do so by following our links here:
To download from the App Store – click here.
Or download it from Google Play – click here.
Psychic Today is Here For You!
Psychic Today is on a mission to continue providing the very best psychic advice. Now we have more ways to reach our trusted psychics, and we have dedicated ourselves to answering your questions.
You can ring them via our EasyCall feature, found on your chosen Psychics profile. Text our psychics through our Text Reading page. You can also send IMs directly to the live stream via our App. We have made it easier for you to get in contact with our psychics, and they will not disappoint!