Happy Crystalmas  2016
CRYSTALMAS ENERGY and GOOD VIBRATIONS TO ALL
Christmas is fast approaching. Twinkling lights make everywhere bright and Christmas trees with baubles give sheer delight. Fur coated friends and the little ones' smiles cascade unconditional love and light. Open your hearts and resist closing off your emotions where you might.
Be ever present as this honouring of self is a gift of personal insight for you. Emanate that 'You-Energy' only when you are full enough and have learnt to be open. Allow yourself to receive from others, then you can give. This time is full of blessings born of gratitude. It is therefore a time for sharing and listening. For adding your unique energy to the good vibrations constantly circulating. Avoid that energy of chaos that can build too. You can protect against this, by being with positive people and also being in positive places. Make nature your best friend. Simply reach out and ask to connect and to have a little light energy to imbue your whole being.
Feel those good vibrations and push through blocks and challenges. You can do it. Much is learnt in rising above situations, hence you can see a different perspective for yourself. Circumstances indeed may differ, but hold on tight and see the glitter of that magical transformational insight. Behold free will and ask in moments of quiet, trusting your intuition and know when it is right. You may reach for a crystal or experience. That light bulb moment within to inspire you and your passion ignite! Be authentic and be true to yourself. You can therefore invite change and reassurance in a way that is perfectly right for you. Seek out happiness and smile.
CRYSTALMAS Bauble     Blue Lace Agate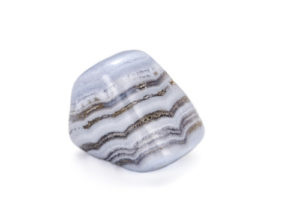 Blue Lace Agate is a pale blue crystal with white banding. It can bring you a calm and soft gentle energy, enhancing your peace of mind and is said to assist you in expressing emotions safely. Blue Lace Agate offers energetic support. As a tumble stone, you can hold it and feel it. Many feel it offers relief if feeling anxious and can be a wonderful comforter. Choose and use for yourself or choose for another, holding the person in your mind when you choose on behalf of them. Gift with your own unique vibration in love when you care and when you are inspired to. Works with the throat chakra and although it's not red or green in colour, it is perfect at Christmas regarding your emotions.
All is Calm All is Bright We can gaze into a crystal ball and we can clear our mind and meditate. We can socialise and have fun. We can hibernate away and find ourselves releasing and shedding tears in order to restore some balance. Surrender to the knowing you will simply do your best and allow pressures we put upon ourselves to be lifted away from us. Resist reacting and remember to take that breath to calm and as you breathe out simply let it go, let it go, let it go!
EMBRACE ENLIGHTENMENT FOR CHRISTMAS  from the Art Through The Eyes of The Soul Oracle cards
GOLDEN SOLAR ANGEL
Finally, I was inspired to take a card for all and this one presented and is to encourage. Journey to an elevated place. Aspire higher and bring the higher self into the physical. The symbol of a rose is there in the hands and is a gift in life and represents enlightenment. Interesting that this card is pale blue in colour as is the blue lace agate.
Blog Written by PEONY December 16th 2016
Peony has a loving and calming energy and enjoys working you, giving positive guidance using her natural psychic skills. She works with Angel cards and also favours  crystal healing. Find out more at
http://psychictoday.uk/reader/6124/peony
.