Celebrity Horoscopes in 2020 – with Sky Silverstone
2020
is is in full swing and with it brings a big selection of
celebrity birthdays
! What do the horoscopes for the celebrities have in store? Are you the same birthday as a celebrity?
Astrology
can show we have similarities!  
Our resident astrologer
Sky Silverstone
is here with this glamorous look as to what's in store for a select celebrity group on their milestone birthdays!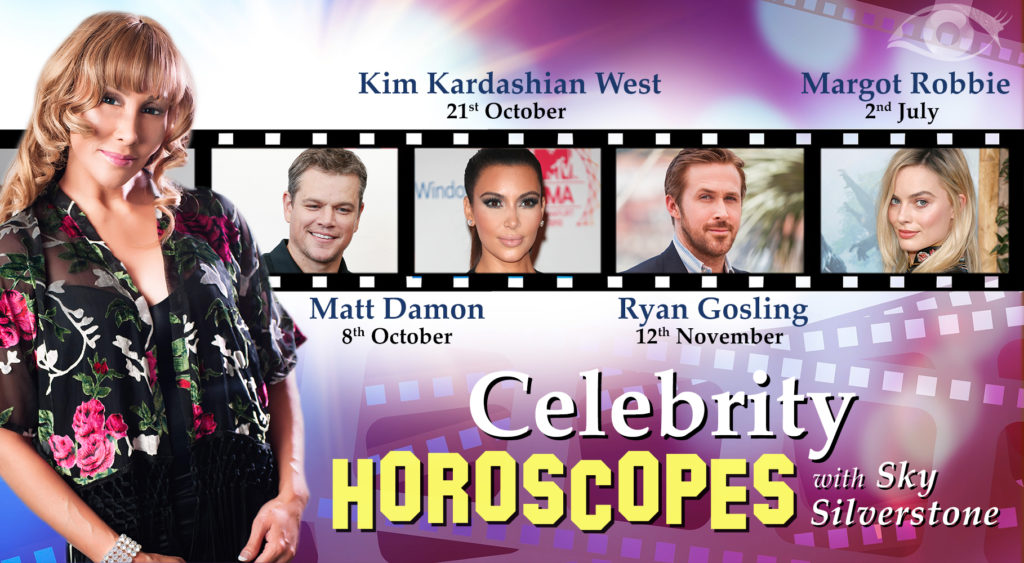 Milestone Birthdays
Psychic Today
gave Sky a list of celebrity names that turn a milestone birthday this year. She has then chosen one from each decade. Looking at the time and date that they were born, Sky takes a closer look at what may be in store for them in
2020
! Join us as we take a walk with celebrities! Find out what stands out in their
astrology
making them a superstar!
30 Years Old
Margot Robbie – 2

nd 

July 1990
Australian born actress and film producer turning 30 this year, is overflowing in her astrology with the element of water. Why? Her Sun sign is Cancer with her Moon in Scorpio allows her to easily tap into her emotions, feelings and intuition, as well as that of others too! With this level of the water element, you better stay clear of her on a Full Moon!
There's an exciting twist, the water-energy I've mentioned is actually balanced out with fiery Mars, creating a drive and passion for goals actually to a great extent as Mars is in his home – the fire sign of Aries. Her numerology is number 1, pushing her to be first and at the front of her surroundings.
Other celebrity names that turn 30 this year include,
40 Years Old
Kim Kardashian West – 21

st

 October 1980
With Kim turning 40 this year, for me two aspects of Kim's makeup stands out first, one that she was born in the year of the Metal Monkey and secondly her birth-path of 22. Both are driving forces for her. The Metal Monkey creates a personality that wishes to create brilliance, to be persevering with smart, agile characteristics. Then the 22 birth-path makes a leader, not a follower, unlimited potential, disciplined and good at getting on with business. There's more! She's born in the sign ruled by Venus the Goddess of  Love & Abundance, Libra. Venus can shower us with beauty and magnetism. Do I need to say anymore! That's Kim down to a tee!
Joining Kim in the Hot 
40
 Club are,
50 Years Old
Matt Damon – 8

th

 October 1970
Luscious Libran Matt Damon turning a milestone 50 this year is loved by all. Well, Libra is a sign governed by the Goddess of Love, Venus, and Matt is in no shortage of what he represents of fame, good looks and magnetism. His birth-path of 8 is also one of security. But all this won't go to Matt's head, as his Moon brings balance, stability, and steadfastness through being in earthy balanced Capricorn. He's born in the Chinese year of the Metal Dog making him loyal, faithful and highly dependable on all fronts of life.
Some surprising celebrity names that turn 50 include,
60 Years Old
RuPaul – 17

th

 November 1960
Turning 60 this year and doesn't look it! Born under the Sun sign of  Scorpio, a sign that's closely related to sex, sexuality, passion, the hidden and secrets. Being ruled by deep dark Pluto, a planet that creates an illusion or holds 'the hidden' under the surface. Guess what? His moon sign is also in Scorpio, making that double-helpings of the afore-mentioned! This reveals a lot about RuPaul and of course the work that he does has his true-self is hidden under that image. Born a birth-path of 8, drives a person to create material stability and be driven for their goals, as he is.
Joining
RuPaul
in the fellowship of the
'60s
 are,
70 Years Old
Cybil Shepherd – 18

th 

February 1950
Born in the Chinese year of the Metal Tiger together with her Aquarius Sun sign which is ruled by Uranus, are both powerful ingredients of 'I will not conform!  I'll do what I want, not what you want!' Well, I can see this in her personality in bucket loads. A mellowing of that forthright front is given with her Moon being in Pisces. The Moon shows our hidden or inner nature, for Cybil being an intuitive psychic Pisces, can push her to rely on her gut instincts or intuition. This is always a big plus for all of us before or when making any decisions because the cold hard facts are surface level, but when linked to what's hidden from our intuition, then we have a bigger picture to make better decisions.
Other legendary names you may not have thought were
70
this year are,
What About Your Birthday?
Do you share the same
Birthday
with one of the celebrity names this year? Is it a milestone year for you in
2020
? What does your date of birth say about you? If you are curious to ask these questions (and more!) please call through to one of our
Psychic Astrologers
!
Look At Your Horoscopes!
See what is ahead for you in your star sign for the year
2020 right here
with our lovely Psychic Astrologer,
Sky Silverstone
.
Sky x
Who is Sky Silverstone?
Sky Silverstone is an astrologer, crystal healer, numerologist, horoscope queen, and life coach. She has a very open, caring and friendly nature. She makes regular appearances on Psychic Today. Sky would love to give you an astrological reading too! Contact her right here!
Download our Psychic Today Companion App now!
The 
Psychic Today Companion App
 for all your psychic needs! If you haven't yet added it to your mobile phone, you can do so by following our links here:
To download from the 
App Store
 – 
click here.
Or download it from 
Google Play 
– 
click here.
To top up your credit or if you have any questions or queries, our friendly reception staff are available 8:00 am to 2:00 am GMT on 0333 335 0297. You must be over 18 years old to use this service, which is for entertainment purposes only. You must be the bill payer or have the bill payer's permission. We may send free promotional messages. 
Facebook
Text FACEBOOK and your question to 65511 for your free reading! (Usually £1 per message, max 3 messages per reply. One per person. CS: call 0333 335 0297. UK Only) Click on the link to our page and see our Facebook Live sessions 
right here!